Analysts Present Latest Industry-Specific Technology Research at Gartner IT Symposium/Xpo 2019, October 28-31 on the Gold Coast, Australia
Technology spending in the banking and securities sector in Australia is expected to reach A$18.5 billion in 2020, an increase of 5.2% from 2019, according to Gartner, Inc. Behind this growth are new investments in modern business intelligence (BI), augmented analytics and robotic process automation (RPA) software.
Globally, the banking and securities industry spends the most on information technology products and services. In Australia, it is the second-largest-spending industry after communications, media and services, representing 19.2% of total enterprise IT spending.
"The banking and securities industry continues to spend in pursuit of digitalization, whether through digital business optimization or transformation," said Neha Gupta, research director at Gartner. "The introduction of open banking in Australia is also driving new technology investments."
By 2023, the adoption of modern BI within banking and securities organizations will outpace the adoption within other industries.
Augmented analytics will increasingly leverage machine learning (ML) and drive new use cases in the market. Customer analytics is also a key focus for the banking and securities vertical, including visualization tools that enable the bank to be relevant to individual and community needs.
The banking and securities industry will take the lead in deploying RPA, with most large banks adopting it in some form by 2023.
The earliest adopters were custom-building RPA functionality before commercial offerings became available. However, as RPA reached a tipping point in market acceptance in the early part of this decade, many more mainstream adopters began rolling out pilot projects. Even the most conservative banks are expected to begin experimenting with RPA within the next four years.
"Adoption of RPA will increase as awareness grows among business users," said Ms. Gupta. "We expect almost all new RPA customers will be business buyers that are outside the IT organization. Major growth will come from expansion across silos, often coordinated by or with IT."
Enterprise IT spending trends
Total enterprise IT spending in Australia is forecast to grow 4.3% to reach A$96.4 billion in 2020 and exceed A$100 billion in 2021.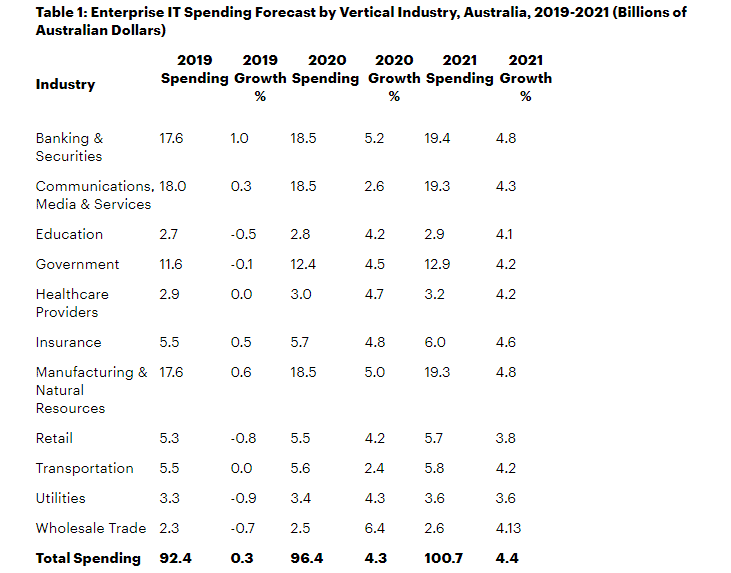 According to Gartner, the two biggest factors currently impacting an organization's overall IT budget and how it is spent are data and analytics requirements and cost ptimization.
With the growth of digital business, organizations have ever-increasing data storage and compute needs, which vary greatly between different vertical sectors. As the Internet of Things (IoT) grows, data will not be restricted to customer and product data, but also include data from the many sensors that make up the IoT.
Cost optimization is a key initiative in many organizations, driven by the economic situation of the organization or the industry. It usually requires initial technology and service investment to achieve longer-term savings and may include initiatives relating to automation or cloud infrastructure — or even a complete overhaul of core applications.

HedgeThink.com is the fund industry's leading news, research and analysis source for individual and institutional accredited investors and professionals