Despite a wave of antitrust moves against tech giants such as Alibaba and Tencent, venture capital (VC) investors seem to be reposing their faith in China-based companies. Edtech, aerospace, memory chips and ride-hailing found the most favor with VC investors in 2020. China, which has several companies working in these areas, dominated the list of global top five VC funded companies during the year, according to GlobalData, a leading data and analytics company.
GlobalData reveals that four of the top five VC funded companies were from China in 2020. They recorded a combined disclosed VC funding of US$9.94bn while the sole US-based company Space Exploration Technologies (SpaceX) had a total disclosed funding of US$2.25bn.
China-based edtech firm Zhenguanyu Tech raised US$3.5bn, the highest VC funding among all the companies during 2020. The list also featured another Chinese edtech firm, Zuoyebang, which raised US$2.35bn during the year.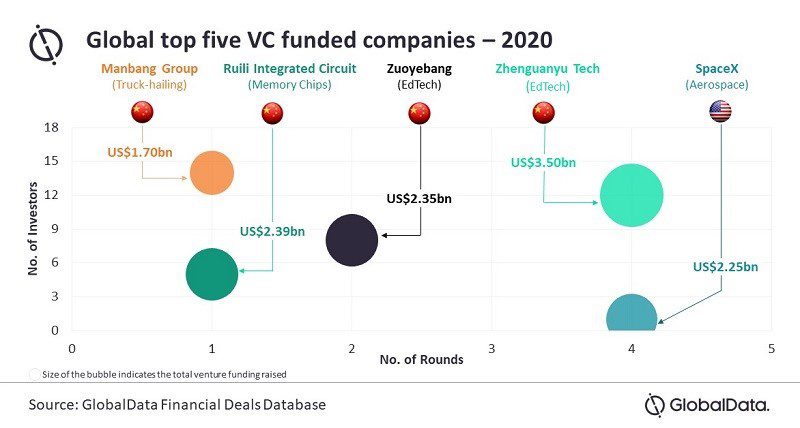 Aurojyoti Bose, Lead Analyst at GlobalData, comments: "Edtech has emerged as an area witnessing renewed interest during the COVID-19 outbreak. It has been gaining significance with enhanced use of online platforms during the pandemic and no wonder companies active in this area have been successful in raising sizeable funding, which is also a testimony to the growing VC investors' traction in this space. Companies active in memory chips and ride-hailing space are also gaining attention."
Other Chinese companies to make it to the list of top five VC funded emerging tech companies in 2020 included Ruili Integrated Circuit and Manbang Group with total disclosed funding of US$2.39bn and US$1.70bn, respectively. While Ruili Integrated Circuit is into developing memory chips, Manbang Group offers a mobile truck-hailing platform.
Mr. Bose concludes: "Huge population and increasing use of mobile technologies for education are expected to make China as an edtech hotspot. GlobalData not only foresees a continuation of these trends in 2021, but also a growing enthusiasm by foreign investors for Chinese edtech companies in the post-COVID-19 era."

HedgeThink.com is the fund industry's leading news, research and analysis source for individual and institutional accredited investors and professionals