CBD, or Cannabidiol, is an active ingredient obtained from the Cannabis Sativa plant. Research over the years has discovered that CBD imparts a load of health benefits. The therapeutic effects of CBD have become so popular that manufacturers are incorporating CBD extracts into numerous products nowadays.
Apart from the usual buying CBD oil, tinctures, gummies, and capsules, you can now get various other self-care products infused with the goodness of CBD. One such innovative product is CBD Bath Bombs. These products come in an assortment of aromas to make your bath time more enjoyable and relaxing. This article will explore the six most popular CBD Bath Bomb scents that can blow your mind.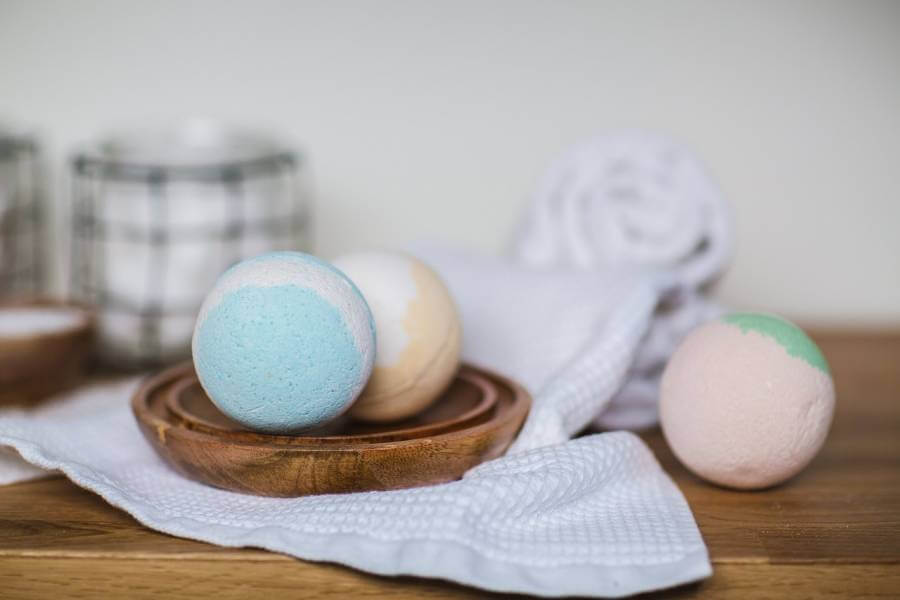 What are CBD Bath Bombs?
CBD bath bombs are a combination of Epsom salts, citric acid, and CBD oil, molded into spheres. When added to warm water, they dissolve by releasing the CBD oil into the bath. It produces an amazing fizzy sensation that can help you feel relaxed. Manufacturers often add attractive colors to the bath bombs to make your bath-time more fun and pleasurable.
How Do They Work?
CBD bath bombs work on two levels. When dissolved in your bath, CBD bath bombs create a pleasant ambiance that helps relax your body and mind and make you feel rejuvenated. The CBD oil interacts with the endocannabinoid receptors in your skin and brings about different therapeutic effects. Manufacturers often add different essential oils and fragrances to the CBD bath bombs. Let's learn more about them.
The 6 Best CBD Bath Bomb Scents for A Relaxing Bath:
1. Eucalyptus-CBD Bath Bombs
Eucalyptus oil added to CBD bath bombs brings a refreshing, woody aroma to your bathwater. It acts as a decongestant and can comfort you when you are suffering from the flu. It can help moisturize your skin, promote wound healing, and reverse damage caused by various environmental factors.
2. Lavender-CBD Bath Bombs
Lavender oil is a popular ingredient used in aromatherapy. When infused with CBD bath homes, it helps reduce acne, soothe skin inflammation and facilitate better and faster wound healing. It helps treat eczema and alleviates dry skin.
3. Ylang-Ylang CBD Bath Bombs
Ylang Ylang essential oil is known to improve asthma and reduce anxiety. It can help uplift mood and reduce stress. It also has antifungal properties, which help keep fungal skin diseases away. Some studies show that inhaling Ylang-Ylang essential oil can keep your blood pressure in check. It can also improve your libido and reduce sexual anxiety.
4. Jasmine CBD Bath Bombs
Jasmine oil incorporated in CBD Bath bombs can help reduce depressive behavior and enhance mood. Some studies indicate that it can act as an aphrodisiac and boost sexual desire. It can also act as a sedative and promote better sleep. It can help relieve spasms in different parts of the body. Jasmine oil also has some antibacterial properties.
5. Lemon CBD Bath Bombs
Lemon oil infused in CBD bath bombs is rich in Vitamin C. It is also a potent source of antioxidants which helps fight against the free radicals in the skin cells. Lemon oil can also help reduce anxiety and depressive behavior. It can reduce the severity of morning sickness. Some studies indicate that Lemon oil can treat fungal infections and promote faster repair of broken skin.
6. Rose Petal Bath Bombs
The natural oil extracted from rose petals is often blended with bath salts to bring a refreshing aroma to the bathwater. The oil is rich in Vitamin C, which fights against oxidative stress. Rose oil also helps moisturize the skin and makes it soft and supple.
Why is a CBD Bath Bomb Worth Trying?
Let's look into the different therapeutic effects you can experience when using a CBD Bath Bomb.
1. It Can Reduce Soreness
CBD has amazing pain-relieving properties. Anecdotal evidence suggests that CBD bath bombs can help relieve muscle and joint pain. Imagine soaking yourself in a bath and coming out all pain-free!
2. It Can Alleviate Anxiety and Stress
Leading a stressful life? Bathing with CBD bath bombs can help lower your stress and reduce anxiety. It facilitates the release of serotonin and dopamine and promotes a feeling of well-being.
3. It Can Help Improve Sleep Quality
CBD is known to stimulate the release of serotonin and melatonin. Bathing before bed with CBD bath bombs can help you sleep better at night and make you feel refreshed the next day. It can help relax your body and mind.
4. It Can Nourish Your Skin
CBD oil has excellent skin benefits. It can help reduce breakouts and acne by reducing the synthesis of excess sebum. It also has antibacterial properties that help keep skin disorders at bay.
It nourishes the skin and delays the appearance of signs of aging. CBD bath bombs also have antioxidative qualities that help counteract the skin's oxidative stress, improving its health.
How to use a CBD Bath Bomb?
Using a Sunday Scaries CBD bath bomb is pretty simple. All you need is a bath bomb, warm water, and some time to soak yourself.
Fill your bathtub with warm water.
When the tub is full, put in your favorite scented bath bomb.
Wait till it dissolves.
Get in the bath and Enjoy!
Are There Any Potential Risks of Using CBD Bath Bombs?
CBD bath bombs are usually safe to use and cause no severe side effects. However, research is still going on to understand the long-term effects of CBD-infused Bath bombs on our skin.
A few cases of irritation, swelling, and rashes caused by using CBD bath bombs have been reported in the past. These symptoms can occur in individuals who are allergic to CBD oil or trees and nuts. The symptoms usually subside within some time after you have stopped using the product. But, if the symptoms persist or take a severe turn, you must immediately consult your doctor.
The Bottom Line:
Bath bombs can add luxury to your self-care time. And, when they are infused with cannabidiol, you can enjoy a plethora of therapeutic benefits too. Manufacturers also add several essential oils to the CBD bath bombs to make them more potent and aromatic.
We hope the six unique scents available in CBD bath bombs will amaze you and intrigue you to include them in your self-care regime. Pick the one that excites you and unravel a bath session that will leave you relaxed and rejuvenated at the end of the day.

HedgeThink.com is the fund industry's leading news, research and analysis source for individual and institutional accredited investors and professionals