The Venture Capital industry is moving towards the peak of 2000. Aggregate deal value of $64bn in H1 2015 creates a confidence that crossing the peak investment of $105bn achieved in 2000 is possible this year. VC investment climbed to $34bn in Q2, up from $29bn in the first quarter of 2015, around 17% quarterly growth. Investors' confidence which was shaken by the 2001 tech bubble burst is gradually building up. The VC industry has started looking up. Last year it reached $87 bn. This year it has already crossed $64bn in first six months. This is 48% more than the amount of capital invested through the first half of 2014, and 145% more than the amount of capital invested in the first two quarters of 2013. The VC industry is all set to witness new heights this year.
Average size of deals growing significantly
The average number of deals during last three years matches with 8000 deals in the peak year. But the number is not growing with the aggregate deal values, rather there is a declining trend. As a consequence, the average deal size has jumped more than three times within two years to $17mn in 2015 from $6 bn in 2013.
Reference: VC Deals, Q2 2015, Factsheet, Preqin
The trend of higher deal size is visible across all types of deals. For example, the average value of angel/seed financing rounds now is $1.4mn, 18% higher than the average in 2014 and the highest average value since 2007. High valuation is an area of concern. This may pull down return on investment and may also result in poor response to IPOs in future. The Venture Capital managers would have to wait longer, say 7 to 10 years, to exit from their investments and make reasonable return.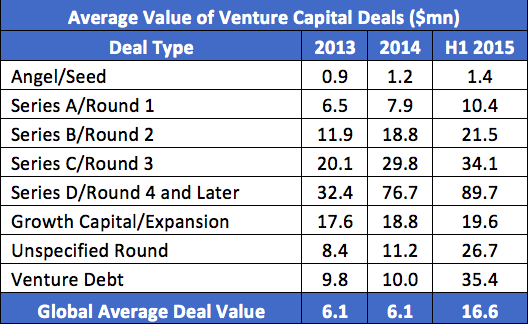 Reference: VC Deals, Q2 2015, Factsheet, Preqin
Startups claim the maximum number of VC deals
Start-ups investment has picked up. Last quarter, 421 startups were funded by the Venture Capital, comprising 22 percent of total 1876 deals. This was followed by 350 deals for Series A/ Round 1 funding.
Source: Venture Capital Deals Q2 2015, by Preqin
Venture Capital activities in Emerging Markets growing
The VC industry has remained concentrated in North America and Europe. During H1 2015, two out of every three deals were in these two regions. While North America recorded 4% increase in deal value, Europe witnessed even higher increase of 6 percent. In recent years, emerging markets also, in particular China and India, are seeing growing VC activities. China and India with one-third of world population offer good opportunities for start-ups. 20 percent of total deals globally in last six months took place in China and India. Last quarter India witnessed a 25% increase in deal flow, fastest increase globally. 202 deals in Q2 compared to 162 in Q1 2015. Five of the top 10 largest venture capital investments in last six months were in China and India, a trend witnessed last year also. The aggregate value of deals in both countries have jumped significantly.

Reference: VC Deals, Q2 2015, Factsheet, Preqin
Dry powder up at $141bn, up 16%
Dry powder, committed but unutilized capital, has increased to $141bn from $121bn at the start of the year. At March end, this was at $132bn. The increasing trend in unspent capital indicates venture capitalists have to wait longer to find suitable start-ups opportunities to invest.
To sum up, 'Venture capital financing has had a particularly strong start to 2015. Almost $34bn was invested in companies worldwide in the second quarter, which brings total investment in entrepreneurial companies to $63bn over the first half of the year. However, there has been a notable drop in the number of transactions taking place. The number of transactions is down compared to the first quarter of the year, and has in fact been falling consecutively each quarter since Q2 2014. This in turn is driving up the average size of deals, and with fund managers sitting on a large amount of capital to spend, there might be slight concerns that valuations for forthcoming investments are becoming inflated,' says Christopher Elvin, Head of Private Equity Products at Preqin, a leading source of information, data and research on Alternative Investments.
Kanchan Kumar is an experienced finance professional and has worked as an Executive Director and Advisor with the MNCs. He is a former banker with two decades of working experience with a Financial Institution. He is a rank holder in MBA (Finance) and Gold Medallist in MS (Statistics). He has passion for research and has also taught at a University. He writes on Global Economy, Finance and Market.