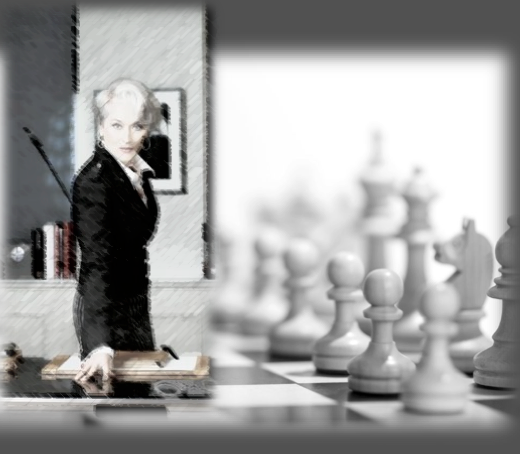 Will 2016 change dramatically the board diversity in financial industry? Below are some summary of analysis from recent studies that suggest slow but steady growth in women rise in C-suite positions. Considering all that there is a breakthrough in decreasing disparity and breaking 'glass ceiling' of our own perception and prejudices.
There are different studies suggesting importance of women leadership and how beneficial it might be for a company. Board diversity reduces governance-related controversies  and companies that had strong female leadership generate a Return on Equity of 10.1% per year versus 7.4% for those without (on an equal-weighted basis).
More women are starting to rise to the top, according to John Cassidy (2014) reporting for the New Yorker. He suggests that the hole in the glass ceiling is starting to get larger and more women are consequently starting to get to higher positions in organisations, working towards gender equality. It is also explained that in the past, there was a "paper floor" when women got to the top, where women would rise up only to be dropped back down again quite quickly. Now however, women who get to the top tend to stay there. This can be seen even in the City, which has traditionally been a very male dominated sphere. This is encouraging for women rising up through the ranks today. But what do women in the city have to say for themselves?
Women in the City
If you want to find out, you might just pay attention to the interesting "power list" of women in the City that was created by Clara Guibourg (2015) writing for City AM. Analysing the number of women in powerful positions in this area, Guibourg argues that:
"Sure, men may still be in the majority, but the City is full of powerful women – movers and shakers, award-winners and influencers to be inspired by."
The list is based on female influencers – those women working in the City that are highly active on various social media sites and that are shown by Klout to have a high level of influence. The list is collated in an automated manner drawing information from Facebook, Twitter, LinkedIn, Google +, Instagram, Foursquare and Wikipedia, and it is updated once every two weeks. To give you a brief insight, here are the top ten main movers and shakers that were highlighted recently:
Eileen Burbidge – Eileen Burbidge is number one on the current list and is a technology venture capitalist that invests in the early stages of an organisation. She claims to be a "recovering work and techaholic."
Harriet Green – Harriet Green ranks as number two on the list. She is a VP and GM of Internet of Things and Education at IBM. According to Harriet, all of the views posted by her are totally her own. She has also combined her career with being a wife, mother, non executive director and having other interests such as cycling too.
Duena Blomstrom – Duena Blomstrom is listed as number three on the current list. She is a speaker, blogger, angel investor and mentor, with lots of experience in the FinTech and digital sectors, offering consultancy.
Brenda Kelly – Brenda Kelly comes in fourth on the current list, and she works at London Capital Group as the head analyst. Her areas of expertise are trading strategies and financial markets, and she posts for herself, not for her employer.
Vanessa Vallely – Vanessa Vallely rounds out the top five on the list. She was the MD and founder of WeAreTheCity.com and WeAreTheCityJobs.com. She has a lot to offer on social media and it is worth reviewing her views.
Claire Calmejane – Claire Calmejane also claims to post her own views rather than those of her organisation. She specifically focuses on areas like digital disruption and innovation. Notably she has worked on an MIT report on Digital Transformation in 2011 which may be worth a read. She is placed at number six on the list.
Helena Morrissey – Helena Morrissey holds position seven on the list, an achievement that she has managed while also bringing up nine children. It may be interesting to see how she juggles her time.
Alison Goldsworthy – in position number eight on the list, Alison Goldsworthy is a strategy and engagement expert with directorial experience at Which UK. She also has a passion for travel and adventure, making her posts interesting and diverse.
Linda Cheung – Linda Cheung is currently at position nine on the power list and she claims to be a "blue chip escapee and social media convert". She has a particular area of interest in mentoring and start-ups, and she co-founded CubeSocial.
Shivvy Jervis – Shivvy Jervis is placed at number 10 in the list, and she is big on digital futures and trailblazers. She is also an expert on FinTech.
Global data
Although women represent nearly half of all employees in the global scale, their representation still remains quite low at the leadership levels, as only 25% of senior management roles are held by women in the global financial services industry, according to Grant Thornton report and Catalyst' statistical overview of women in global financial services industry.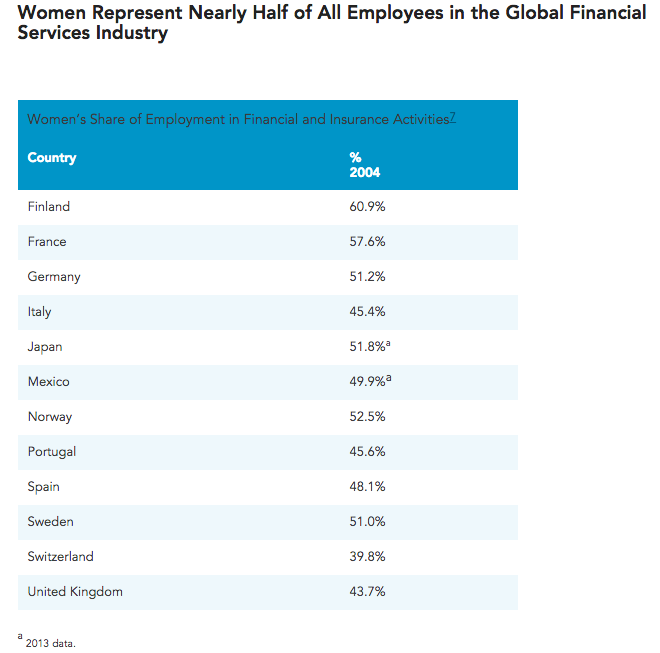 Women Leadership in 2016
According to Fortune magazine, the number of women in boardroom is growing steadily, with increase of 4% from February 2015 and forecasted for further 7% up in 2016 in America's largest corporations.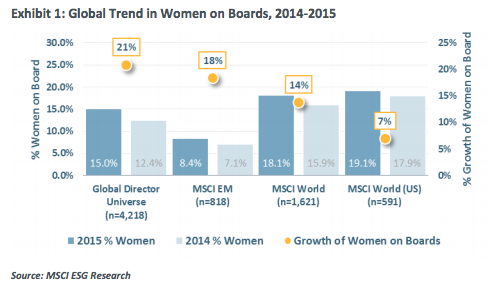 Source: Women on Boards, MSCI
However, the disparity gap is neither decreasing nor increasing, rather fluctuates slightly without significant breakthrough.
"Very few escape the glass ceiling of middle management and make it to the C-suite"
Source: How Times Have Changed?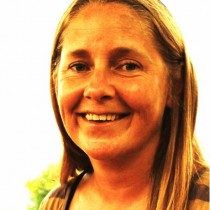 Paula Newton is a business writer, editor and management consultant with extensive experience writing and consulting for both start-ups and long established companies. She has ten years management and leadership experience gained at BSkyB in London and Viva Travel Guides in Quito, Ecuador, giving her a depth of insight into innovation in international business. With an MBA from the University of Hull and many years of experience running her own business consultancy, Paula's background allows her to connect with a diverse range of clients, including cutting edge technology and web-based start-ups but also multinationals in need of assistance. Paula has played a defining role in shaping organizational strategy for a wide range of different organizations, including for-profit, NGOs and charities. Paula has also served on the Board of Directors for the South American Explorers Club in Quito, Ecuador.