Financial crime, special Cybercrime is on the rise and it is the most profitable industry in the world.
Financial crime is on the rise and it is the most profitable industry in the world. It's also the most damaging. It costs $2.1 trillion to World Economy and with the rise of cyber security related issues is unfortunately going to rise and do more damage.
Financial crime is one of the biggest issues for the global economy both as it risks stability, creates disruption, facilitates the funding of terrorist activities and the fuelling of drug epidemics world-wide. It's contributing to nature issues with the extinction of whole species of animals and plants. Financial crime is also supporting human trafficking and proliferating trafficking of weapons of mass destruction. Financial crime in the 21st century is more powerful due to the digital dark web, hacking, cyber securities issues and is unlike anything we've ever seen before. Financial crime is big risk factor and a pervasive damage in the 21st century.
Forms of Financial Crime:
Financial crimes in the dawn of the 21st century are on the rise. These crimes that historically are a series of crimes against property, frauds that have been involving the unlawful conversion of the ownership of property to one's own personal use and benefit. They are now special converting as Cyber Crime. Cybercrime is one of the fastest growing forms of transnational crime.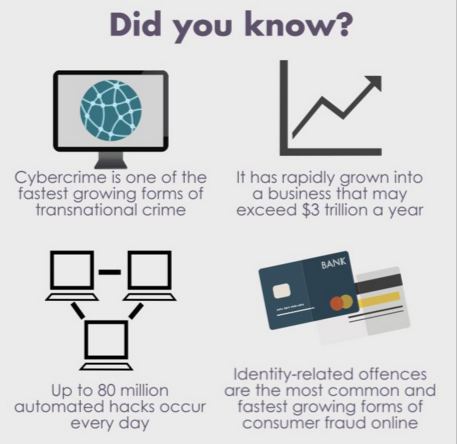 The list of Financial crimes is big and may involve fraud and of course all the known areas with cheque fraud, credit card fraud, mortgage fraud, medical fraud, corporate fraud, securities fraud. These crimes include as insider trading, bank fraud, payment, health care fraud. The list is long and continues with theft; scams or confidence tricks; many forms of tax evasion; bribery; embezzlement; identity theft; money laundering; and forgery and counterfeiting, including the production of Counterfeit money and consumer goods. Financial crimes may involve additional sophisticated criminal acts, such as the rising computer crime and financial systems manipulation.
Regarding drug trafficking, this form of Financial crime has in the last decades been growing and indirectly has contributed to a steep increase in HIV/ AIDS in South Asia. By bringing the price of drugs down, drug trafficking has encouraged an increase in intravenous drug users. More than 60% of new cases of HIV/ AIDS are being contracted through the sharing of needles. Counterfeit lifesaving medications account for 10% of global supply. The people who are producing these drugs couldn't care less about their impact. And the terminally ill are the ones being adversely effected.
Drug trafficking is also creating a generation of unskilled, unemployed and unproductive citizens in Latin America and Africa, special in West Africa. The seemingly lucrative prospects of drug trafficking for marginalised youth is creating a Financial Crime of "get-rich-quick- mentality' that undermines education and weakens the labour force.
Human trafficking is old as humanity but the paradox is that it continues in the 21st century! It has turned 27 million people into slaves around the world. 13 million of these are children, representing half of the victims of human trafficking. To put that into perspective, Mumbai, one of India's most populous cities is home to the same number of people.
Financial crime has a total cost to the UK economy of £52bn
In the sequence of its conference about the subject The Wealth Management Association (WMA) published a report about the price of the financial crime in the UK worth reading.
Press Release Transcription:
January 2016, London – Financial crime has a total cost to the UK economy of £52bn, according to Special Inspector James Phipson, Commercial Director of the Economic Crime Directorate, at City of London Police. Speaking yesterday at the Wealth Management Association's financial crime conference, SI Phipson highlighted that only 12 per cent of cybercrime is ever actually reported.
SI Phipson continued that even though police forces across the country had spent 34 per cent more of their time last year than previously on investigating fraud, they were still only inspecting a small number of the total estimate. SI Phipson stated that with the UK considered the financial capital of Europe, it makes an appealing target and decision makers need to be more alert to the seriousness of this threat.  Surprisingly most fraud attacks are likely to come from Spain, this unexpected epicentre indicates that much more understanding of the considerable threat to the economy is required.
The WMA's first conference of the year was a great success, with over 150 members of the WMA and representatives from the wider financial services sector, treated to a host of insightful speakers, inside the Guildhall's grand Livery Hall.
David Little, Head of Money Laundering and Corruption Threat Desk at the NCA, was quick to point out that the economic threat was a very serious issue with regards to national security, "yet only recently it has started to be taken seriously."
The NCA has set up a Joint Money Laundering Intelligence Taskforce (JMLIT), headed up by Chris Bostock. JMLIT is there to share intelligence between the police and financial services institutions, with both sides bringing their expertise to the table to combat the threat of financial crime.
Chris comments: "JMLIT is a joint-partnership, not a government mandate." Large players from the banking sector have already joined the programme, with Chris stating that he wanted WMA members to get involved to share their unique expertise that comes with managing over £670bn of the UK's wealth, which WMA are progressing with member firms.
The conference concluded with a live ethical hack from Mustafa Al-Bassam, founding member of the well-known LulzSec hacking group, who now advises on information security, along with Rob Cutler, Partner at KPMG, discussing good and bad practice of anti-money laundering initiatives.
Liz Field, Chief Executive of the WMA, comments: "The financial crime conference was a huge success and I hope that all those that came found it as informative and insightful as I did. Financial crime is a huge threat, not only to the wealth management industry, but to the UK economy as a whole. As we've heard from law enforcement professionals, cooperation between the financial services industry and the authorities is crucial to combating this crime, so I hope many more institutions will do their upmost to work together against this shared adversary." Contact – www.thewma.co.uk
Dinis Guarda is an author, academic, influencer, serial entrepreneur and leader in 4IR, AI, Fintech, digital transformation and Blockchain. With over two decades of experience in international business, C level positions and digital transformation, Dinis has worked with new tech, cryptocurrencies, drive ICOs, regulation, compliance, legal international processes, and has created a bank, and been involved in the inception of some of the top 100 digital currencies.
Dinis has created various companies such as Ztudium tech platform a digital and blockchain startup that created the software Blockimpact (sold to Glance Technologies Inc) and founder and publisher of intelligenthq.com, hedgethink.com, fashionabc.org and tradersdna.com. Dinis is also the co-founder of techabc and citiesabc, a digital transformation platform to empower, guide and index cities through 4IR based technologies like blockchain, AI, IoT, etc.
He has been working with the likes of  UN / UNITAR, UNESCO, European Space Agency, Davos WEF, Philips, Saxo Bank, Mastercard, Barclays and governments all over the world.
He has been a guest lecturer at Copenhagen Business School, Group INSEEC/Monaco University, where he coordinates executive Masters and MBAs.
As an author, Dinis Guarda published the book 4IR: AI, Blockchain, FinTech, IoT, Reinventing a Nation in 2019. His upcoming book, titled 4IR Magna Carta Cities ABC: A tech AI blockchain 4IR Smart Cities Data Research Charter of Liberties for our humanity is due to be published in 2020.
He is ranked as one of the most influential people in Blockchain in the world by Right Relevance as well as being listed in Cointelegraph's Top People In Blockchain and Rise Global's The Artificial Intelligence Power 100. He was also listed as one of the 100 B2B Thought Leaders and Influencers to Follow in 2020 by Thinkers360.