What keeps Alternative Investment professionals up at night?
The profile of alternative investments has increased dramatically over just the past 5 years, with growing legions of investors dipping their toes into this category of investments. This has pushed alternative investments to become the fastest growing category of investments, with $18T projected to be invested by 2020.
This increase in investors and capital has raised the stakes and pressure for key industry stakeholders like Private Fund Managers, and most especially by Fund Administrators that service both the Private Fund Managers and their investors.
As these pressures continue to mount, Fund Administrators in particular are faced with the daunting task of figuring them out, and then doing something about them.
Let's break this down into 2 areas:
Main challenges
Action & Differentiation
Main Challenges
Regulatory and operational concerns have skyrocketed from being nearly non-existent just a few years ago, to becoming the primary concern and challenge for both private fund managers and fund administrators. It is unquestionably it is literally keeping these stakeholders up at night.
Multiple industry reports show this in one way or another, but here is a chart that comes from Linedata's "2016 Global Asset Management & Administration Survey" that shows just how serious these concerns are:
Just to reaffirm the impact of regulatory and operational concerns, notice that these two were considered more important than other seemingly critical concerns like fund performance, and new products!
Knowing how big a concern this is, it's worth looking deeper at regulation that has had the greatest impact. This same study shows that respondents mostly listed regulations that were designed to change behavior and alter the environment in which they operate.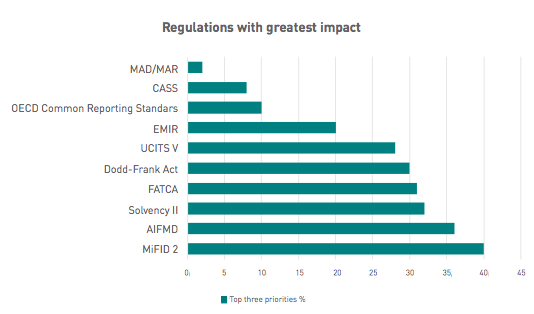 What can fund administrators and private fund managers do?
With these concerns in mind, finding the right technology partner can dramatically help a fund administrator to better compete in the following ways:
Attack regulatory and operational concerns
Finding the right technology partner can help a fund administrator better adapt and more quickly comply with new regulatory and compliance requirements.
Progressive software solutions can help a fund administrator to "project-ize" regulatory compliance by providing intuitive & transparent workflows, assign a particular task to a particular person, and track the completion of each step in a way that is visible to all participants.
For example, satisfying Know-Your-Customer (KYC) requirements could be done via a digital checklist that allows for the fund administrator and the fund manager to collaborate on updating and storing key information on the customer (be it data or documents). Or better yet, know what information is missing that is required to satisfy KYC.
This type of digital collaboration greatly reduces operational efficiencies, including the back-and-forth that currently happens via email, electronic file folder systems, and phone calls. Importantly, it also reduces the potential frustration that an investor might feel by repeatedly being asked to provide things like a valid copy of her driver's license.
Differentiate themselves through client service
The right technology partner can also help a fund administrator to dramatically improve their service to both their fund manager clients, as well as to the investors of their clients. Intuitive portals for both clients and investors that provide useful performance dashboards as well as easy-to-use digital document storage and sharing go a long way to improving the fund administrator's quality of service.
Fund administrators and managers alike realize that client service is the best way that they can differentiate themselves, as evidenced by the infographic below from the same Linedata report that asked how administrators and managers thought they could stand out.
Although technology doesn't individually pop out as one of the top 5 in this infographic, the way to look at it is that technology is indelibly linked to other areas that popped like innovation, product offering, research, and others.
Interestingly, other areas that one would think would be critical (e.g., reputation, expertise) didn't come up as often as means by which to differentiate themselves.
What's keeping fund administrators and private fund managers up at night? It's the fear of the unknown with the ever-increasing regulatory & operational pressures, as well as the fear of losing their clients and investors as a result of poor service.
Using modern technology can be the answer to a good night's sleep for fund administrators and fund managers. There's a quote from the Linedata report that put it best: "Now is the time to embrace digitization to gain competitive advantage in this dynamic market."
About Chris Andraca & BaseVenture
Chris Andraca is a Director at BaseVenture, with responsibility over Sales, Marketing and Client Services. BaseVenture is an award-winning software company that is helping the alternative investment industry simplify & modernize how private funds are managed and administered. Learn more at www.baseventure.com.
This is a guest post by Chris Andraca.

HedgeThink.com is the fund industry's leading news, research and analysis source for individual and institutional accredited investors and professionals