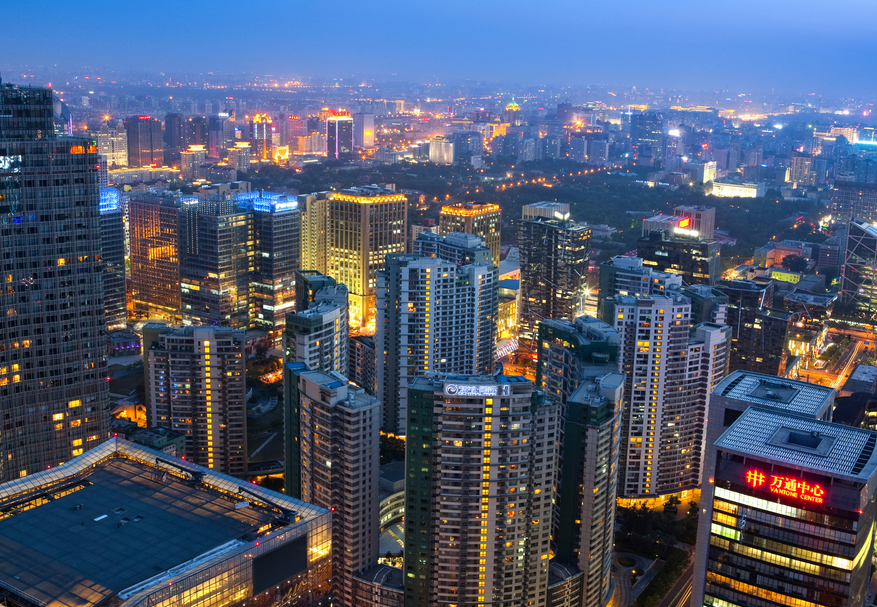 "It's 'totally miraculous' what the country (China) has done so far. I would have not believed a country of that size could move so far, so fast. They found a way to unlock their potential," said Warren Buffett at Berkshire Hathaway's AGM on May 2, 2015.
This is the second appreciation received by China from the legendary investors within a month. Last month, Ray Dalio, the founder and manager of the biggest hedge fund in the world, Bridgewater Associates, expressed his confidence in China's growth story and the Chinese economy long-term for its great potential. Dalio shared this during a Sunday interview on April 26 at CNN saying,
"I am impressed with the leadership of the country. There's a lot of potential. Capital has not flowed to all parts of the economy."
Other experts also add that China's economy will play an even bigger role as a key driver of global trade and investment flows.
"China, the world's second biggest economy, is likely to become the world's largest economy in next 10 years. It may displace the US, which has held the top position for more than a century. A three-fold rise in consumer spending in China will help the country overtake US," according to a report by IHS Inc., a global source of information, insights and analysis.
Both, Mr. Buffett and Mr. Ray Dalio, are bullish on China. The Country has a lot of potential and they see great opportunities for Hedge Funds and Investors in China. A review of China's macro will help investors to identify such opportunities.
With the opening up of its economy in 1978, China had recorded high annual growth of average 10% in its GDP till 2010. Global meltdown triggered by the collapse of America's iconic investment banker Lehman Brothers affected China too, but only partially. It dodged the crisis and it did not go into recession. In 2014, the GDP grew 7.4 percent, slowing from 7.7 percent in the preceding year.In Q1 this year also, China's GDP grew 7 percent. Though China passed through the slowdown phase but continued to record positive growth rate of above 7%, still an impressive figure from global standard.
Source: Trading Economics, China GDP Growth Rate
China's economy is undergoing structural reforms to rebalance its economy. From an investment-driven and export oriented economy, it is now moving to a more services-oriented, consumption powered one. It has already undertaken key structural reforms, such as liberalizing interest rates, allowing its currency to strengthen, and taking steps to reduce its dependency on exports. China aims to make the Yuan a currency held in central banks' reserves and used to settle trade just like the euro and the US dollar. In a step along the path of liberalization China has already given additional flexibility to bankers setting competitive lending and deposit rates. This has effectively introduced greater competition and better allocation of capital. It will help to transform China's economy from the low-cost manufacturing export-driven economy into a higher value-added economy, driven by domestic consumer demand. It has already seen a huge rise in consumer spending in China.
Next 10 years, China's consumer spending is expected to grow at an average annual rate of 7.7 per cent, becoming a key engine of global consumer demand and world growth. This will result in a three-fold rise in consumer spending to $10.5 trillion over the next ten years, from $3.5 trillion today.
And this surge in consumer spending will lift Chinese economy above the United States by 2024.With GDP of 28.25 trillion dollars; China will overtake the US' 27.31 trillion dollars, becoming the biggest economy in the world. China will constitute one-fifth of the world's GDP by 2025 up from 12 per cent today.
China's progress is pushing up the hedge funds index up. The China Hedge Fund Index registered the seventh consecutive month of gains. In the first quarter 2015, it has recorded annualised return of 16.80%, more than double of 8% return in 2014. This is comparable to that achieved in earlier years, for example, 13% in 2012 and 19% in 2013. The index which measures the performance of 85 China focused hedge funds is compiled by Eurekahedge, a leading data provider and alternative research firm.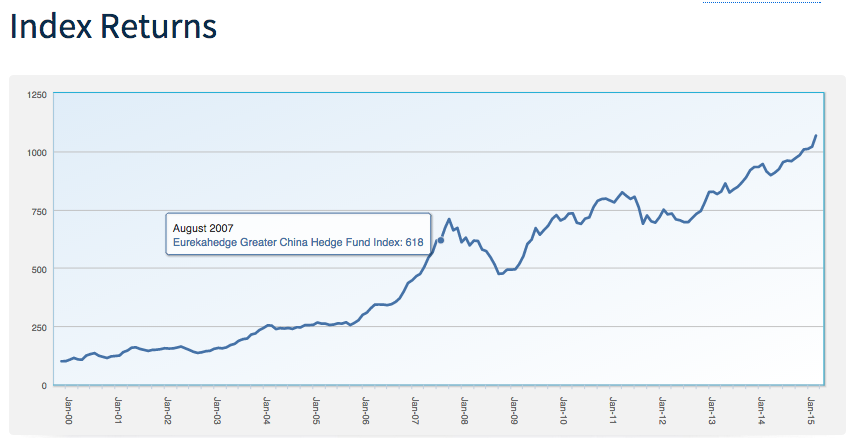 Source: Greater China Hedge Fund Index, Eurekahedge
China's growth story can be summed up in the words of Goldman Sachs saying the China rally is not over. China has a lot of potential. And Hedge Funds managers can exploit the opportunities to make money for their investors.
Kanchan Kumar is an experienced finance professional and has worked as an Executive Director and Advisor with the MNCs. He is a former banker with two decades of working experience with a Financial Institution. He is a rank holder in MBA (Finance) and Gold Medallist in MS (Statistics). He has passion for research and has also taught at a University. He writes on Global Economy, Finance and Market.