Up until relatively recently, hedge funds existed in a rarefied, behind-closed-doors world of high-net-worth individuals and high-rolling Wall Street traders. The general public didn't get a look-in – except on those rare occasions when superstar hedge fund managers such as George Soros – AKA 'The Man Who Broke the Bank of England" – made the headlines.
All this changed a couple of years ago, or at least it began to change with the enactment of the JOBS Act in the US, which for the first time allowed hedge funds to advertise their services to the public at large. Now, you can open a (financial) magazine and see an advert for a hedge fund. The first such ad, which caused some shockwaves within the industry, was for Balyasny Asset Management, featuring snowboarders at the peak of a steep mountain with the tag line "Performing in all conditions". It kind of looks like the type of cheesy motivational poster you might see in a college dorm room.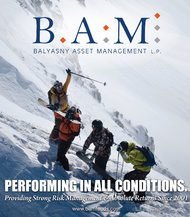 In Balyasny's case, it was a simple decision to start advertising, according to the fund's senior managing director Colin Lancaster. The Chicago-based investor recently began raising new money from investors after having closed its doors to outside investors for two and a half years. So, when the marketing team at Pensions & Investments asked them if they wanted to run an ad, the fund said yes, and the firm paid around $6,000 for a half-page spread.
"Businesses like ours are really unsophisticated," said Lancaster, referring to the level of advertising expertise in the hedge fund industry.
About the decision to use the image with the snowboarders, Mr. Lancaster is unrepentant "It took all of seven minutes…We said, 'That's a neat picture that conveys who we are'.
Floodgates open, water level stays low
What the 2012 JOBS Act did was to lift a ban on the "general solicitation" of investors. However, with the appearance of exclusivity long having been a marketing edge for hedge fund firms, there has been a reluctance to embrace the new opportunities that this legislation has presented. Over the past three decades, most of the marketing efforts of hedge funds have gone towards cultivating and maintaining this image, so it is understandable that they would be reluctant to change tack just because of a new piece of legislation.
However, after a few years of underwhelming performances and increased competition for institutional money from pension funds and the like, hedge funds are beginning to see the new branding opportunities that this change has presented them with. While none of them would admit to 'advertising' their product, they're happy to participate in an expensive 'branding' exercise from time to time.
Balyasny aren't the only firm to have dipped their toe into the water, branding exercise-wise, in the last couple of years. Many firms have created videos and started doing web promotions. One example is $100 million hedge fund Topturn Capital, which made a three-minute ad for its website with images of a professional surfer surveying rocky waters, interspersed with the company's two founders discussing how managing money is a lot like surfing.
In a more indirect fashion – of course – some of the big names of the hedge fund universe have also joined the fray. Perhaps the most sophisticated of such approaches came from the world's biggest hedge fund (by some distance) Bridgewater Associates.This took the form of 30-minute animated educational film called "How the Economic Machine Works", which became a viral hit on YouTube and can be viewed below:
Also, hedge fund managers have become increasingly noticeable by their TV, particularly on finance-focused networks such as Bloomberg TV and CNBC. But although there has been some testing of the waters within the hedge fund industry, it seems as though most of the industry is holding back.
"Hedge funds are putting more stuff on their websites, but for right now there is very little general advertising," said Jay Gould, a hedge fund lawyer at Pillsbury Winthrop Shaw Pittman. "Most fund managers, even at the high level, are not interested."
Restrictions
But while the door to wider advertising has been swung open – with limited interest from the industry, it has to be said – the restrictions to investing in hedge funds remain in place. And, they're pretty steep.
If you want to invest in a hedge fund, you basically have to prove that you have a lot of money, and confidently predict that you will continue to do so for some time. Under the new SEC rules, private investment funds remain restricted to raising money only from "accredited investors" who earn more than $200,000 a year, or have assets totaling at least $1 million excluding property.
What's driving this?
One of the main reasons that supporters of the recent legislation have given is that making it possible for their performance known to the public at large will make these firms more accountable and provide investors with a clearer picture of the investment market and their place/influence within it.
However, those who have opposed the legislation believe that wider advertising could lead many investors into investments that they do not fully understand and cannot easily leave. There is also a concern that by advertising more widely, a hedge fund would make themselves a lot more vulnerable to audits and other forms of regulatory scrutiny,
With more and more pension funds and other institutional investors putting their money into hedge funds, though, the need to stand up to heavy scrutiny from regulators has already been upped considerably. And with competition for these allocations being particularly fierce, minds have become increasingly open on the issue of advertising. To put things in context, before the financial crisis, money from institutional investors accounted for just a third of the hedge fund industry's assets, while today they contribute two-thirds of the new money flowing into hedge funds.
In light of this, traditionally-secretive hedge funds have found themselves entering a marketing fight with the biggest money marketing brands in the business – such as Blackstone and Fidelity – who have already invested heavily.
"The JOBS act rules have permitted investment managers to feel more comfortable about branding their business more generally," Mr. Gould said.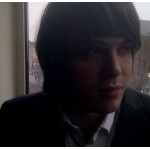 I am a writer based in London, specialising in finance, trading, investment, and forex. Aside from the articles and content I write for IntelligentHQ, I also write for euroinvestor.com, and I have also written educational trading and investment guides for various websites including tradingquarter.com. Before specialising in finance, I worked as a writer for various digital marketing firms, specialising in online SEO-friendly content. I grew up in Aberdeen, Scotland, and I have an MA in English Literature from the University of Glasgow and I am a lead musician in a band. You can find me on twitter @pmilne100.