· ETFs start 2021 with record assets of $7.6 Trillion
· ESG ETFs nearly triple assets in 2020 as launches proliferate, performance skyrockets
· Asia-Pacific becomes fastest growth market, rising 28% over 2020
Data from TrackInsight, the world's first global Exchange-Traded Funds analysis platform, shows the global ETF market finished 2020 at a record high of $7.6 Trillion, across 6,518 ETFs. A combination of strong equity market performance coupled with accelerating investor inflows contributed to the new record.
Despite challenges created by COVID and market volatility, all regions experienced double-digit growth rates over 2020. Asia-Pacific was the fastest growing region with ETF assets rising by 28.7% to a new high of $689 Billion, of which $69 Billion was new flow. Assets European listed ETFs grew by 26.4% reaching a new record of $1.3 Trillion with $138 Billion of new flow and the North American market grew 24.1% reaching an all-time high of $5.6 Trillion in AuM with $536 Billion of new flows.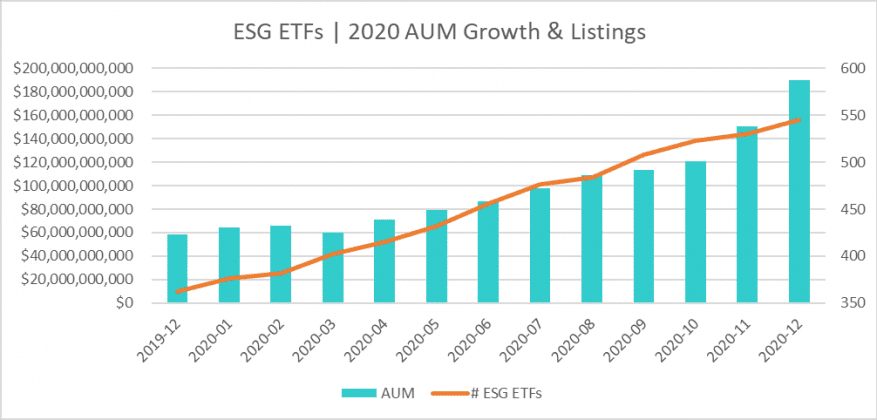 Against this impressive backdrop, two areas of the ETF market stood out for trend-busting growth trajectories: Active and ESG.
$80 Billion of new flows contributed to Active ETFs growing by 55% reaching a new high of $273.5 Billion in AuM. With nearly 200 new Active ETFs brought to market in 2020, there are now over 1,052 listed on exchanges worldwide.
ESG ETFs reached a tipping point in 2020 witnessing an incredible 223% growth over the year, achieving a new record of $189 Billion in AuM. ESG ETFs captured $97 Billion of flows over the course of 2020 and nearly 200 ESG ETFs were brought to market during the same period as ESG is set to become a key battleground for issuers over 2021.
ESG and Thematic ETFs also dominated in terms of overall performance with 5 of the top 10 best performing ETFs globally (excluding ETCs and Leveraged Funds) following an ESG approach and 3 of the top 10 following an active strategy. All delivered triple-digit returns to investors over 2020.
Top Performing ETFs of 2020

Anaelle Ubaldino, Head of ETF Research and Investment Advisory at TrackInsight commented: "ETFs faced an acid test in 2020 and passed with flying colours. The tremendous growth we have witnessed demonstrates how ETFs have successfully convinced investors of the benefits of a liquid, tradable and transparent product – especially during volatile markets. It's also clear that 2020 was a long-awaited turning point for ESG ETFs with huge growth in this sector. As competition for potentially Trillions of dollars of new ESG assets heating up, we expect to see more issuers enter the ESG ETF market over 2021."
TrackInsight operates a unique global platform dedicated to ETF search, analysis and selection aimed at professional investors. With over 120,000 unique users and 9,000 qualified professional investors using the platform for their day-to-day ETF screening, TrackInsight is recognized as the leading source of independent and reliable information on over 6,500 Exchange Traded Funds listed globally.

HedgeThink.com is the fund industry's leading news, research and analysis source for individual and institutional accredited investors and professionals