The UK's pending departure from the EU could stifle the rapid growth of the fintech sector, according to a recent report from global recruiter Robert Walters and market analysis experts Vacancy Soft.
Generating £20bn in annual revenue and attracting more venture capital investment than any other country in Europe, the UK fintech sector is widely considered the 'jewel in the crown' for the country.
The Financial Technology industry is also one of the engines in terms of job creation across the nation. Only in 2018, job creation within the fintech space grew by 61% in London and 18% in the regions – making it the fastest growing sector in the country. Among those, IT related jobs were the most wanted. Some sources, such as Business Insider recently pointed out: "There's significant demand for IT professionals, in particular. Over 30% of jobs in the UK's fintech industry are for IT-related roles, compared with 24% in 2017. And fintech unicorns' hiring for IT professionals increased 74% year-over-year (YoY)." The surge in roles for IT talent comes as no surprise given fintechs' focus on digital capabilities and innovation. One example of rapid job creation in fintech startups is UK lending Iwoca, who has plans to increase headcount from 230 to up to 350 by the end of 2019.
On the banks side, figures show that the hiring growth rate within banking is at 17% compared with 82% for fintechs, and the growth of IT vacancies at 26% for banks compared with 37% for fintechs. "It's becoming apparent that financial institutions should up their hiring game," added BI.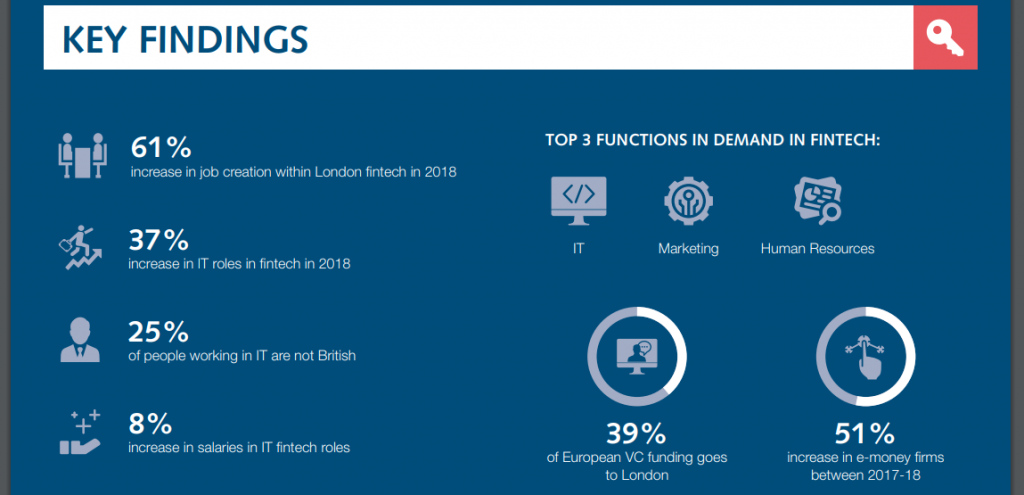 Impact of Brexit
With IT being one of the top 3 functions in demand within the sector, accounting for a third (30%) of all roles – Brexit poses a serious threat to the growth of the sector.
Tom Chambers, Manager of Advanced Analytics and Engineering at Robert Walters, said: "The number of tech roles within fintech grew by 37% in 2018 – a positive story for both the industry and the country,
"However, Brexit appears to be creating a fear of 'last in first out', which in turn means candidates are less willing to move roles as swiftly as they have in previous years – creating a lot less available talent in the market.
"The most disconcerting thing for the sector amid Brexit is the fact that a quarter of people working in tech roles in the UK are not British.
"The impact of uncertainty and talent shortages resulted in a slight slowdown in hiring activity late 2018 – with only London-based fintech companies with significant VC funding continuing to pursue aggressive recruitment campaigns.
"Talent shortages within IT have pushed salaries up by 8% in Q1, and we are already seeing some pretty impressive buy-back and counter offers for IT talent within the fintech sector."
Significance of UK fintech market
The UK's fintech industry attracted over $16bn investment in the first half of 2018, more than any other country. In fact, over a third (39%) of European venture capital funding for fintechs goes to London, almost double any other city in Europe.
Of the 29 fintech unicorns* worldwide (*companies worth more than $1 billion), nine are in San Francisco, while seven are housed in the UK. Analysts at Robert Walters predict that London will be home to just as many fintech unicorns as Silicon Valley by 2020, and that over half of payment service providers in the UK will be digital-only (e-money firms).

HedgeThink.com is the fund industry's leading news, research and analysis source for individual and institutional accredited investors and professionals