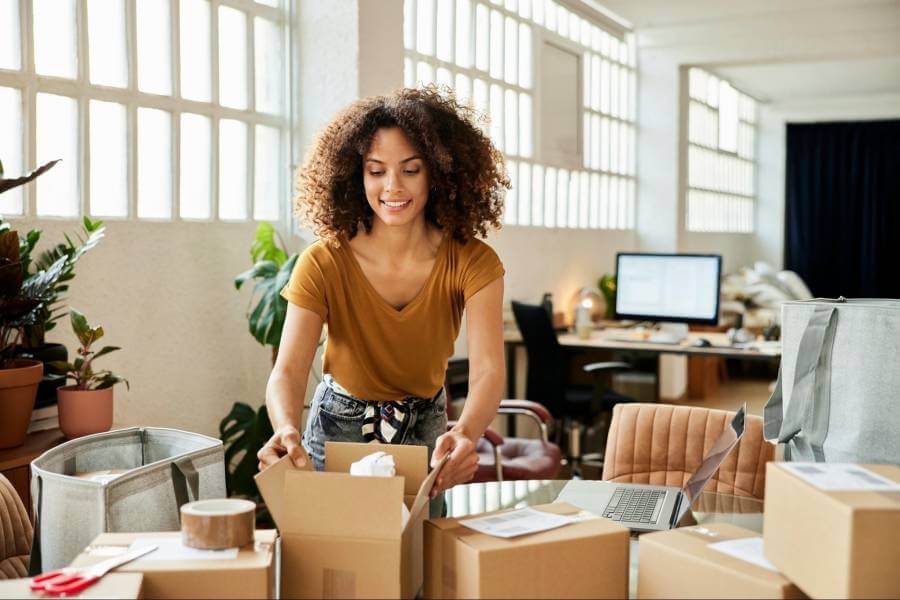 An e-commerce business should be at the top of your list if you're looking for profitable online business models. Ecommerce is booming.  
In a world where more and more people make their purchases online, businesses must keep up with the demand. There are many wholesale resources available today to ensure that you have enough inventory to capitalize on a spike in demand for trendy consumer goods. There are also plenty of excellent e-commerce platforms that use the latest technology to ensure attractive product presentations, easy payment processing, and fast dropshipping.
How to Build Your eCommerce Business
Globally, e-commerce is the fastest-growing sector. Businesses can start selling online in minutes without any heavy capital investment with platforms. 
When starting an e-commerce business, it's imperative to establish a website to create an online presence, especially in today's digital age. There are a couple of different ways that you can go about this, for example, you could try building one yourself by following straightforward WordPress tutorials like youtube.com/@createwpsite. Alternatively, if you would prefer not to go down that route, establishing contact with a web designer may be a more suitable choice. In either case, a website is a must if you want to start a successful e-commerce business.
If you're building an online store but don't know how to host it, a WooCommerce host may be an ideal solution for you. It's a superb way to optimize your e-commerce site because it offers secure one-click installations that are accessible from anywhere in the world. Additionally, the company offers a 24×7 customer support team, a high level of security, and scalability. 
How to Market Your Business
Marketing allows you to scale and reach more people in a highly competitive environment.  
Here are two ways to proven marketing methods to increase your online presence and convert web traffic into paying customers.
Social Media Marketing
Social media marketing for eCommerce sites is an essential part of running a successful online store. In fact, many store owners consider it the backbone of their online marketing strategy. 
Here are four social media marketing strategies to deploy: 
Advertising: Use social media ads to reach your target audience, people who are active on your preferred social media platform. And nowadays, videos works the most, so you can edit video online for your social media platform to increase your reach through video advertising.
Influencers:

Promote your products through social media influencers. After you connect with them, they will spread the word about your product for you. The larger the audience, the more it'll cost, so keep that in mind.  

Hashtags:

When you create a post with a trending hashtag, your message can reach a much wider audience. These are used on social media to categorize content and make them more searchable. You can find them listed on Facebook, Instagram and Twitter feeds.

Frequency:

You should post twice a day on different networks to reach a wider audience and increase your following. 
Email Marketing
Here are three steps to get fast results with your email marketing campaigns: 
The first step: Make sure that the message in your email marketing campaign is clear, compelling, and relevant. The subject line of a well-written email campaign will grab readers' attention and entice them to open the message. 
The second step: Segment your emails so that you can send relevant messages to different segments of subscribers based on their interests. As subscribers may only be interested in certain topics or offers, this will help you increase engagement and conversions. 
The third step: Add a call-to-action at the end of each email campaign to appeal to the subscriber's self-interest. This will encourage them to take action on what you have shared with them through your emails by taking advantage of your offer or finding out more about what you have shared with them. 
Still Undecided?
If you're on the fence about building an online store, then a glance at the impressive statistics might convince you how profitable it would be to launch your own e-commerce business.   
Global retail sales have been growing rapidly because of the rise of the internet and e-commerce. Although statistics for this year have not yet been compiled, you can get a good sense of where the industry was last year and where it will be next year. According to Statista, retail e-commerce sales worldwide reached 4.28 trillion dollars by 2020. By 2022, retail revenues are expected to reach 5.4 trillion US dollars.

HedgeThink.com is the fund industry's leading news, research and analysis source for individual and institutional accredited investors and professionals