From Fintech Revolution To AI IOT Driven Blockchain Tsunami!
Blockchain Will impact Financial Services More Than the Internet
There is no doubt that blockchain is shifting completely the world economy step by step. But its effects are still in the scratching of the surface. As they deepen those effects will change the DNA of the banking and financial services whole industry.
It is important to start with an important fact:
Most of the financial organisations and to a big extent most of the world economy is still not digitalised.
Moreover a big part of global businesses is coping with the digitalisation of the world economy and society.  However the powerful truth is that the coming AI IOT Driven Blockchain revolution can be seen as a Tsunami that will have more consequences for the financial services industry than the Internet did.
63% of global bank leaders are concerned about keeping pace with digital transformation and the technology innovators who are disrupting their industry sector. They are, at the same time, trying to tackle  the need to continue investing in legacy technology according to a recent PwC survey. So the challenge is how to cope with something which is now coming fast and furious?
We are on the verge of a systemic shift.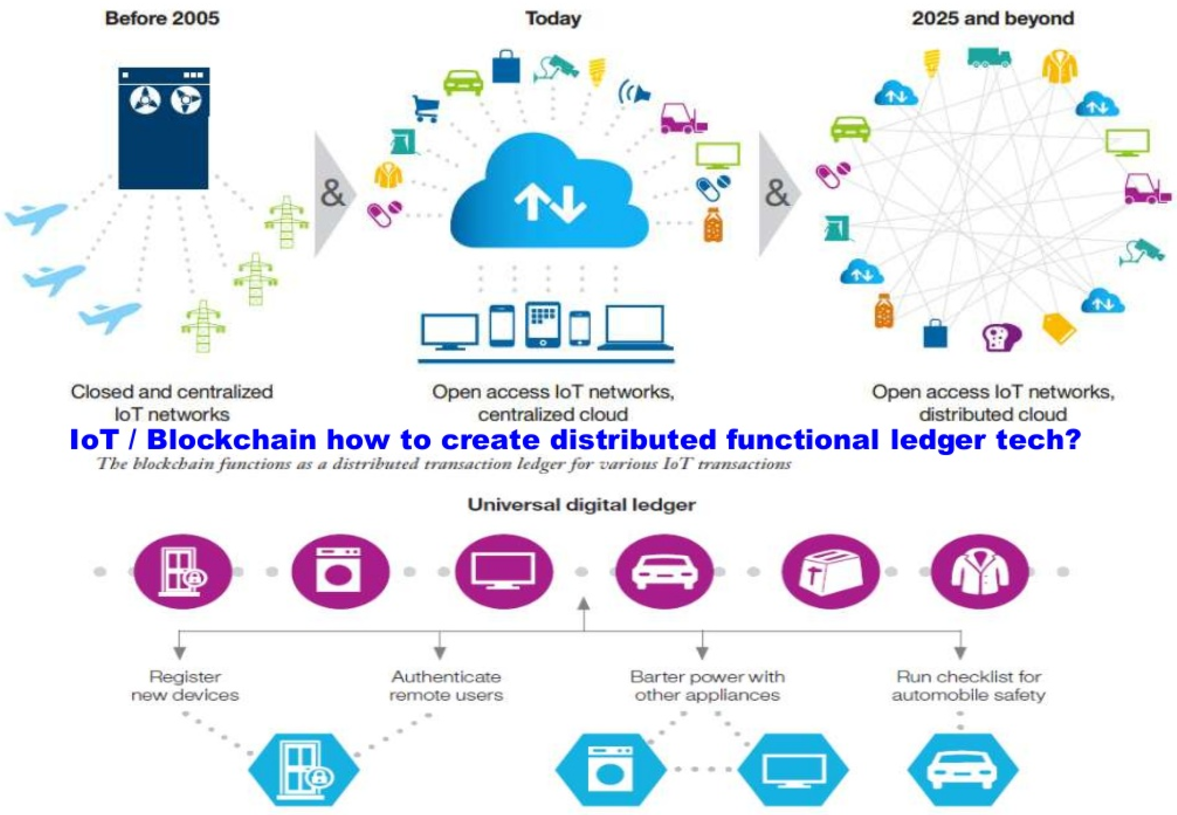 From the early days of a fintech revolution to a AI IOT driven Blockchain tsunami.
Presently, legacy systems co-exist with open access AI in various forms, IOT networks and distributed cloud systems. Blockchain offers a distributed ledger technology, that can be seen as a sort of a big digital excel for all things managed by smart contract escrow type technology solutions.
This technological evolution happens while Trump takes the lead of the biggest world economy, launching new challenges for the legal frame of the financial industry and the global economy. Trump´s election coexist with the chaos of Brexit: most people in the UK realize now that its biggest advocates lied to them and have no plan or clue of what to do in the years ahead, whereas other countries in Europe (which unfortunately see themselves, still as rivals) are salivating at the chance of chipping away at London's status as a global financial hub.
At stake are thousands of jobs and billions in financial services, regulation and investment and a total shift in the  modus operandi of finance.
In Washington, London, NY, Berlin hundreds of organisations and start-ups are cleverly creating solutions in  terms of regulation and strategy. Most of the fintech start-ups centred on blockchain technology are looking for the best solutions  to develop and transform the present / future financial services industry at large.
These new fintech players will have to deal with new changes and disruptions. Mostly will either be acquired by banks, partner with banks or effectively replace services traditionally provided by banks. The silver lining, if there is any, is that financial organisations, banks, central banks and governments have to become agents of change, master in adaptation, and the ones that will grow and survive will be the ones that will understand the need to continuously evolve and change.
Blockchain technology, Smart contracts, Fats and Furious Take over
Blockchain isn't the Silver Bullet for everything but perhaps it is. But the velocity of blockchain's development, its useful smart contracts and the fact that is no longer just associated with cryptocurrencies like bitcoin,( it is now seen as well as an enabler for the future of banking, legal documentation and even energy trading), shows that it is no fad and it is shifting everything it touches like a big Tsunami that starts slowly until it takes over everything.
The way global banks and top global financial organisations are shifting and moving as fast as possible to experimenting with Blockchain technology shows that they see the decentralised ledger technology as highly important and as a cost-effective way of ensuring the relevance of legacy systems, freeing them up to focus on more value-added work.
Blockchain fintech start-ups may become the point of contact between large banks and the consumer. However big tech players such as IBM, Microsoft and many others are taking the lead in exploring various versions of a possible centralised blockchain way. Big banks such as Goldman Sachs are leading efforts to have their own technology and the R3 consortium is gathering some of the top big banks and financial players.
PwC's reckons that, some $1.4bn was invested in blockchain start-ups in the last months alone in 2016.
Blockchain technology, Smart contracts, AI and IOT
'You get the feeling that it's only a little while before banking operations centres are staffed by sophisticated robots, taking over manual tasks from human tellers'
Ciaran Kelly, PWC
Blockchain technology, allied with the advances of AI, smart contracts and IOT are leading the world innovation transformation and disruption. All of these technologies together are currently underpinning the emerging 360 digital, virtual, or cryptocurrencies, consists of building blocks that hold timestamped batches of recent valid transformations, transactions, which form the value chain of the present technological shift, with each block reinforcing those preceding it.
There is no doubt that blockchain technology actually holds the key to new ways of managing identities, security, and entire networks – it could underpin the structure and future of technology as we know it. But a lot needs still to be done of course.
Top Blockchain Startups to Watch:
According to research by outliersventures.io that aggregated data from more than 900 blockchain companies the blockchain ecosystem / market is a moving target. The Blockchain Startup Tracker curated by Outlier Ventures offers a comprehensive map of the Ecosystem  with Charts and Locations. For now the according to this research and mapping the Blockchain ecosystem is dominated by the United States with 38.9% of the startups either registered or with development work taking place in the country. The second most important country is the United Kingdom with 16.7% of all blockchain startups created there.
It will be interesting to see how further developments of Brexit and the Trump Presidency will impact the blockchain industry. The early feedback gathered by outliersventures.io in regards to Brexit suggests investors see the weakening pound as an opportunity rather than as a cause to panic. That said, is important to remember that Berlin is already hard at work attempting to attract disillusioned tech talent to the city. Germany actually comes in joint 6th with Israel representing 2.5% of startups led by Canada in third place with 3.3%, China in fourth with 3.2% and Singapore in fifth with 2.6%.
Another list if the one powered and curated by Derin Cag from Richtopia. This list offers a social media powered by Rise board with a real time list of the 100 Most Influential Blockchain Companies. Each week The Top 100 Most Influential Blockchain Companies recognises the most inspiring social media accounts of this curated very complete overview.
From the lists of companies mapped in the lists bellow it is critical to highlight some organisations and companies that have a powerful lead in the blockchain world when considering or discussing blockchain are the ones bellow:
Ethereum – Enough has been said about Ethereum and the precocious and visionary leader Vitalik Buterin, so I really don't have the capability to add much more other than; the courage and verve of the project, and team, are inspiring and everyone should watch what the Ethereum puts out this year. https://www.ethereum.org/
Ripple is the fast growing Global real-time settlement that is taking on SWIFT.
R3 CEV – R3 is a financial technology organisation company that has been leading efforts to engage the biggest banks and financial organisations in blockchain. It represents the biggest shared effort of bringing blockchain technology to the financial markets.
Backfeed – Based in Tel Aviv with a well defined and broadly skilled team of engineers and thought leaders, Backfeed ) develops resilient technology and new economic models to support free, large-scale, systematic collaboration.
Everledger – Everledger is a permanent, digital, global ledger that tracks and protects diamonds and other valuable items over their life journey
Plex – Small fast growing startup founded by Terek Judi with focus and ambition. Plex.Ai is a automotive telematics platform that uses Ethereum, machine Learning and Artificial intelligence to give insurance companies real time, remote, diagnostics on a car and the driver.
outlierventures.io / Blockchain Angels Europe – lead by Jamie Burke Outlierventures and Blockchain Angels: are a powerful fast growing multidisciplinary blockchain angel network, think tank research platform educating, connecting for deal flow in the blockchain space. The World's biggest investor network for blockchain.
Consensys – lead by Joseph Lubin, Consensys is an antifragile organization that is steeped in the theoretical frameworks of Ronald Coase. A hub and spoke model, that nurtures a loose federation of blockchain technologists all working in multiple verticals, yet leveraging their collective understanding and skills. Some of the companies under the Consensys ) umbrella are good enough to stand alone here on this top ten list especially Uport and Ujo music.
Circle – Dublin and London-based – enables peer-to-peer payments for consumers via mobile devices using a platform built on blockchain, which is licensed through Barclays.
Ornua – is the first organisation in the world to complete a trade transaction using blockchain. Enabled through a partnership with Barclays, the credit transaction between Ornua and the Seychelles Trading Company was the first to have trade documentation handled on a platform developed by the fintech company Wave.
Sources:
https://www.rise.global/blockchain-100
The fintech future: Why 2017 will be the year of blockchain https://www.siliconrepublic.com/enterprise/blockchain-2017
Dinis Guarda is an author, speaker, serial entrepreneur, advisor and experienced CEO.
He creates and helps build ventures focused on global growth, 360 digital strategies, sustainable innovation, Blockchain, Fintech, AI and new emerging business models such as ICOs / tokenomics.
Dinis is the founder/CEO of ztudium that manages blocksdna / lifesdna. These products and platforms offer multiple AI P2P, fintech, blockchain, search engine and PaaS solutions in consumer wellness healthcare and life style with a global team of experts and universities.
He is the founder of coinsdna a new swiss regulated, Swiss based, institutional grade token and cryptocurrencies blockchain exchange. He is founder of DragonBloc a blockchain, AI, Fintech fund and co-founder of Freedomee project.
Dinis has created various companies namely Ztudium, a tech, digital and AI blockchain startup that builds cutting edge software, big data insights, publishes intelligenthq.com, hedgethink.com, tokensdna.com and tradersdna.com among others.
Dinis is the author of various books. His upcoming books "How Businesses and Governments can Prosper with Fintech, Blockchain and AI?", also the bigger case study and book (400 pages) "Blockchain, AI and Crypto Economics – The Next Tsunami?" last the "Tokenomics and ICOs – How to be good at the new digital world of finance / Crypto" will be launched in 2018.
Some of the companies Dinis created or has been involved have reached over 1 USD billions in valuation. Dinis has advised and was responsible for some top financial organisations, 100 cryptocurrencies worldwide and Fortune 500 companies.
Dinis is involved as a strategist, board member and advisor with the payments, lifestyle, blockchain reward community app Glance technologies, for whom he built the blockchain messaging / payment / loyalty software Blockimpact, the seminal Hyperloop Transportations project, Kora, and blockchain cybersecurity Privus.
He is listed in various global fintech, blockchain, AI, social media industry top lists as an influencer in position top 10/20 within 100 rankings: such as Top People In Blockchain | Cointelegraph https://top.cointelegraph.com/ and https://cryptoweekly.co/100/ .
He has been a lecturer at Copenhagen Business School, Groupe INSEEC/Monaco University and other leading world universities.
He is a shareholder of the fintech social money transfer app Moneymailme and math edutech gamification children's app Gozoa.
Between 2014 and 2015 he was involved in creating a fabbanking.com a digital bank between Asia and Africa as Chief Commercial Officer and Marketing Officer responsible for all legal, tech and business development. Between 2009 and 2010 he was the founder of one of the world first fintech, social trading platforms tradingfloor.com for Saxo Bank. In 2011 he created the B2B platforms socialmediacouncil.org and openbusinesscouncil.org with Jamie Burke.