BOScoin and Humaniq the Emergence of Blockchain Cryptocurrency Startups
BOScoin and Humaniq Tech for Good the Emergence of The Blockchain Cryptocurrencies Startups
As the digital economy grows, and keeps disrupting industries worldwide, cryptocurrencies become the biggest central point of the new radical business and investing growing ecosystem. There is an emergent P2P economy based in cryptocurrencies, and with the new business models such as ICO – Initial Coin Offer – these companies create a new powerful concept of venture liquidity and direct relationship with their community and crowd sales.
William Mougayar the author of "The Business Blockchain" and a board advisor to, and investor in, multiple blockchain projects and startups has reflected on this subject and highlighted some powerful ideas. Mougayar argues that the traditional venture capital model is now being quickly disrupted, revolutionised by young innovative upstarts working with cryptocurrencies and blockchain tech. Some of his own words:
"The decentralization effects of blockchain-based cryptocurrencies are hitting the venture capital industry in more ways than one. Whereas the traditional venture capital industry is boring, the crypto-tech industry has become more exciting.
Actually, I see the two models as diametrically opposed: one is a closed market, dominated by command-and-control practices, led by a few rich people on Sand Hill Road. The other is a widely open global market where anyone can play, and where the gains and risks are more evenly distributed.
This has led to a re-thinking of how startups who are operating in the blockchain space can raise money, and it has potential implications that will revamp the relationships venture capital firms can hope to strike with these startups.
As an investor, advisor or board member, I have been closely associated with a variety of early stage companies tackling the innovation explosion around cryptocurrency and blockchain-based models, and have had the fortunate insights of seeing where we might be headed."
Cryptocurrencies often tend to become speculative projects (and sometimes used for the wrong reasons), with limited real applications, the landscape is fast changing and there is some great cases of success of alt-coins for communties and tech players. The value of any currency is intrinsically tied to how useful it is, and how strong is the community it creates and serves, special when it comes to crypto-powered investing models. Both Humaniq and BOScoin are two cases of a leading innovation emergent blockchain cryptocurrency startup model.
Humaniq and BOScoin Two Blockchain CryptoCurrency Token Emerging Players
Humaniq and BOScoin are two emerging players taking the world with their digital innovation and bold approach. Both of them use blockchain as default, and more specific Ethereum, the venture lead by Vitalik Vuterim and both are trying to build meaningful tech for good and communities.
Buterin's radical and successful blockchain invention, Ethereum, became the biggest distributer ledger technology platform and ecosystem. In one hand is a community technology for developers, and a digital currency Ether, that could be considered a relative of bitcoin, which is far more popular, but with its challenges, as Ether, the Ethereum currency has risen. There are significant differences between Ethereum's crypto currency and bitcoin, such as the former's use of self-executing smart contracts, but the largest distinction between the two is the innovative powerful DNA of these leading ecosystems, currencies, and special the radical different mythologies surrounding their founders.
The BOS Platform from South Korea is about to launch with two ready-made apps Stardaq and Delicracy. These apps will use BOScoin as their primary currency, serve as channels for airdropping free BOScoins, grow the BOS Platform by attracting new users, and offer a platform for developers to create new apps.
Humaniq, is a blockchain tech for good platforms and a digital currency HMQ launched in 2016, reaching close to $5 Million in less than one month with their ICO with over 10,000 participants. Humaniq's DNA is both an ideas movement, a community, a currency HMQ and a financial inclusion blockchain Ethereum powered app focused on building a world where access to financial transactions are widely available to all people, particularly in undeveloped and developing countries. This includes over two billion people estimated to be financially excluded. Humaniq is beginning as a blockchain banking application, which uses biometrics in place of traditional identification documents.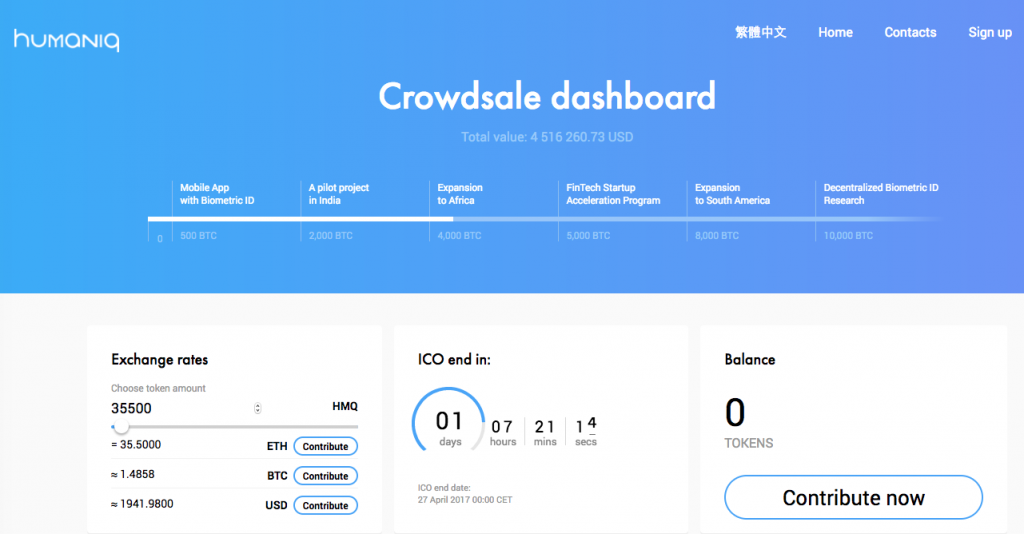 BOScoin – South Korean Decentralized Autonomous Corporation (DAC) Platform
South Korean Decentralized Autonomous Corporation (DAC) Platform BOScoin has Partner-Up With Humaniq, Blockchain-Ethereum Powered Startup, Banking 4.0 platform for social-good Humaniq.
South Korea leads the 2017 Bloomberg Innovation Index remaining the big winner, topping the international charts in R&D intensity, value-added manufacturing and patent activity and with top-five rankings in high-tech density, higher education and researcher concentration.
South Korea is among the world's largest world economies and tech players and is emerging as a tech innovation blockchain ethereum powerhouse driver. Gemini, the first Bitcoin and Ether exchange to receive licensing approval for trade in New York, opened operations in South Korea in 2016 and trade in Ether in this country has grown since. Some industry independent sources estimate that up to 25% of Ether getting traded from South Korea.
The cryptocurrency ethereum community in South Korea
There is enthusiasm and thriving innovation in the cryptocurrency ethereum community in South Korea. A recent article discloses how big Ether trading is in the country. South Korea is Second Largest Ethereum Market, with around 25% of All Trading, and together with Japan around 40% according to website bitcoin.xyz. The blockchain powered Ethereum platform and ecosystem continues to grow and has experienced a truly exponential growth in terms of market cap, technology outreach and a powerful sustained development community, reaching a market cap of $4.37 bln (2017). According to various sources and market data, the South Korean exchange market has accounted for 25 percent of global exchange.
Companies within the South Korean digital-currency and Blockchain industries are rapidly expanding their consumer base across the country. Interestingly, the majority of clients of Blockchain and digital currency-based startups in South Korea are composed of government-funded organizations, major financial institutions and multi-billion dollar corporations.
South Korean corporations and financial institutions are considering the Bitcoin and Ethereum networks as important technologies which are necessary for developing new infrastructures and internal systems to base their operations on. BOScoin is one of the leading organisations in this unique technological, governmental, industry, scientific and academic movement.
South Korea's foremost regulators and corporations are adopting Ethereum technology, particularly as a way to address serious problems in the financial, technology and governmental sectors.
Some community discussion in the country highlight that as South Koreans lost their chance to the Chinese to become leaders in Bitcoin mining, they are working to become leaders in Ether mining. Considering that South Korea has been a global leader in hardware manufacturing of processor chips, for them it is quite reasonable and realistic.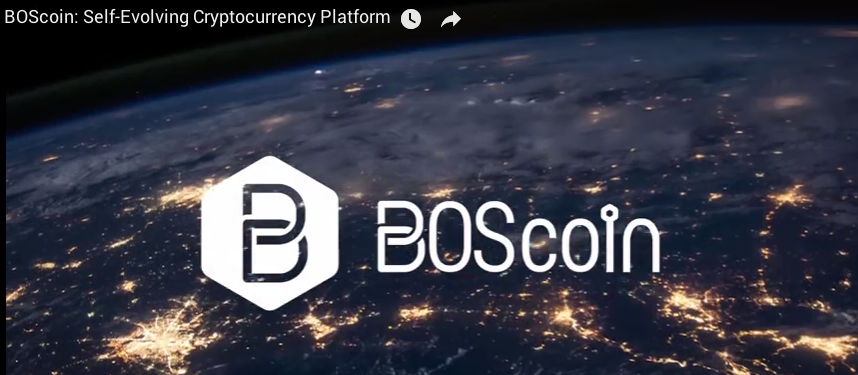 BOScoin – Blockchain Operating System + Coin
BOScoin is an innovative Self-Evolving Cryptocurrency Platform for Trust Contracts. "Trust Contracts" will offer a decidable and approachable framework for creating and executing better contracts on the blockchain. The "Congress Network" is aimed towards creating a more democratic and productive decision-making process. BOScoin incentive scheme and issuance plan is aimed towards creating value for the coin while deterring the centralization of power. The Modified Federated Byzantine Agreement algorithm will allow for low latency transactions while being more energy-efficient. BOScoin aims to overcome the technical and operational issues inherent presently in many cryptocurrencies.
BOScoin ambitious project aims to use the so-called Owlchain technology which consists of the Web Ontology Language (OWL) and Timed Automata Language (TAL). This new architecture is designed to expand expressive power while retaining decidability to support secure and precise execution of smart contracts. These Owlchain based contracts on the BOScoin blockchain are called Trust Contracts.
Humaniq and BOSchain are sharing strategic resources in both their different yet complementary mission statements. Through this new partnership the two organisations are also sharing knowledge in tech and ICO experience. Moreover, this partnership will support both organisations on building a network of tactical operations and footprints worldwide.
Humaniq blockchain financial inclusion and education app and services for two billion unbanked
Humaniq is on an ambitious mission. It wants to bring new blockchain powered mobile financial inclusion and education services to help two billion unbanked people worldwide. Their top priority is to support people with limited or no access to the digital economy. And their top goal is to help lift people out of poverty by providing them with a financial inclusion circular economy P2P platform using the Ethereum blockchain and biometric technology.
Humaniq announced deals for their HMQ cryptocurrency token to be traded initially on six exchanges. With their incredibly successful ICO almost finished, tokens will be disbursed to participants within 10 days after the end of the ICO on April 27th. The six exchanges that have agreed to trade HMQ are SpaceBTC, LiveCoin, Bitlish, Dabtc, and Exmo.
Humaniq recently joined Think Rise Community, the Barclays powered accelerator in London. Becoming a Rise Resident allows Humaniq to work closely along with other startups and global organisations with influence and business relationships in global locations such as NY, Mumbai, Tel Aviv, Cape Town and across the United Kingdom.
Humaniq signed as well a deal with Deloitte to offer legal consulting and advisory services. Deloitte is an internationally known authority in navigating the legal and regulatory landscape for financial service applications like Humaniq.
South Korean Blockchain DAC BOScoin Partners with Tech for Good Luxembourg and London Humaniq Startup
In a truly global digital economy these two ventures want to leverage resources and knowledge. Working with BOScoin will make it possible for Humaniq to expand its reach in Asia. The same goes with BOScoin expanding its footprint and operations in Europe and USA together with Humaniq.
Dmitry Kaminskiy, the co-founder and chairman of Humaniq, is leading this partnership with Dinis Guarda CEO of Humaniq. Besides Humaniq, Dmitry is a Managing Partner of Deep Knowledge Ventures investment fund focused on Artificial Intelligence and DeepTech.
Mr. Kaminskiy recently visited South Korea to make a speech on the topic of applying AI in Finance at the Future Finance Forum in Seoul. During his visit Asia AI Hub was established in partnership with multiple partners, including Korea BlockChain Community, Seoul National University, Suwon University, Emerging Future Institute and UN Future Forum.
"South Korea is a powerful technologic global leader and we are very excited to work with one of its leading digital and blockchain organisations BOScoin. This strategic partnership will allow us to leverage both our blockchain smart contract driven organisations and set up protocols that will grow both our footprints, businesses and operations in a sustained and strategic level. Also share knowledge and efforts in scientific and technology development, ICO policies, governance and communication." – said Kaminskiy on his visit to South Korea in high-profile events and developing global partnerships.
BOScoin is an advanced cryptocurrency platform utilizing blockchain and many new technologies to solve persistent issues in decentralized systems. Founded by Changki Park the CEO, a serial entrepreneur with experience in a number of IT companies. BOScoin has a mission to create a powerful and effective self-governing ecosystem for growth and evolution.
Changki Park was also the founder Paxnet, Inc., one of the largest securities information portals in Korea as well as Finger, Inc., a major fintech company in Korea. Previously he worked for Samsung for 14 years. He is also the former head of the Financial Engineering Research Center at the State University of New York's Korea campus.
"BOScoin is a self-evolving cryptocurrency platform. With so many advances in machine learning, artificial intelligence, and quantum computers; it's impossible for us to predict the future. Which is why BOScoin is designed to evolve." Changki Park (BOScoin CEO).
Some of the highlights of BOScoin:
Trust Contracts are securely executable contracts based on a decidable programming framework called Owlchain, which consists of the Web Ontology Language and the Timed Automata Language. Trust Contracts aim to overcome the issues of non-decidable smart contracts by using a more contained and comprehensible programming framework which provides secure and decidable transactions of contracts.
The Congress Network is the decision making body in the BOScoin network which improves governance issues arising in decentralized organizations and helps the system continuously evolve into a more robust ecosystem.
Humaniq is a revolutionary Blockchain-based project and coin HMQ for bringing banking 4.0 services to the unbanked, launched their Initial Coin Offering (ICO) on April 6, and has run it until the April 27. This Ethereum-based financial services app project has raised almost 3,000 BTC (3 391 617.59 USD) in the first five days of its ICO. The campaign, which its team has dubbed "the first humanitarian ICO in the history of ICOs dedicated to improving the lives of people in emerging economies and freeing them from poverty". Crowd sale
BOScoin: BOScoin is launching its own ICO on May 10th, 2017 (GMT), lasting 41 days until June 20th 2017.New coins are issued in four ways; initial development budget (0.5bil, 10%), confirmation rewards (1.8bil, 36%), freezing rewards(0.9bil, 18%) and the Commons Budget(1.8bil, 36%). We aim to issue a total of 5.0 billion coins over the next 128 years. These values are subject to change. In total 276,093,688.786 coins will be distributed during BOScoin Initial Coin Offer:
Disclaimer:
I am the CEO and co-founder of Humaniq.co
Dinis Guarda is an author, academic, influencer, serial entrepreneur and leader in 4IR, AI, Fintech, digital transformation and Blockchain. With over two decades of experience in international business, C level positions and digital transformation, Dinis has worked with new tech, cryptocurrencies, drive ICOs, regulation, compliance, legal international processes, and has created a bank, and been involved in the inception of some of the top 100 digital currencies.
Dinis has created various companies such as Ztudium tech platform a digital and blockchain startup that created the software Blockimpact (sold to Glance Technologies Inc) and founder and publisher of intelligenthq.com, hedgethink.com, fashionabc.org and tradersdna.com. Dinis is also the co-founder of techabc and citiesabc, a digital transformation platform to empower, guide and index cities through 4IR based technologies like blockchain, AI, IoT, etc.
He has been working with the likes of  UN / UNITAR, UNESCO, European Space Agency, Davos WEF, Philips, Saxo Bank, Mastercard, Barclays and governments all over the world.
He has been a guest lecturer at Copenhagen Business School, Group INSEEC/Monaco University, where he coordinates executive Masters and MBAs.
As an author, Dinis Guarda published the book 4IR: AI, Blockchain, FinTech, IoT, Reinventing a Nation in 2019. His upcoming book, titled 4IR Magna Carta Cities ABC: A tech AI blockchain 4IR Smart Cities Data Research Charter of Liberties for our humanity is due to be published in 2020.
He is ranked as one of the most influential people in Blockchain in the world by Right Relevance as well as being listed in Cointelegraph's Top People In Blockchain and Rise Global's The Artificial Intelligence Power 100. He was also listed as one of the 100 B2B Thought Leaders and Influencers to Follow in 2020 by Thinkers360.