When high-end technology meets well being-driven ideas everything can be achieved. At least, that is what they think at Kora, a new start-up that teams up blockchain and Financial Inclusion in order to tackle lack of financial access for millions of people in Africa.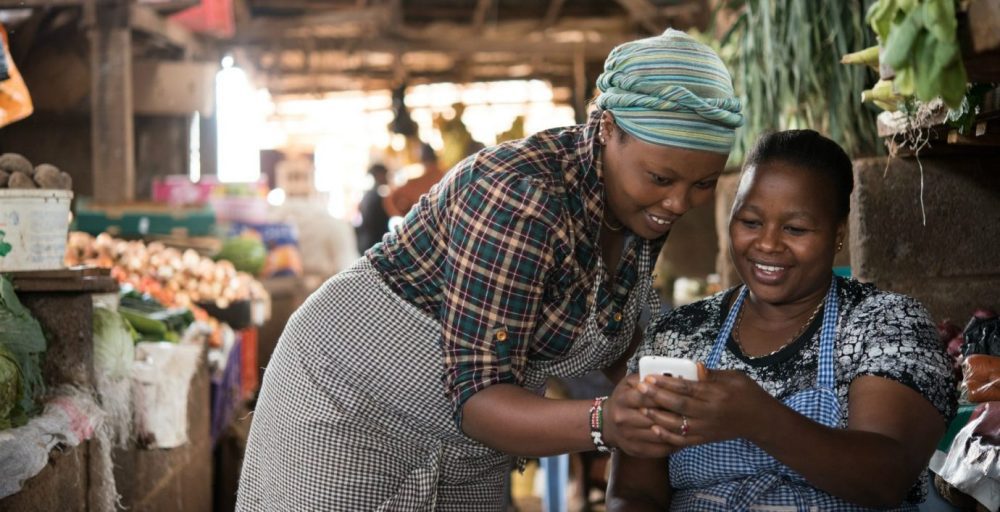 Kora is a project born in September, 2016, when entrepreuner Dickson Nsofor and expert Maomao Hu decided to use the blockchain high stance to embrace a good cause, the Financial Inclusion problem in Africa.
Originally from Nigeria, one of the most developed countries in Africa, Mr Nsofor is well aware of the difficulties that lacking in access of basic financial services can carry in people's wealth.
In fact, at Kora they see Financial Inclusion as an imperative due to the consequences attached to them:
"Financial services have been proven to help grow wealth. Unfortunately, for much of the world access is uneven and expensive. In many places formal banking is seen as something exclusively for the wealthy. Banks require high minimums and fees for opening and maintaining accounts. Due to the cost to serve and inability to prove identity, many financial institutions don't open branches in remote or low-income areas, requiring people to travel for hours to transfer money.
People that own and utilize property but don't have a trusted record to prove it are unable to use it as collateral for loans, turning it into "dead capital". This exclusion of billions of people from growing and accumulating their capital has disproportionately increased the gap between the rich and the poor, leading to constant agitation in various regions, social instability and indirectly causing political instability. This is both a humanitarian crisis and an economic crisis as a third of the world's potential for value creation is ostracised."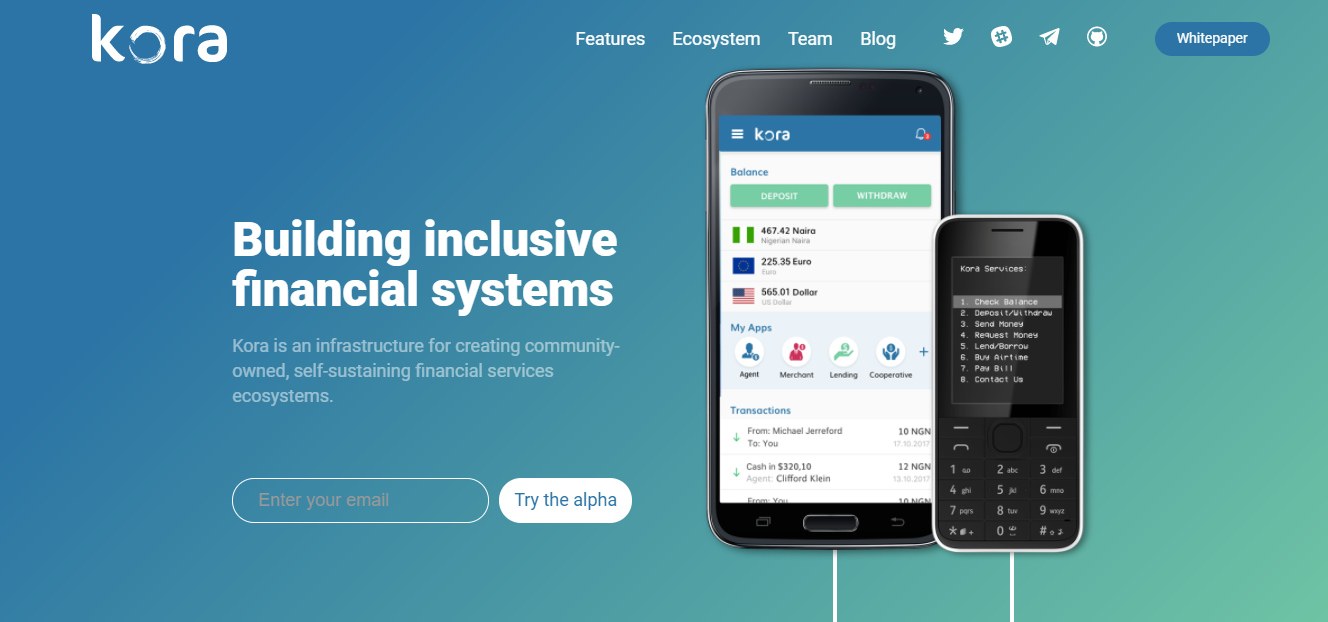 However, Mr Nsofor and Mr Hu have a solution or at least, a beginning of it. They decided that if an open-source and easy to track technology, which also features high security standards as it is the blockchain is brought up on this matter, the objective of bringing financial inclusion in this part of the world is real, so far.
Building the blockchain-powered Kora network
Basically, whay they thought at Kora is to build a network on four layers of infrastructure to provide a low cost, universal access financial services platform accessible via SMS/USSD on feature phones, or with internet access via mobile app, enabled by blockchain technology.
"This helps communities build self-sustaining, community-owned financial services ecosystems. By drastically reducing the cost and time required to provide financial services, and drawing a diverse set of stakeholders into an interoperable network, it unlocks the Long Tail of the global economy, benefiting populations most in need and enriching the global economy by unlocking the capital, intellect, and creativity of the underserved," the founders say in their white paper.
To do so, they plan on construct a fully functional financial systems, based on:
IDENTITY: Letting a user prove they are who they are, and that they did what they say they did.

SECURE STORAGE: Letting a user protect their funds from being easily stolen or devalued.

MONEY TRANSFER: Transferring value from one entity to another, quickly and securely.

MARKETPLACES: Creating venues for users to exchange money for goods, services and capital.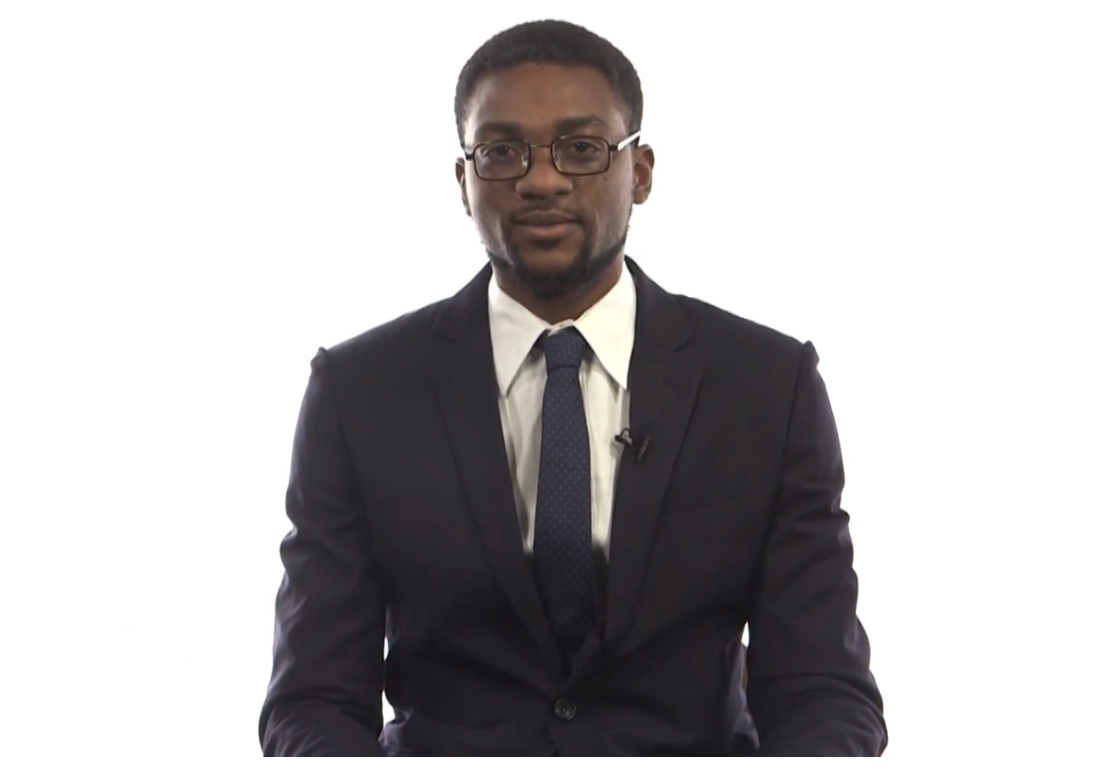 In a recent interview, founder Mr Nsofor, said how important this project is as it can actually change the status quo and how financial services can be accessed in Africa. For him, Kora is tackling the problematic from two key features:
In first place, "we have found a way to empower existing communities through what we describe in the white paper as CVN's – simply means simulating community local offline savings practices in a digital way on the Kora Network".
On the other hand, thanks to the so-called Pegged Crypto-currencies, "we believe very soon central banks will understand the value of pegged crypto-currencies that have the same price as local currency but with a crypto characteristics."
And he added that "We want at Kora to be the turn key Network solution for every financial service globally starting from Africa."
They plan to start an ICO in the second week of December after being a success in the first trenches late November, reaching a considerable amount of about $2 million.
Mr Nsofor encourages investors to take part of the upcoming ICO as "the success of the Kora Project will be a milestone in the long running quest to alleviate poverty for billions of people and to let everyone share in the wealth created globally."
Dinis Guarda is an author, speaker, serial entrepreneur, advisor and experienced CEO.
He creates and helps build ventures focused on global growth, 360 digital strategies, sustainable innovation, Blockchain, Fintech, AI and new emerging business models such as ICOs / tokenomics.
Dinis is the founder/CEO of ztudium that manages blocksdna / lifesdna. These products and platforms offer multiple AI P2P, fintech, blockchain, search engine and PaaS solutions in consumer wellness healthcare and life style with a global team of experts and universities.
He is the founder of coinsdna a new swiss regulated, Swiss based, institutional grade token and cryptocurrencies blockchain exchange. He is founder of DragonBloc a blockchain, AI, Fintech fund and co-founder of Freedomee project.
Dinis has created various companies namely Ztudium, a tech, digital and AI blockchain startup that builds cutting edge software, big data insights, publishes intelligenthq.com, hedgethink.com, tokensdna.com and tradersdna.com among others.
Dinis is the author of various books. His upcoming books "How Businesses and Governments can Prosper with Fintech, Blockchain and AI?", also the bigger case study and book (400 pages) "Blockchain, AI and Crypto Economics – The Next Tsunami?" last the "Tokenomics and ICOs – How to be good at the new digital world of finance / Crypto" will be launched in 2018.
Some of the companies Dinis created or has been involved have reached over 1 USD billions in valuation. Dinis has advised and was responsible for some top financial organisations, 100 cryptocurrencies worldwide and Fortune 500 companies.
Dinis is involved as a strategist, board member and advisor with the payments, lifestyle, blockchain reward community app Glance technologies, for whom he built the blockchain messaging / payment / loyalty software Blockimpact, the seminal Hyperloop Transportations project, Kora, and blockchain cybersecurity Privus.
He is listed in various global fintech, blockchain, AI, social media industry top lists as an influencer in position top 10/20 within 100 rankings: such as Top People In Blockchain | Cointelegraph https://top.cointelegraph.com/ and https://cryptoweekly.co/100/ .
He has been a lecturer at Copenhagen Business School, Groupe INSEEC/Monaco University and other leading world universities.
He is a shareholder of the fintech social money transfer app Moneymailme and math edutech gamification children's app Gozoa.
Between 2014 and 2015 he was involved in creating a fabbanking.com a digital bank between Asia and Africa as Chief Commercial Officer and Marketing Officer responsible for all legal, tech and business development. Between 2009 and 2010 he was the founder of one of the world first fintech, social trading platforms tradingfloor.com for Saxo Bank. In 2011 he created the B2B platforms socialmediacouncil.org and openbusinesscouncil.org with Jamie Burke.