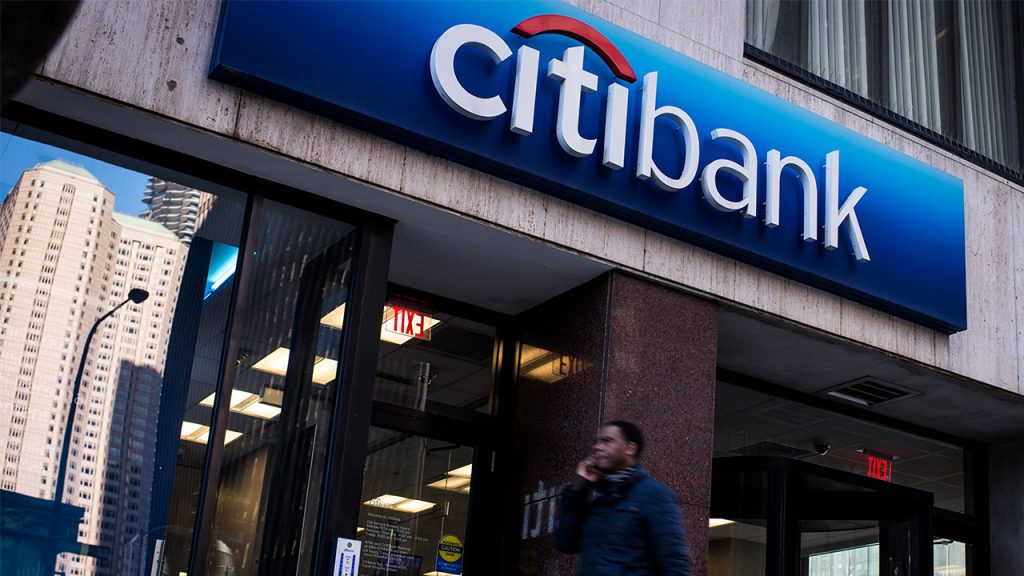 Citi has topped the latest mergers and acquisitions (M&A) league table of the top 10 financial advisers for the power sector based on deal value in the first three quarters (Q1-Q3) of 2019, according to GlobalData, the data and analytics company.
The American bank advised on nine deals worth US$11.6bn, including the big ticket deal of China Yangtze Power International's (Hongkong) acquisition of equity interest in Peruvian businesses from Sempra Energy for US$3.59bn.
According to GlobalData, which tracks all M&A, private equity/venture capital and asset transaction activity around the world to compile the league tables, Lazard stood at second position with six deals, worth US$10.6bn while RBC Capital Markets finished at third position with 13 deals worth US$9.1bn.
Nagarjun Sura, Financial Deals Analyst at GlobalData, says: "Rothschild, which was involved in the highest number of transactions in the financial adviser category, settled at eighth position due to the absence of big ticket deals. White & Case stood as top legal adviser and able to cross US$10bn mark in the power sector."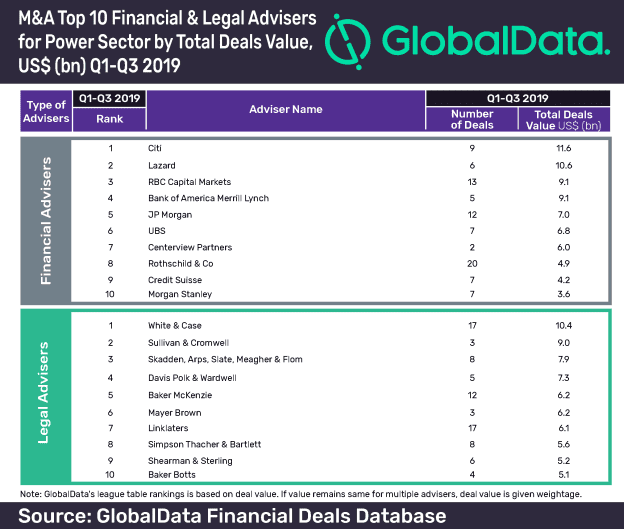 Global power deals market in Q1-Q3 2019
The total deal value in the power sector plunged by 31.25% from US$336.26bn in Q1-Q3 2018 to US$231.17bn in Q1-Q3 2019. The sector saw 2,136 deals in Q1-Q3 2019, an increase of 15.33% from 1,852 deals in Q1-Q3 2018.
Citi, which topped the power league table of M&A financial advisers, finished at fourth position in the recently released global league table of top 20 M&A financial advisers by GlobalData. Goldman Sachs topped the global rankings chart, followed by JP Morgan. The American investment bank advised on 249 deals worth US$982.3bn, including the big ticket deal of United Technologies' acquisition of Raytheon. And JP Morgan was at the second position with 211 deals worth US$777.9bn
White & Case leads top 10 M&A legal advisers list
US-based law firm White & Case led the top 10 legal advisers list in terms of deal value. The firm provided legal services to 17 deals worth US$10.4bn. Sullivan & Cromwell secured second position with three deals worth US$9.0bn.
In the global league table of top 20 M&A legal advisers, White & Case secured fourteenth position while the global table was led by Wachtell, Lipton, Rosen & Katz.
In that research, GlobalData found that Wachtell, Lipton, Rosen & Katz advised on 57 deals worth US$589.7bn, including a major transaction during the period – Bristol-Myers Squibb's acquisition of Celgene for US$89.5bn. The company also witnessed a significant year-on-year increase of 37.20% in deal value during the period.

HedgeThink.com is the fund industry's leading news, research and analysis source for individual and institutional accredited investors and professionals