What Will Happen When $11 Trillion Move to Blockchain? DTCC to Process Derivatives With Blockchain Tech.
"Every informed person needs to know about Bitcoin because it might be one of the world's most important developments."
Leon Luow, Nobel Peace prize nominee
"I'm reasonably confident … that the blockchain will change a great deal of financial practice and exchange," Tuesday in the Consensus 2016 event in midtown Manhattan, adding that his bet on the future of finance would see "40 years from now, blockchain and all that followed from it will figure more prominently in that story than will bitcoin."
Larry Summers, US Former Treasury Secretary
Depository Trust & Clearing Corporation (DTCC) $11 Trillion bet in Blockchain
The Depository Trust & Clearing Corporation (DTCC) is moving and making a substantial bet in Blockchain. DTTC has started teh process and selected a series of big tech firms and startup to help integrate distributed ledger technology into its first large-scale, real-world application for trading derivatives.
DTCC, through its subsidiaries, advances industry-leading solutions that help secure and shape the future growth and development of the global financial marketplace. DTTC stand at the center of global trading activity, processing trillions of dollars of securities transactions on a daily basis. DTCC is a leading financial organisation and has been providing services to promote the stability and certainty of global financial markets for over 40 years.
As Blockchain becomes bigger one of the critical elements is how to scale it and create trust and enough cyber security for the process. So this big billion dollars move answers to how blockchain can be applied to capital markets. If successful of course.
Blockchain is now an integrated neurological disruption to the global technology infrastructure of capital markets. It is not a trend or hype is an advent of a series of tech moves that integrate and mutate distributed ledgers technologies that started with the advent of the internet, big data, IOT (internet of every-thing), and AI in the core of the financial industry.
This single movement, even if a complex deal aims to involve a distributed ledger consortium, a stock exchange, a tech startup, a legacy computer firm and an international collection of bulge bracket banks, the post-trade financial services company has begun the process of moving a significant part of its $1.5qn-worth of transaction workflow to a Blockchain infrastructure distributed ledger network.
IBM one of the global leader in Blockchain tech will manage the process of moving $11tn worth of credit derivatives to a custom distributed ledger built by VC-backed startup, Axoni, under the advisement of banking consortium R3CEV.
The CEO of the DTCC's derivatives service subsidiary, Chris Childs, explained recently to CoinDesk is bold move and how a network of nodes run by the counterparties of a transaction will be linked together to not only streamline post-trade processes, but save money as well.
Chris Childs said on the subject:
"We believe our own internal savings will cost-justify the project. There are additional savings to the industry … the estimates vary from one institution to another."
Over the course of 2017, DTTC partners will work collaboratively to "re-platform" the organisation's existing Trade Information Warehouse (TIW) for post-trade processing to a distributed ledger custom-built for cleared and bilateral credit derivatives.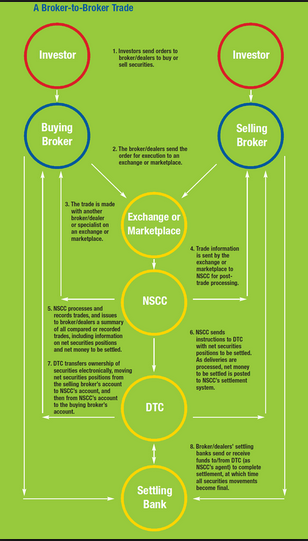 For an idea of the scale of this operation, the global economy is around 68 Trillion USD so this operations covers a big part of the global economy – all major global derivatives dealers and 2,500 buy-side firms in 70 countries, according to DTCC data.
Why such a big and sensitive move? Savings! DTCC hasn't shared the exact amount of money it believes could be saved by moving the transactions to a blockchain or distributed ledger, but a if one reminds of the 2015 report by Santander estimated the global savings to banks more generally speaking could be as high as $20bn a year.
So if this first large-scale implementation of a blockchain distributed ledger proves successful, there's plenty of room to expand and this will open way to all the remaining financial and economy industry. Bearing in mind that the entire global credit derivatives market in 2016 was $544tn, according to the Bank for International Settlements, much of which is processed by the DTCC, this is a major achievement for the blockchain industry as a whole.
Blockchain a Very Serious solution
The advent of blockchain to capital markets is now creating a stronger global system to normalise systems, processes and data storage, create an economy of scale and making savings. An excellent report by Oliver Wyman: Blockchain in Capital Markets The Prize and the Journey February 2016 highlights how Blockchain is bringing a massive revolution for the financial markets not seen in centuries and with major systemic changes. By creating a standardise system and processes it can create a much more effective system, improve credibility, trust and transparency to both storagre of financial data and flows. Also make a sound bridge between the present two world of ultra advanced tech trading and investing players with the traditional storage, regulation and back office players. More about this here How Blockchain Will Impact Capital Markets
The distributed ledger technology being used for the project is called the AxCore protocol, created by New York-based Axoni, a new venture that provides blockchain infrastructure for capital markets. This New York-based blockchain startup has announced an $18 million Series A financing round led by banking giant Wells Fargo and Euclid Opportunities, the Fintech investment arm of prominent financial services company ICAP.
Large participating firms will run their own individual "peer nodes" on the private ledger, with smaller DTCC clients being given the option to tap into DTCC's own node.
Axoni founder and CEO Greg Schvey described the AxCore protocol as "widely deployed", revealing to the major news and research outlet CoinDesk that this same technology is currently being implemented to move $2tn worth of foreign exchange transactions for ICAP, which also participated in his startup's most recent round of venture funding.
Schvey explained that while the ledger itself is permissioned, it will not be exclusively controlled by the companies implementing the protocol.
"It enables a distributed network to be built on this where, ultimately, participants could have nodes in-house," said Schvey.
When the AxCore protocol goes live in early 2018, the startup intends to submit the software to Hyperledger, the business blockchain consortium that has taken on the role of overseeing the infrastructure for a range enterprise distributed ledger codebases. Important to highlight that AX Core provides powerful analytic processing capabilities and allows users to easily schedule and automate analysis, leveraging server security and speed. Its centralized approach ensures the quality and consistency of audit work, and safeguards the most sensitive data.
Current market participants, including Barclays, Citi, Credit Suisse, Deutsche Bank, JP Morgan, UBS and Wells Fargo, helped develop the technology by providing workflow guidance. Infrastructure providers IHS Markit and Intercontinental Exchange also participated.
In conversation with about the DTTC deal with CoinDesk, IBM research vice president of blockchain solutions Ramesh Gopinath described the partnership:
"If you think about where we were a year ago on blockchain, this is a serious industry-scale blockchain production solution. And guess what, the big kahunas in banking will be on this platform."
Gopinath concluded:
"Goodbye, blockchain tourism and hello blockchain systems that are large-scale. That turning point has happened."