Last week we had BoE interest rate decision which unsurprisingly moved 25bps higher and continued to deliver a mildly hawkish tone. The main theme was the strong dollar which gained against all major currencies.
It seemed that USD shorts eventually got squeezed as DXY rose 1.4% above important resistance level around the 102.30 level closing at 102.70. US Debt ceiling concern is now beginning to creep into the market. Both President Biden and Speaker McCarthy have been locked in negotiations for months, but we are still no closer on agreeing any change to the debt ceiling.
Euro lost around 1.5% against the USD but traded in a tight range against other major currencies. With the strong USD a breach of 1.0850 could trigger further downside moves with 1.08 the next level to watch.
GBP lost a similar to the Euro despite the BoE raising interest rates by a further 25bps. This ended an eight-week run of gains. Inflation remains stubbornly high, and the BoE indicated that more rises are to come as it battles to control inflation. This battle is beginning to weigh upon investors that a continued tightening of rates will come at a cost with the IMF warning that the UK maybe the only G7 economy to slip into recession this year.
Commodity currencies retreated giving back all the previous week's gains as the US Dollar was strong. AUD and NZD both fell around 1.5%. NZD hit its lowest level since May 2 despite 2-year inflation expectations easing to within the RBNZ target indicating that the rapid rate rise is working to cool inflation.
Oil had a less volatile week but continues to give a warning sign to the global economy. Last week saw the WTI fall 1.8% to close just above $70.
The week ahead is quieter on the economic releases, but traders will be watching the US Dollar and looking to see if it continues its trend higher. We have FOMC member commentary with members Kaskari, Bostic and Barkin all speaking on Monday and a continued Hawkish tone will weigh heavy on currencies against the USD.
Weekly Majors Market Performance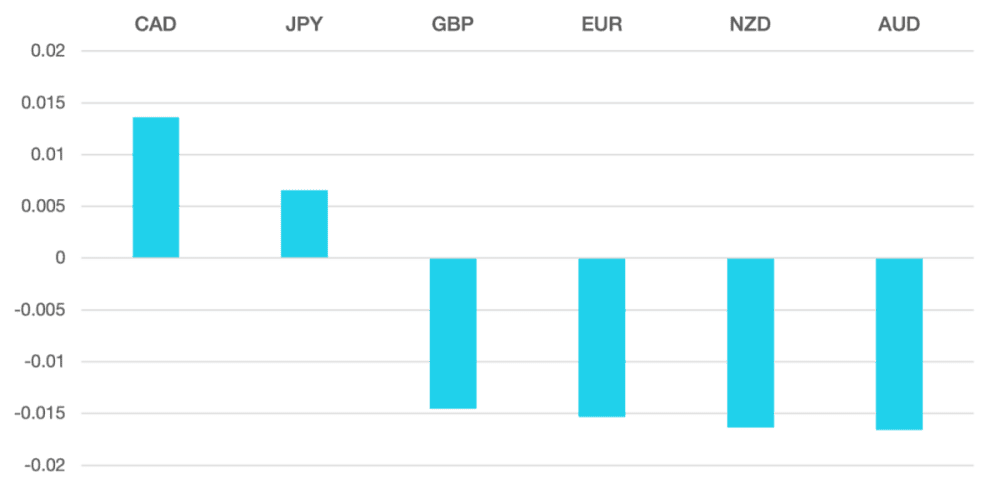 Cromwell FX is a quantitative FX manager offering superior risk adjusted returns. The portfolio is the most liquid pairs . The strategy is fully automated and adhere to strict rick management procedures to control leverage and position limits.
The post USD Strong All Week & Debt Ceiling Worries Creep In first appeared on trademakers.
The post USD Strong All Week & Debt Ceiling Worries Creep In first appeared on JP Fund Services.
The post USD Strong All Week & Debt Ceiling Worries Creep In appeared first on JP Fund Services.