Last week was the first full week of August. Usually, a more peaceful time in the markets but this year continues to be the exception to the rule.
US Dollar and Yields rose post CPI release. The dollar rallied as shorts were covered and gave continued support. DXY rose 0.8% edging towards the 103 level.
Euro struggled through the week as German economic data continues to struggle. The EUR lost 0.8% vs the USD while remained flat against other G7 currencies.
GBP started the week strong as GDP data put some strength into the pound. However, by the end of the week and a stronger USD it ended the week lower by 0.6%.
Commodity currencies continue their bad run of form. With the US Dollar stronger and risk moving lower these pairs took the brunt. CAD fell 0.5%, AUD lost 1.1% and NZD almost 2%. The continued dollar strength sent the JPY lower by over 2%.
Oil has now risen for 7 weeks on the trot and has now broken above resistance. OPEC supply remains tight, and Oil looks favourite to continue to rise. Last week it rose 0.5% to close just above $83.
The week ahead could be a quieter one as the August holidays begin to bite. However, we are looking at some important levels in the S%P and US Yields.
Data wise we have UK, Eurozone and Canadian inflation data along with Japan GDP.
Weekly Majors Market Performance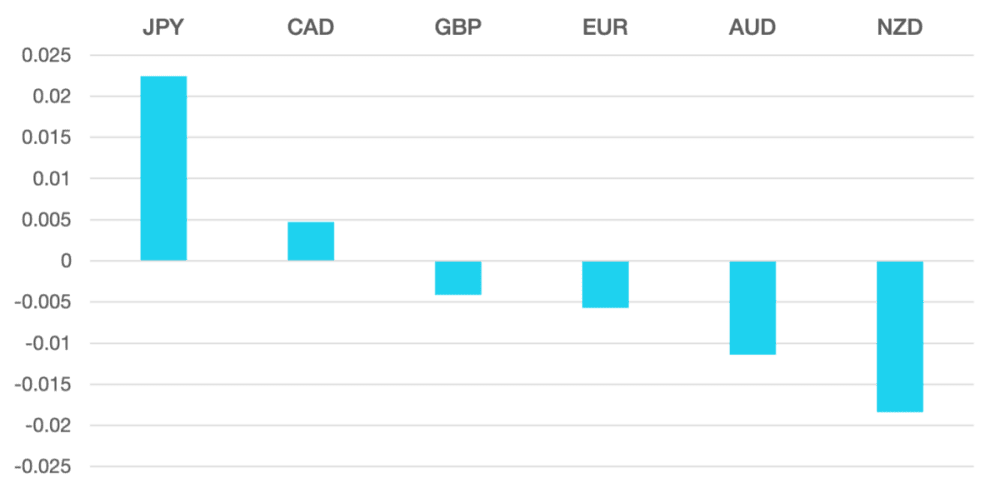 Cromwell FX is a quantitative FX manager offering superior risk adjusted returns. The portfolio is the most liquid pairs . The strategy is fully automated and adhere to strict rick management procedures to control leverage and position limits.
The post US Dollar and Yields Rally first appeared on trademakers.
The post US Dollar and Yields Rally first appeared on JP Fund Services.
The post US Dollar and Yields Rally appeared first on JP Fund Services.