Venture capital funding is on the rise, especially considering the recent boom this year. VC hit an all-time high in the first quarter of this year, higher than it hit 14 years ago in the third quarter of 2000. Over the preceding years, the biggest venture capital trends were seen in the growth of micro venture capital funds or micro VCs. Micro VCs have been generated quickly with over half the venture capital funds produced in the preceding six months totalled $50 million AUM. The level for assets under management which delineates a micro venture capital fund is a question of a debate among the pros, where some have marked the line at $75 million to $100 million.
Moreover, with a couple of firms having produced multiple venture funds, there are micro venture capital funds that in total contain more limits than one might set. Asset under management thresholds on one side, micro VCs emphasize on the beginning stage of opportunities. This evaluation places the increase of micro VCs into context and allows for a complete breakdown of macro-level funding trends along with company-level analysis.
According to PItchBook, the overall of Capital Invested in 3Quarter 2013, in US, was $7.4 billion, with top deals made with Google Ventures, SOO Startups, New Enterprise associates, Accel Partners.

As shown by another diagram by The MoneyTree Report, the leading investment are made in Software Industry (42%) followed by Biotechnology (9%) and IT Services (9%).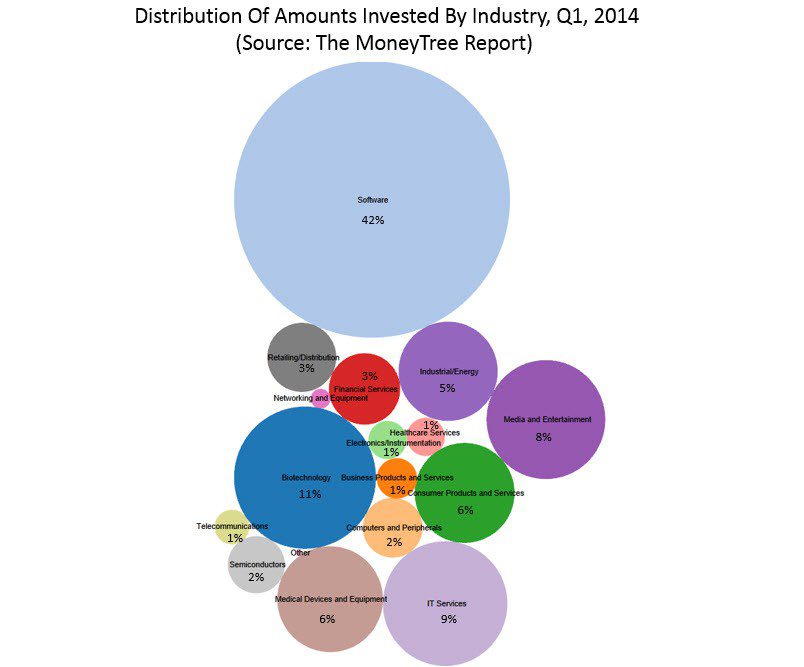 This article will deal with three aspects of micro VC analysis, namely:
Early-stage financing trend movements amidst micro VCs
The most active micro VCs
Which micro VCs have the strongest network?
Early-Stage Financing Trends among Micro VCs
With the increase in investment in micro VCs, initial stage agreements and the funding involved in micro venture capital funds in the first quarter of this year increased to $627 million across the globe in 242 agreements. Early stage financing and participation by micro VCs has exponentially increased manifestly from just 2 or 3 years ago. Taking the first quarter of 2011, you will see venture capital increased to 77% in the early stages, while deal activities increased to 64%.
Advertisements, Sales & Tech Marketing – the Hottest Trends among VC Analytics
Looking up from the sector level, online applications and smartphones rule micro VC investments and since 3 years ago, this dominance has captured over 85% of exclusive firm investments. And when talking about online capacity, the advertising, marketing technology and sales sector of the internet saw a massive increase among all the deals in the sub-industries. Electronic commerce and marketplaces and clothing and accessories companies were also ranked at the top.
However, it is also true that emphasizing more on capital productive technology regions in the industry makes a lot more sense for micro VCs given the reduced cost of technology and tech infrastructure and the capability for newly formed companies to map out a good business plan with a decent amount of finance. Also, while sub-industries facing numerous enterprises attracted a lot of online bets via venture capitalists, among them Gaming and Social were placed on top ranks amidst venture capital investments in the smartphone sector.
The Most Active Micro VCs
Which companies are more inclined towards investing in the whole micro venture capitalist infrastructure?
Well, since the beginning of 2011, there are over 500 start-up companies that were ranked in the list of the 'most active micro venture capitalists' through exclusive company agreements. SV Angel topped the list with Lerer Ventures and Founder Collective ranked second and third respectively.
Which Micro VCs have the Strongest Network?
A question that is posed by many in regards to micro VCs is the fact can they really go that far? The answer quite simply is yes, but this can't happen without bigger partners lending a helping hand to promote the growth of VCs. Micro VCs without big support cannot experience the growth it is expected to. The relationship between micro VCs and bigger venture capitals should always be mutually beneficial and not the other way around, as explained by Roger Ehrenberg of IA ventures.
The fact of the matter is what he says is significant when you look at it from the broader perspective of a venture capitalist. Stronger networks can be a pinnacle to get the returns venture capitalists seek. When talking about micro VCs, it points out to those micro VCs which have a considerably fast networks with superior quality. High quality networks allow both micro VCs and VCs to gain fast access to information, and a stronger deal flow.
Chris Turner is a versatile content writer with a passion for technology, finance, Investing and trading. He writes extensively on the subjects of Trading, Investing, Bitcoin, Forex trading, investing and general finance. He is writing and providing advice, education and encouragement to budding investors and traders, on Hedge Fund and alternative investments and other emerging financial trends. He is a contributor writer for HedgeThink.com and TradersDNA.com.