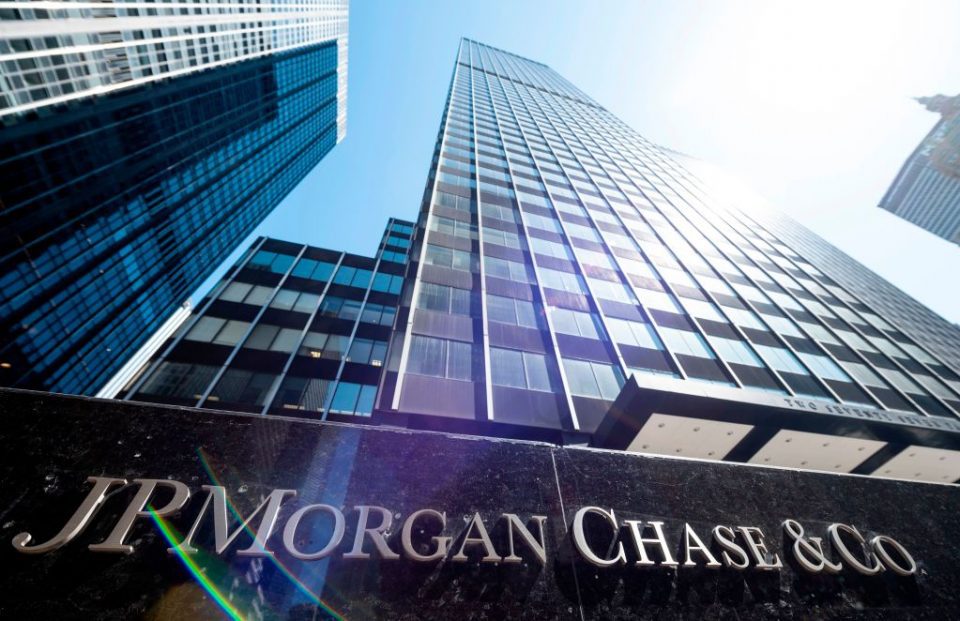 GlobalData has revealed the latest mergers and acquisitions (M&A) league table of the top 10 financial advisers in Asia-Pacific by value and volume for the coronavirus-hit first quarter (Q1) of the year, which witnessed subdued deal activity in the region.
JP Morgan leads by both value and volume
JP Morgan has dominated the M&A financial advisers league table based on both deal value and volume during the review period. In terms of value, the American investment bank advised US$20.1bn worth deals in Q1 2020.
GlobalData, which tracks all M&A, private equity/venture capital and asset transaction activity around the world to compile the league tables, confirmed that Deloitte occupied the second position with six transactions worth US$12.0bn.
JP Morgan stood at second position in GlobalData's recently released global league table of top 20 M&A financial advisers.
In terms of deal volume, JP Morgan advised on eight deals worth US$20.1bn in Q1 2020. The bank advised on eight deals during the review period.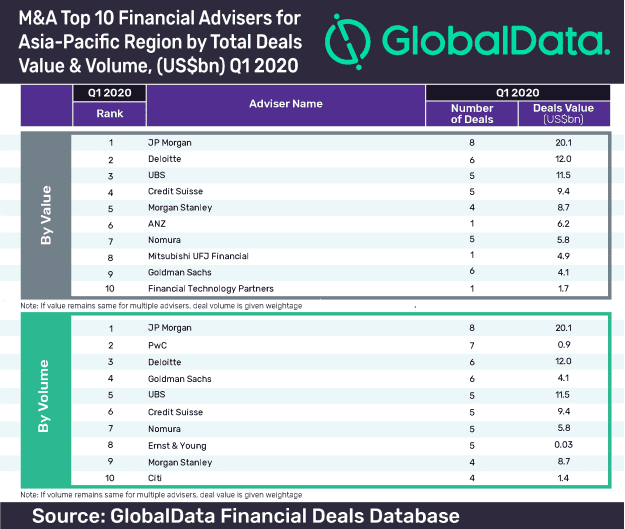 GlobalData revealed that PwC occupied the second position with transactions worth US$0.9bn.
Ravi Tokala, Financial Deals Analyst at GlobalData, comments: "Despite the overall deal activity (volume) declining among other regions, Asia-Pacific bound total deals volume increased by 3.43% in first quarter of 2020. Interestingly, the number of deals targeting Chinese companies or assets represent about 31.54% of the overall deal volume recoded in the region.
"However, the region recorded a decrease of 9.94% in deal value terms due to the absence of big-ticket and high value transactions, which could be attributed to Covid-19 concerns. 
"JP Morgan emerged as the clear winner in value terms in the region, maintaining a significant lead over rest of the advisors. However, in volume terms, there was tough competition between JP Morgan and PwC for the top spot, with the former taking lead by a mere one transaction." 
Asia-Pacific deals market in Q1 2020
The deal volume in Asia-Pacific saw a year-on-year increase by 3.43% from 2,711 to 2,804 in Q1 2020. During the same period, deal value declined by 9.94% from US$128.3bn to US$115.5bn.

HedgeThink.com is the fund industry's leading news, research and analysis source for individual and institutional accredited investors and professionals