The fintech industry is currently projected to be worth over £150 million in 2022, and with experts predicting this sum will surpass £175 million in 2024, new research has revealed the most influential fintech giants in the world this year.
The study carried out by Utility Bidder reveals the biggest fintech companies of 2022, by looking at factors such as valuation, funding, social following, and online visibility, to award an overall Fintech index score. So, which companies make the top 10?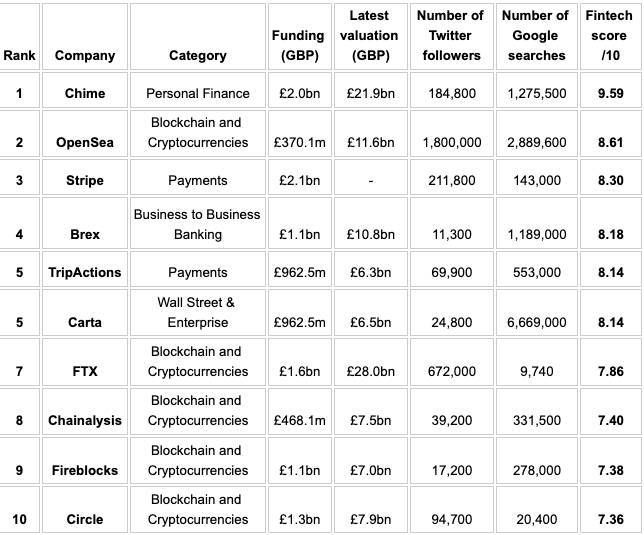 What does the research tell us about the fintech industry? 
• Chime is the most influential company in the fintech market in 2022, returning a score of 7.22 out of 10 in our index. The personal finance giant ranks second for funding (£2 billion) and latest valuation (£21.9 billion), behind Stripe and FTX respectively.
• Between the 50 fintech giants included in the study, an average Fintech score of 4.99 was awarded, with overall funding for the industry leaders standing at $28.9 billion.
• Trading in NFTs increased by 21,000% in 2021, and OpenSea – the world's largest NFT marketplace – rank in second in the study. They boast the most twitter followers (1.8 million), as well as receiving 2,889,600 Google searches in the last 12 months.
• The fintech company with the highest valuation is FTX; the Bahamian cryptocurrency firm is the only contender outside the US to feature in the top 10. The company is currently valued at a whopping £28 billion; Over 17 times more than its funding of £1.6 billion.
The research by Utility Bidder follows on from their report profiling the Influencial Fintechs of 2021. Chime, Stripe, and Carta remain in the top 10 for 2022, however, last year's most influential fintech – Robinhood – did not appear in Forbes' Fintech 50 in 2022, along with Kraken, Klarna and Wise.

HedgeThink.com is the fund industry's leading news, research and analysis source for individual and institutional accredited investors and professionals