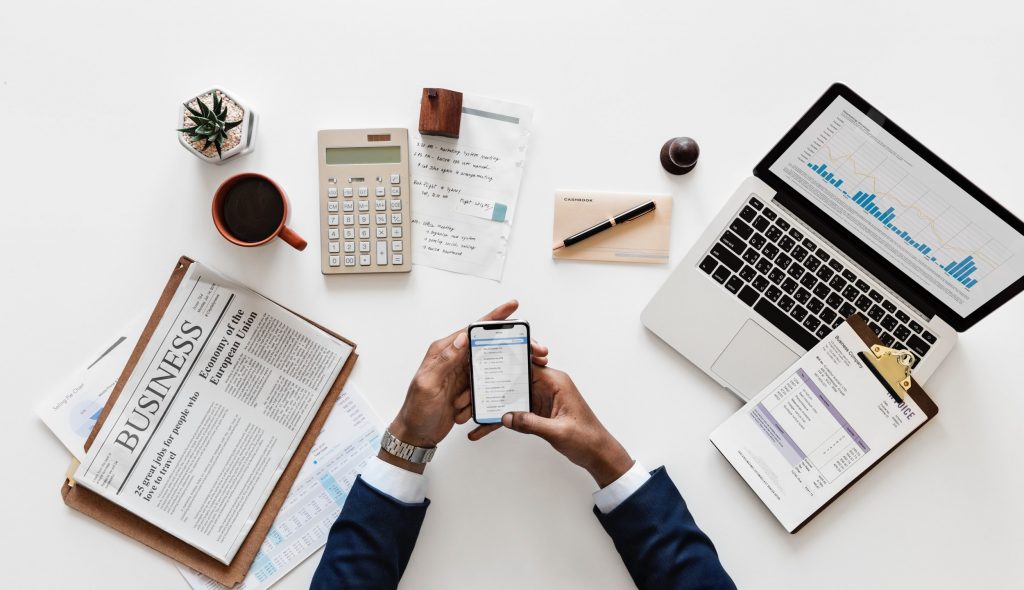 While many of us use technology to make our lives easier, few are making the most of technology's ability to transform our finances. With FinTech on the rise, there is now more technology than ever before dedicated to improving our ability to manage our personal finances. Curious as to what technology your finances will benefit from the most? Read on.
Apps
Personal finance apps have opened new doors to individuals interested in growing their finances from the comfort of their own smartphone. Use the following apps to improve your money management, budgeting skills, and investment decisions:
– Mint
When it comes to money management apps, Mint is one of the most used and well-liked personal finance apps. Intuit Inc's free app is an all-in-one resource for individuals looking to track their spending, create a budget, and make better decisions about their money. With Mint, you'll be able to connect credit card accounts and your bank. This will allow you to better manage your monthly bills and keep all your financial details in once place.
With Mint, you'll be notified of deadlines for bills, the amount you owe, and the number of available funds you are able to use for your expenses. Mint fans love using the app to set payment reminders and provide advice that will help them control their spending habits.
– You Need a Budget
While "You Need a Budget" may be something most people say to themselves when they've gone too far with their spending, this is also the name of a very handy debt app. YNAB is one of the best tools to use to help you stop having to live paycheck to paycheck. With YNAB, you'll be able to pay off debt, save for unexpected expenses, and begin your journey to building wealth.
In this app, YNAB is used to count every dollar. Whether it goes to investing, repaying debt, or covering your living expenses, this app is the best when it comes to building a budget that you'll actually stick too.
One of the reasons this app is so effective is that it won't build a budget around money that's not there. While many people create budgets off of their projected income, YNAB works with your actual income. Should you ever get off track, YNAB will provide suggestions for how to better balance your budget.
– Wally
Tracking one's expenses should go beyond visiting your bank's website every day to check on your spending and saving. If you're hoping to improve your personal finance tracking, the Wally app is a great way to do so. This free app saves users from having to manually log their expenses towards the end of each day, week, or month. Instead, Wally compiles your spending data with the receipts from each purchase. Simply take a picture and Wally will do the rest.
With Wally, you'll be able to easily track all of your spending, giving you greater control of your finances. If you're already searching for a way to track your expenses and are tired of manually entering the data, the Wally app was made for you.
Podcasts
Personal finance podcasts are an easy way to tune in to the best personal finance advice. Whatever you're interested in when it comes to personal finance, the right podcasts will help you make the right decisions when it comes to improving your money management.
– The Dave Ramsey Show
Start your foray into financial podcasts by tuning into the Dave Ramsey Show. This podcast is hosted by the best-selling personal finance expert Dave Ramsey. In his podcast, Ramsey shares advice on debt, retirement, marriage, insurance, and investing. With Ramsey's words of wisdom, anyone searching for pearls of truth on how to transform their finances will find exactly what they're searching for.
– So Money
Farnoosh Torabi is regarded as an expert on all things personal finance. On her show, this podcast host invites a variety of individuals to share their thoughts on their personal money mindsets and tips and tricks that have worked for them. With inquisitive and unique questions like "What expenses make your life better or easier?", Torabi encourages listeners to take away interesting facts and advice from each podcast guest.
– BiggerPockets Money Podcast
The BiggerPockets Money Podcast is dedicated to anyone that wants to grow their finances. Regardless of where you may find yourself financially, this is a podcast to listen to if you want "Bigger Pockets". With hosts Scott Trench and Mindy Jensen, you'll have all the wisdom you need to spend smarter, save more, and start building your nest egg faster.
Videos
Another important resource for anyone interested in improving their personal finances should consider turning to popular YouTube resources. Whether you're viewing Fisher Investments' market updates on YouTube or listening to resident YouTubers share their personal advice, videos are an easy way to learn more about personal finance.
– My Fab Finance
Personal finance doesn't have to be a challenging experience. The My Fab Finance YouTube account is a YouTube account dedicated to teaching viewers how to be financially savvy. Though these videos are targeted towards women, anyone can benefit from the financial advice ranging from budgeting tips to information on how to deal with income reductions.
– Absolutely Adonis
The Absolutely Adonis YouTube channel is another must for viewers that are interested in the basics and best practices for their finances. Absolutely Adonis' YouTube host covers the basics for smart financial steps and budgeting. With suggestions like keeping a journal for better money management and similar tips, Absolutely Adonis is ideal for viewers like college students and those new to personal finance.
– The Financial Diet
The Financial Diet is another informative YouTube channel that focuses on everything viewers need to know about how to put their money to work for them. Host Chelsea Fagan shares her take on complex finance topics, tips to improve your career prospects, and financial confessions sharing secrets from true finance experts.
With apps, videos, podcasts, and much more available at your fingertips, it's easy to perfect your approach to managing your finances with the help of tech. Let this guide inspire you to use technology to your advantage as you discern which type of tech is best suited for your needs.
This is an article provided by our partners network. It does not reflect the views or opinions of our editorial team and management.
Contributed content

HedgeThink.com is the fund industry's leading news, research and analysis source for individual and institutional accredited investors and professionals