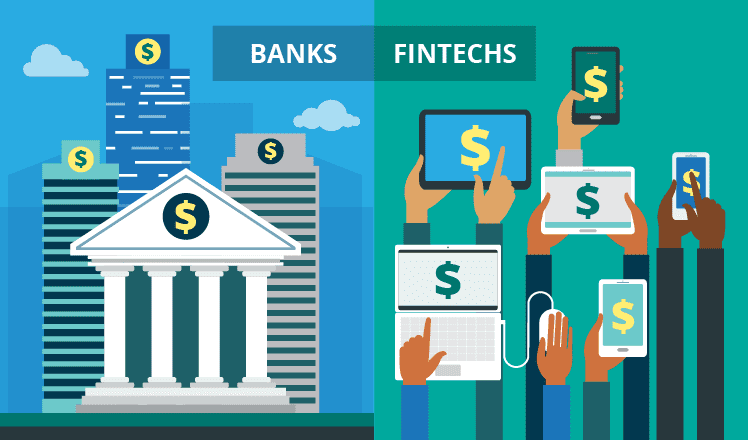 The Fintech industry comprises a whole range of financial services and products that share a basic principle: all of these services must be based upon technological solutions. The industry is so diverse and thriving that attracts players from all sectors and sizes, though the ones that are taking the upper hand are, as usual, the banks.
And US banks, in fact, are future-proofing by actively investing in all these fintech startups. In this market, the most active US bank investors in fintech are Goldman Sachs, Citigroup, and JP Morgan Chase & Co. All of these are placing strategic bets on fintech startups across payments, capital markets, blockchain, data, and more.
According to a recent report carried out by CB Insights, only in 2019 YTD, US banks have participated in 24 equity deals to fintech companies. This follows a record 2018, where US banks backed 45 equity deals to fintech startups, which means a 180% increase from 2017.
As mentioned above, the most active US bank investors in fintech (by number of portfolio companies) are Goldman Sachs, Citigroup, and JP Morgan Chase & Co. While all three have ramped up their fintech investment activity in recent years, they've taken different strategic approaches.
Goldman Sachs and Citigroup are the most active investors largely because of their investment arms — Goldman Sachs Strategic Investments and Citi Ventures — which have participated in 21 and 11 fintech deals since 2018, respectively. As a result, the two banks continue to invest in a wide range of fintech sectors.
Since 2017, Goldman Sachs has focused its fintech investments on real estate, data analytics, and payments & settlement. Betting on these subindustries aligns with Goldman's digital strategy of scaling its consumer offering, Marcus.
Citi has backed 4 blockchain, 3 capital markets, and 3 payments & settlement startups since 2017. Generally, these investments fit into the banks' larger strategy of building open banking infrastructure. In March, Citi announced plans to build a "digital consumer payments business for institutions," and there are rumors Citi may launch a Banking-as-a-Service platform.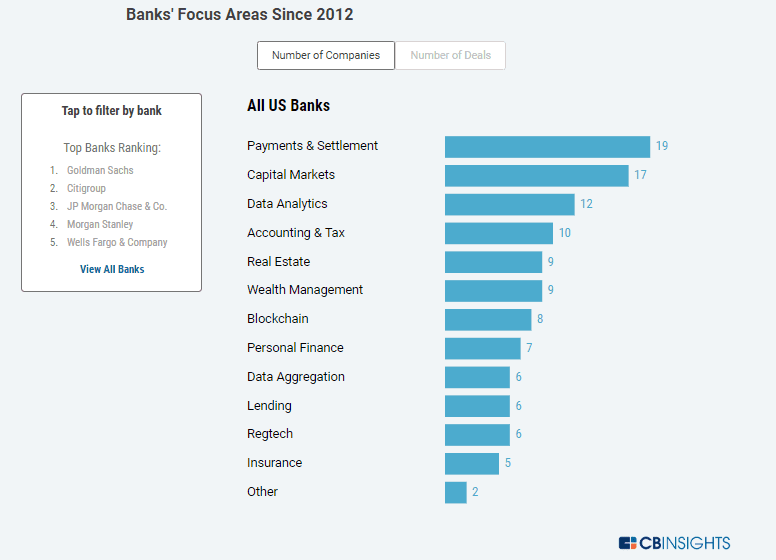 JPM meanwhile remains focused on strengthening its capital market solutions and scaling its payments business. The bank has backed 4 capital markets startups and 4 accounting startups (including startups focused on accounts payable/accounts receivable) since 2017. Over the same time period, JPM also made bets on 2 companies in each of the payments & settlement, regtech, and lending categories.
Other banks that have backed at least 5 fintech startups since 2012 include Morgan Stanley, Wells Fargo, Bank of America, and PNC Financial Services Group.
The potential for high returns and strategic partnerships
US banks are often involved in fintech rounds for two main reasons: the potential for high returns and strategic partnerships.In the first case, banks, corporate venture capital groups, and strategic bank funds will invest in a startup strictly for the purpose of future returns, as well as to gain exposure to emerging subindustries.In other cases, a bank will invest strategically, partnering with a fintech startup to further its own internal goals. For example, in May 2019, Wells Fargo led Openfin's $17M Series C. Now, Wells Fargo (and other bank investors) leverages the platform internally to help modernize its software for front- and back-office functions.

Another example is Goldman Sachs' 2018 investment in Even Financial, an API that helps funnel qualified customers directly to financial institutions' product offerings. Goldman's consumer brand Marcus currently uses Even Financial's platform for lead generation.

Investment trends by category
Banks' areas of focus have shifted over the years as new technologies emerge and consumer tastes evolve.In 2018, banks backed a record number of deals to fintech startups, diversifying their bets across a wider range of fintech spaces. Payments & settlement, capital markets, and data analytics have been longstanding frontrunners in terms of deals. Blockchain, meanwhile, has cooled since garnering a high level of investor interest in 2015.

So far in 2019, the most popular investment categories have been real estate, capital markets, and wealth management.

Since 2012, US banks have invested most heavily in financial technology focused on payments & settlements, capital markets, data analytics, and real estate (based on the number of companies backed in each category).

Looking at investments by the number of deals to each category, capital markets jumps into the top spot, followed by payments & settlements.

The payments & settlement category includes startups that facilitate consumer and business payments (B2C/B2B), provide payment infrastructure to enterprises (B2B2C), or provide trade settlement solutions.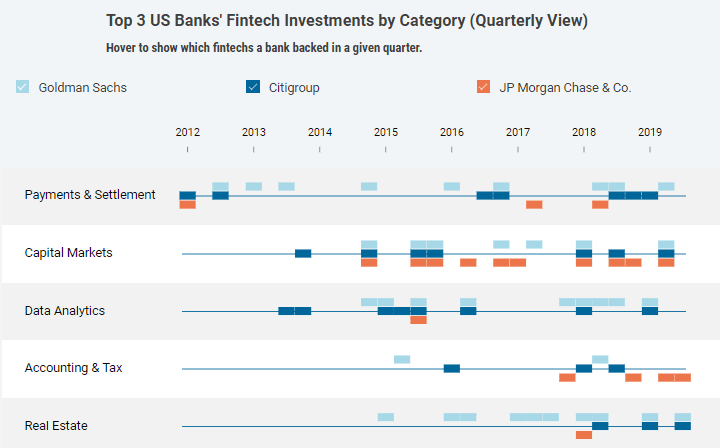 Payments & settlement startups that have raised equity rounds from at least 3 banks include Square ($717M in total disclosed funding; banking investors include Goldman Sachs, JP Morgan Chase & Co., Morgan Stanley, Barclays Capital, and Silicon Valley Bank) and Transactis ($60M; TD Bank Group, Fifth Third Bank, PNC Financial Services Group, and Wells Fargo).
Capital markets includes startups that are augmenting or replacing securities issuance, trading, clearance, and operations. Banks that have bet on at least 3 capital markets startups include JP Morgan Chase & Co., Citigroup, Morgan Stanley, Goldman Sachs, and Bank of America.
The data analytics category consists of startups leveraging AI and ML to clean and understand complex data sets. Financial technology data startups that received funding from banks since 2018 include Visible Alpha, Enigma Technologies, Eigen Technologies, Crux Informatics, and Second Measure.
Real estate fintech startups include companies that help users find and obtain real-estate-related financing, invest in commercial real estate, or build real-estate-related infrastructure for financial institutions. Real estate startups that have been backed by a bank since 2018 include Better Mortgage, Built, Rabbet, Mortgage Financial Solutions, Roostify, and Trussle.
Our "Other" category includes robotic process automation (RPA), as well as no-code development platforms, which allow non-programmers to create application software.

HedgeThink.com is the fund industry's leading news, research and analysis source for individual and institutional accredited investors and professionals