October was Seedrs biggest ever month with almost £20 million invested into campaigns on the platform
Seedrs Alumnus FreeAgent today announces float on AIM, becoming the first-ever business to IPO after raising money through equity crowdfunding
New tennis world number one Andy Murray has completed 18 investments into British businesses on Seedrs following investments into Perkbox and WeSwap
Brexit fails to halt Seedrs's European expansion with new Berlin and Amsterdam offices
Seedrs remains the UK's most active investor in private companies with more funded deals than any other investors (including any other equity crowdfunding platform) this year
Yesterday, 16 November, 2016, Seedrs alumnus, FreeAgent floated on London Stock Exchange's AIM marking the first time an equity crowdfunded company has gone on to IPO and giving shares owned by Seedrs investors liquidity on the stock exchange.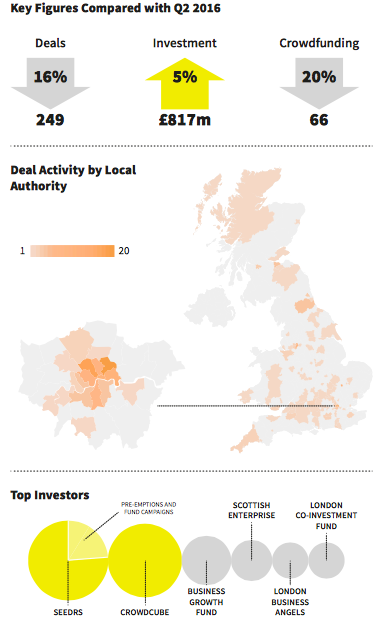 This announcement comes directly after Beauhurst announced that Seedrs has retained its title as the UK's most active investor in private companies across 2016, having completed 122 deals by the end of Q3. This is more than any other investor during the period according to a report released by the independent research firm.1
More than £160 million has now been invested into campaigns on Seedrs since July 2012 when the company launched and October became a record-breaking month with almost £20 million invested into campaigns. Perkbox, the UK's top employee and customer engagement provider smashed its £1 million target, overfunding to £4.35 million and becoming Seedrs biggest fundraise to date. With more than 300 investors, including world number one Andy Murray and prominent venture capital firm, Draper Esprit investing on the same terms as the crowd, the campaign highlighted a growing trend of VC firms leading or supporting crowdfunding rounds on Seedrs.
The UK fintech company also saw the world's first peer-to-peer money transfer platform, WeSwap, set a record for the most investors in a single campaign on Seedrs, with more than 3,000 investors backing the £1 million raise which overfunded to £2.4 million. This round boasted the largest number of investors, also including Andy Murray, for any independent business fundraising on a UK equity crowdfunding platform.
Jeff Lynn, CEO and Co Founder of Seedrs: "We are breaking records this year and by the end of Q3 we had exceeded the amount invested on the platform across the whole of 2015, while opening new offices in Berlin and Amsterdam as we push forward our European expansion.
"We congratulate FreeAgent following today's float on AIM and for becoming the first equity crowdfunded IPO. As the early stage investment space matures in the coming years, we look forward to seeing many more Seedrs companies floating or exiting. We strongly believe that this asset class will be very fruitful for investors with diverse investment portfolios, and FreeAgent's listing is an early example of that.

"Despite Brexit, the UK is still attractive and safe for inward investment and will continue to be one of the number one destinations for entrepreneurs to set up a business with its favourable tax reliefs, streamlined business incorporation and simple transport abroad."
1View the full Beauhurst report here
About Seedrs
Seedrs allows all types of investors to invest as little or as much as they like (from £/€ 10 up) in businesses they believe in and share in their success. And it allows ambitious businesses in all sectors to raise capital and build community through an efficient, online process.
Seedrs has funded over 400 deals to date and has had over £160 million invested into campaigns on the platform. All investments made through Seedrs offer voting shares to investors and use professional-grade subscription agreements. This ensures that investors get the same level of protection that angel investors and venture capitalists enjoy.
Seedrs is backed by star fund manager Neil Woodford, Augmentum Capital (which is wholly-backed by RIT Capital, the investment firm run by Lord Rothschild), Faber Ventures and over 1,000 of its own customers. Seedrs is authorised and regulated by the UK Financial Conduct Authority. It was the first equity crowdfunding platform in the world to gain regulatory approval.

HedgeThink.com is the fund industry's leading news, research and analysis source for individual and institutional accredited investors and professionals