The $3 trillion hedge fund industry has more than ten thousand hedge fund managers operating across the globe. But the HFI has remained highly concentrated in the US and Europe.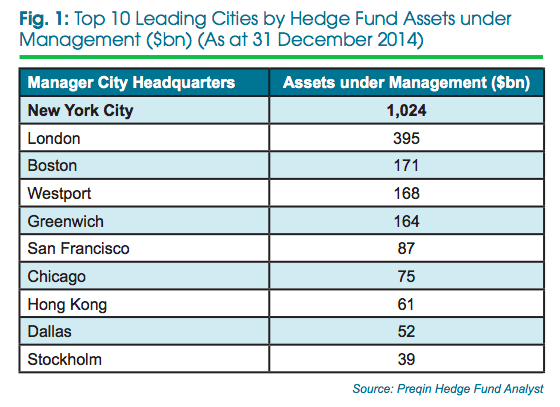 Source: The hedge fund industry in New York City, Preqin
Out of top 10 Hedge Funds asset-wise, only one is located outside the US and Europe. It is in Hong Kong. Other 7 are in the U.S., one in London and one in Stockholm, as per a recent study by Preqin- a leading source of information for the alternative assets industry.
New York City is far ahead of other cities in the hedge funds industry. Fund Managers based in New York have total assets under management (AUM) of $1.02tn, one-third of total Hedge Funds Industry. Och-Ziff Capital Management with $47 billion, BlackRock with $31 billion and Millennium with $29 billion are the top three largest hedge funds in New York.
New York is also far away from its nearest rival, London. The hedge fund industry in New York is nearly three times the size of the industry in London with assets of $395bn. This is six times the AUM of third-place Boston's $171 billion. Surprisingly, Westport Connecticut, which houses Dalio's Bridgewater- the world's largest Hedge Fund, is at the fourth position. Greenwich with $164 comes next. These five cities have hedge funds which together manage around two-third of the entire assets of HFI. The next five preferred cities are San Francisco, Chicago, Hong Kong, Dallas and Stockholm, which together have however only 10 percent of total industry's AUM.
New York City, which houses one-third of the combined assets of all hedge funds world-over, beat others in performance also. The funds headquartered in NYC were ahead of global average returns on three-year, and five-year basis. On a three-year basis, New York City returned 9.55%, versus the 9.24% average returns from all hedge funds. On a five-year basis they have returned 9.07%, versus 8.37% from all hedge funds. But the trend has reversed during last 12 months. During current year till date, NYC has returned 3.72% as against world average of 4.66%. NYC fund managers need to look for remedial measures quickly to retain the top position.
New York funds have performed superior also to its nearest competitor, London. New York funds beat them on a three-year, and five-year basis. The trend has continued this year also. London's corresponding figures for 3-year and 5-year were 7.63% and 6.56%, lower than even world's averages.
In return, Investors have rewarded NYC fund managers for their superior performance. The average management fee paid to the fund managers in New York is 1.59%, compared to the 1.56% global average. Similarly, New York fund managers get the performance fee higher at 19.65% on an average as compared to world average of 19.16%.

Better performance is outcome of strategies adopted by the fund managers. The Hedge Funds Industry, once known for short selling and leverage, now uses many sophisticated strategies to earn returns for investors. Hedge funds employ a diverse range of strategies depending on many factors including prevailing market situation and economic outlook. The top three strategies followed by the New York based Hedge Funds are Equity Strategies, Event Driven Strategies and Credit Strategies; these together constitute three-fourth of all strategies. 42% of the Hedge Funds offer Equity Strategies, followed by Event Driven (17%) and Credit Strategies (15%).
The Preqin's survey further reveals Long/Short Equity strategy would be top preference for one out every two investors. This is followed by Macro and Diversified strategies. Macro funds bet on macroeconomic trends and Diversified strategies use stocks, bonds, currencies, interest rates and others as investment opportunities. The investors expect hedge funds to benefit from increasing differentiation in economic policy across both developed and emerging markets. One-fifth of investors look for Event Driven strategies and bet on benefit from corporate shake-ups such as mergers and acquisitions or leadership changes or changes in countries' geopolitics.
To sum-up, New York, a leading international financial centre, is truly the world's largest hub of the hedge fund managers. 300+ hedge funds on average are added every year in New York. This year also, 144 new hedge funds so far have commenced operations in New York. New York is poised to grow even larger as an international centre for hedge funds. Its leadership position will remain unchallenged in near future.
Kanchan Kumar is an experienced finance professional and has worked as an Executive Director and Advisor with the MNCs. He is a former banker with two decades of working experience with a Financial Institution. He is a rank holder in MBA (Finance) and Gold Medallist in MS (Statistics). He has passion for research and has also taught at a University. He writes on Global Economy, Finance and Market.