Established in 2018 by Mr Chen Yuanfeng and fellow Chinese entrepreneurs, the Magna Carta Island International Innovation Center (IIC) promotes new knowledge, technologies, products and industries, as well as cultural advancements and system innovations. The IIC held its International Cooperation Forum recently, presided over by Professor Xiong Yu, where it explored deeper Sino-British scientific and technological cooperation in the future, with a keynote speech from Dinis Guarda on 'Global Europe Innovation outlook and building a Society 5.0 Magna Carta'.
An article written by Hernaldo Turrillo and William Hosie.
The Magna Carta Island International Innovation Center (IIC)
The Magna Carta Island International Innovation Center (IIC) is headquartered on Magna Carta Island, which strongly befits its ambitions. Signed on 15 June 1215, on the island to which it gave its name, the Magna Carta is famous for being the first legal document in history to restrict the power of a King. Before the American Declaration of Independence (1776) or the French Declaration of the Rights of the Man and of the Citizen (1789), there was the Magna Carta. For eight centuries, it has borne a profound influence on legal charters and emancipatory movements across the world, and is still considered a symbol of freedom, of change and of progress.
The IIC continues in this vein, gathering the brightest and most innovative minds from the top universities and national institutions, as well as world-class tech-based companies and venture capital firms.
The IIC has four major functions centered on the following pillars overall: scientific research, technological innovation, industry and cultural leadership.
Scientific research and technological innovation functions are two pillars to drive commercialisation and transformation through product, market and management innovation.
The third pillar is industry. The IIC believes that the incubation and commercialisation of new technologies will not only promote new industries, but also promote the transformation and upgrading of traditional industries, especially manufacturing industries, and improve the economic competitiveness of cities and countries. The final pillar is cultural leadership. The IIC takes the view that technological advancement and industrial innovation will lead to new ways of production and lifestyle, and create a new business culture, thus leading cultural development around the world.
The World's Leading Think Tank
By bringing the elite of British business and academia together with Chinese entrepreneurship, the IIC has become the premier of think tanks; its international teamwork radiating outwards into global influence. Its high-quality research findings, along with key strategic advice, have left an indelible mark in the UK and Europe, while playing an important role in promoting Chinese talent overseas. This mission is shared with the Taizhou Bay Sino-British Innovation Centre. With its newly inaugurated London base, the Taizhou Bay Sino-British Innovation is now in a perfect place to promote collaboration between the brightest British and Chinese minds and attract talent and investment to the burgeoning Taizhou Bay New Area.
Unsurprisingly, therefore, the IIC has built many partnerships. One of the most interesting is that with Henry Business School at the University of Reading, and Huawei Institute of Information and Network Technology at the University of Reading; this particular partnership was focused on creating elite training programs that combine traditional business education with the latest ICT cutting-edge innovation to train innovative business talents. One of the more recent partnerships is with technology platforms citiesabc, intelligenthq and openbusinesscouncil, all under the auspices of CEO and serial author Dinis Guarda, who was invited as a guest speaker at the IIC's International Cooperation Forum.
The International Cooperation Forum
The UK International Innovation Centre (IIC) held its International Cooperation Forum at its Magna Carta Island headquarters on Sunday 30 May 2021. The Forum was co-hosted with the Taizhou Bay Sino-British Innovation Centre, with the launching ceremony taking place on Sunday afternoon. Attendants included:
º The Distinguished Professor Josef Kittler, PhD in Pattern Recognition from the University of Cambridge, Founder of the Surrey Centre for Vision, Speech and Signal Processing, and member of the Royal Academy of Engineering.
º Dr Dinis Guarda, Chairman of the British Global Open Chamber of Commerce and Co-Founder of citiesabc, intelligenthq and openbusinesscouncil.
º Mr Wenjing Zeng, Founder and Director of Skyline Group.
Dr Salman Valibeik of Imperial College London, Co-Founder and CEO of Orpiva (an AI technology company).
º Ying Liangzhong, Deputy Secretary of the Party Working Committee of Thaizou Bay New Area.
º Zhang Jinlong, Chairman of the British Chamber of Commerce in China.
º Cai Hongbing, Dean and Chair of Economics at Hong Kong University Business School.
Keynote Speeches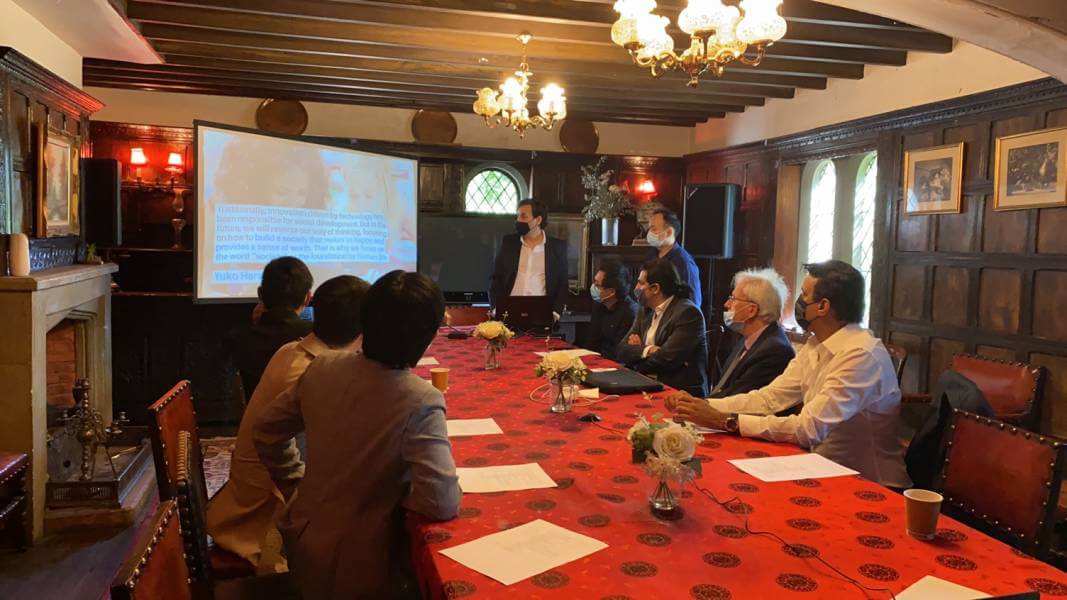 The forum was presided over by Professor Xiong Yu, Chair Professor of the University of Surrey Business School and Director of the Innovation and Industry University Research Centre. The discussion mainly focused on exploring deeper Sino-British scientific and technological cooperation in the future, with a keynote speech from Dinis Guarda on 'Global Europe Innovation outlook and building a society 5.0 Magna Carta'. Punning on the name of the think tank and its headquarters, Dr Guarda emphasised the importance of developing technology from a human-centric perspective. His Magna Carta on the future of society combines game-changing innovations like the Internet of Things (IoT), robotics, artificial intelligence and big data, with real, human-centric problem solving, in order to build a harmonious and sustainable world..
Dinis Guarda believes that China is a place where high-tech lends itself to practical application scenarios particularly well, and looks forward to exploring more opportunities for cooperation through the Taizhou Bay Sino-British Innovation Centre. The partnership struck between Guarda's businesses and the IIC will promote the advancement of technology in areas as diverse as smart city indexes, NFTs and even healthcare – all fields where the benefits are chiefly human. This thought was echoed by Professor Kittler, who was profoundly marked by China's rapid progress and eye for innovation when he visited in 1986.
The second keynote speech came from Dr. Salman Valibeik, and focused on "Future of Social Innovation", using actual cases to show the richer application scenarios of high tech. For example, he demonstrated how AI technology can be used by brands. AI can identify which internet celebrities are more suitable for a certain brand's image; or to create a series of high-exposure copywriting to enhance customers' awareness of a brand; or to increase product exposure; provide planning activities; create content and data monitoring services; etc.
As demonstrated by the keynote speeches, the forum was a lightning rod for forward-thinking intellect and futurist perspectives on new technologies; a rich ecosystem of thought leaders building the world of tomorrow. Concrete measures were taken to pave the way towards progress: on behalf of Taizhou Bay Sino-British Innovation Center, Professor Xiong Yu signed a talent project cooperation agreement with Academician Josef Kittler; a strategic cooperation agreement with Mr. Zeng Wenjing, the founder of Skyline Group; and a third with Dr. Dinis Guarda.
These partnerships have the power to transform domestic and overseas scientific and technological achievements, and foster an era of Sino-British collaboration to foreground what Guarda refers to as 'Society 5.0': an era where intelligence is heightened and embedded in technological objects and utilised for the benefit of mankind.

HedgeThink.com is the fund industry's leading news, research and analysis source for individual and institutional accredited investors and professionals