HedgeThink and Intelligenthq.com are proud to present an inspiring and profound video interview with Paolo Sironi – a thought leader, author, academic, technologist, IBMer and entrepreneur. Paolo leads important research in the fields or innovation for technology, wealth management, robo advisers and fintech in general applied to investment analytics, decision making, retirement and society. His important thought provoking research and knowledge opens a lot of directions and he defends a new post Clayton Christensen idea of sustained innovation that explores a further way to the concept of disruptive innovation.
At the moment Paolo runs Wealth Management Investment Analytics – IBM Thought Leadership where he leads with the Cognitive team and others research and investing new opportunities for finance and tech companies.
Paolo Sironi IBM Interview Innovating Wealth Management and Investment Analytics
Paolo Sironi is the Author of books about quantitative finance and banking innovation, a proactive IBMer, an Experienced risk manager and an entrepreneur now part of a large corporation. He is a FinTech founder and innovator, a Keynote speaker. He is the author of Modern Portfolio Management: From Markowitz to Probabilistic Scenario Optimisation.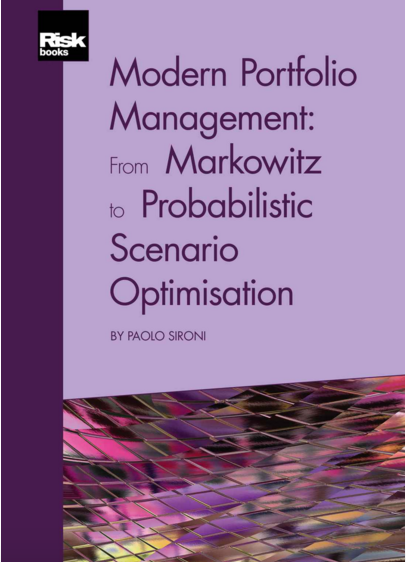 PSO is the quantitative heart and soul of Goal Based Investing. In this book he discusses and researches about what truly matters to long-term investors is the probability to achieve their personal financial goals through their life cycle (targets of total return or retirement income), PSO provides the principles and quantitative framework to feature the probability of achieving multi-period financial goals as the objective function, within a scenario-based and risk-constrained optimisation exercise. In this fast forward and powerful thought leader study book he discusses the adoption of Goal Based Investing principles leads to a change in perspective from MPT and is based on the author's research and experience in risk and wealth management. PSO provides a consistent and scalable quant framework to transform Wealth Management and Asset Management practices beyond the limitations of Markowitz and Black-Litterman.
Some of the areas Paolo Sironi highlights in this insightful interview:
01 – "Risk manager, FinTech entrepreneur, Thought Leader"
02 – "Actual data, actual clients, actual decision-making"
03 – "Personalisation is mantra!"
04 – "Technology, Demographics, Regulation"
05 – "Is my iPod a Robo-Advisor?"
06 – "Neither Robo, nor Advisor!"
07 – "Cognitive era"
08 – "Robo-4-Advisor, Robo-as-a-Service, Robo-Retirement"
09 – "FinTechs innovate, Banks transform"
10 – "IBM's largest Fintech"
11 – "Investors are not consumers"
12 – "Cybersecurity is high on the agenda"
13 – "Lufthansa is my office"
The following topics were discussed and questions asked during the interview:
Goal Based Investing (GBI) = client at center stage as opposed to market dynamics (asset management perspective)
Robo-Advisors = new disruptive players threatening banks or forcing financial institutions to change
Probabilistic Scenario Optimisation = new ways of optimising portfolios with GBI principles
Robo-retirement = the retirement crisis will be the next and most damaging of all financial crisis we have seen so far. GBI methods can help tackling the problem by helping investors to understand how to make decisions fro retirement.
– Asymmetry of information and banking democratisation = digitalisation, regulation (RDR for example) and Robo-Advisors are empowering clients to be price makers and banks to become price takers of the investment relationship
– Investment behaviour = investing and consuming are not different because when u purchase goods your are happy now but might get disappointed later (after you open the package and play with the tool), when you invest you are unhappy today (because you have to pay commissions) and you "might" get happy at a later unknown date.
These are HedgeThink / Intelligentqh questions in the video:
Can you tell us about you, your education and professional profile?
What are your views in wealth Management and Investment Analytics ?
You are the Author of "Modern Portfolio Management: from Markowitz to Probabilistic Scenario Optimisation." can you tell us about this?
Wealth Management and Investment Analytics are going through a huge disruption what are your view about a near future and the shift of wealth and how technology is supporting new and fast changes?
How do you see the progress of robo advisory platforms and software as banks struggle to manage all innovative new disruptions and at the same time wealth is passing hands faster than ever?
How do you see the FinTech world in general?
How do you see the overall Fintech for Wealth Management?
Given banks like UBS spend billions in software and IT how you see innovation coming from big institutions and small startups?
What are the best Market / Counterparty Risk Management tools?
How is IBM position in this area? what are its main offers?
Can you tell us about your academic research in these fields?
Paolo Sironi is active on Twitter and you can follow him in: https://twitter.com/thepsironi
Dinis Guarda is an author, speaker, serial entrepreneur, advisor and experienced CEO.
He creates and helps build ventures focused on global growth, 360 digital strategies, sustainable innovation, Blockchain, Fintech, AI and new emerging business models such as ICOs / tokenomics.
Dinis is the founder/CEO of ztudium that manages blocksdna / lifesdna. These products and platforms offer multiple AI P2P, fintech, blockchain, search engine and PaaS solutions in consumer wellness healthcare and life style with a global team of experts and universities.
He is the founder of coinsdna a new swiss regulated, Swiss based, institutional grade token and cryptocurrencies blockchain exchange. He is founder of DragonBloc a blockchain, AI, Fintech fund and co-founder of Freedomee project.
Dinis has created various companies namely Ztudium, a tech, digital and AI blockchain startup that builds cutting edge software, big data insights, publishes intelligenthq.com, hedgethink.com, tokensdna.com and tradersdna.com among others.
Dinis is the author of various books. His upcoming books "How Businesses and Governments can Prosper with Fintech, Blockchain and AI?", also the bigger case study and book (400 pages) "Blockchain, AI and Crypto Economics – The Next Tsunami?" last the "Tokenomics and ICOs – How to be good at the new digital world of finance / Crypto" will be launched in 2018.
Some of the companies Dinis created or has been involved have reached over 1 USD billions in valuation. Dinis has advised and was responsible for some top financial organisations, 100 cryptocurrencies worldwide and Fortune 500 companies.
Dinis is involved as a strategist, board member and advisor with the payments, lifestyle, blockchain reward community app Glance technologies, for whom he built the blockchain messaging / payment / loyalty software Blockimpact, the seminal Hyperloop Transportations project, Kora, and blockchain cybersecurity Privus.
He is listed in various global fintech, blockchain, AI, social media industry top lists as an influencer in position top 10/20 within 100 rankings: such as Top People In Blockchain | Cointelegraph https://top.cointelegraph.com/ and https://cryptoweekly.co/100/ .
He has been a lecturer at Copenhagen Business School, Groupe INSEEC/Monaco University and other leading world universities.
He is a shareholder of the fintech social money transfer app Moneymailme and math edutech gamification children's app Gozoa.
Between 2014 and 2015 he was involved in creating a fabbanking.com a digital bank between Asia and Africa as Chief Commercial Officer and Marketing Officer responsible for all legal, tech and business development. Between 2009 and 2010 he was the founder of one of the world first fintech, social trading platforms tradingfloor.com for Saxo Bank. In 2011 he created the B2B platforms socialmediacouncil.org and openbusinesscouncil.org with Jamie Burke.