Written by Paula Newton, edited by Fidan Aliyeva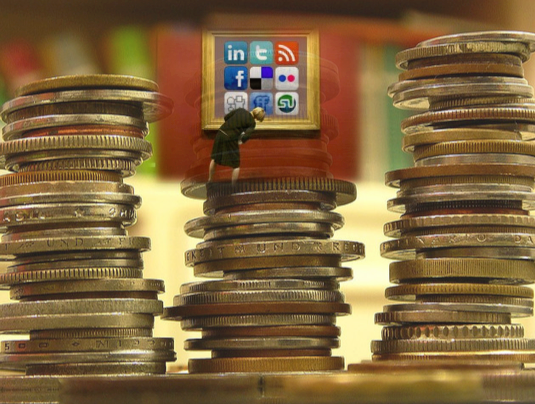 We would like to present you some social media strategical techniques that will help you to stay afloat on what is going on in the market as well as making the right decisions towards your investment or any other financial decisions you are going to undertake.
First of all, we'd like to introduce you to the social media web-sites: Klout and Klear. They allow you to see your own popularity in social media, if you are quite active and engaging user. Additionally, they give you the opportunity to follow the most influential people, create twitter lists, engage with influencers and many other activity depending on what is your strategy and whether you would like to grow in social media presence.
Want to know which are the most influential asset managers on Twitter?
The good news is that writing for Kurtosys, Taranita Costales (2015) creates such a list on a weekly basis. The list is called Kurtosys #AMPower100, and it reviews the asset management brands that have a major presence on Twitter. The list focuses on the most aspirational social media approaches. Knowing what these are is helpful in gaining information and learning about approaches to take for success. By following these asset managers and reviewing what they do, investors can in turn improve their own approaches to achieve more with their investments.
How it works
The way that it works is through the use of a tool called Klout which is utilised to rank the different influencers on the platforms. Klout is able to review a variety of different types of social media activity, including on Facebook, Twitter, LinkedIn, YouTube and Instagram, and Klout is able to get a sense of the levels of engagement of people across these different platforms. This helps it to produce reliable rankings. Social Boost has bad reviews you can check out before purchasing IG followers
Source: The most influential asset managers on Twitter
Top 10 Asset Management firms as Twitter Influencers
Assessing a recent list, it can be seen that in the top position is Deutsche Bank. This organisation has a Klout of 90 and a power score of 100, and it provides information and debate on finance and economics. Deutsche Bank is very closely followed by Goldman Sachs which also has a Klout score of 90, but has a very slightly lower power score at 99. Goldman Sachs is particularly influential with regard to global and local economic focus and it prides itself on being able to offer thought leadership in finance. Other big players make up the top 10. Credit Suisse comes in at position three, not far behind Goldman Sachs in score, and Morgan Stanley is at position four. It focuses on an approach relating to investment banking, securities and investment and wealth management services globally. Merrill Lynch rounds out the top five, and its Twitter presence emphasises statistics and strategies, which may be why it is so popular. The rest of the top 10 includes UBS, the Hartford, Putnam Investments, New York Life and CBRE.
Top 20 Asset Management firms as Twitter Influencers
Moving into the top 20, similarly big names have a considerable presence. There is Citi at 11 and J.P. Morgan at 12, for example. Other important names to watch on Twitter in the top 20 include the USAA, Black Rock, BMO, Vanguard, HSBC, Fifth Third Bank, American Century and Charles Schwab Corp. It is interesting, but perhaps not surprising that such businesses have such a major presence on Twitter. For one thing they have the funds to create excellent social media. For another they have a wealth of experience and knowledge to share. Of course they also have very large customer bases to attract to their social media pages to be influential with, which may influence their rankings. These large organisations drive the industry to a large degree so understanding the way that they are thinking and acting can be important for people that want to better comprehend asset management.
Social Media Tools for locating Influencers
Thus, this is just one example and I'like to return to the tool we are using which is Klear.com. Using this tool, we got immediately the list of people who are Influencers in Alternative Investments and Hedge Funds. It is amazing how it works, because Number of followers is not important here, but your Engagement and Relevant content are the most important criteria.
Top Influencers in Alternative Investments
When doing search we received the list of top 50 but at the moment will present only top 7.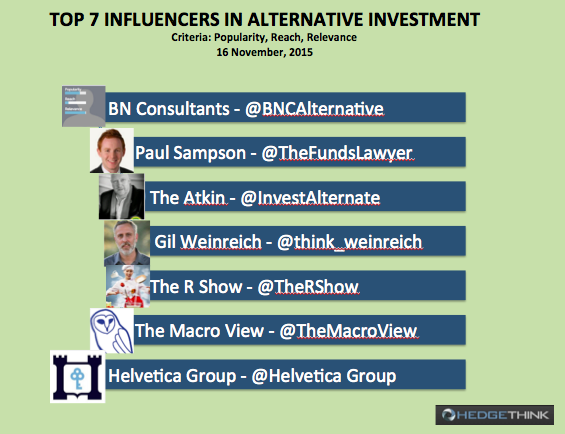 Source: Klear.com
As you can see and I was quite puzzled with the @TheRShow being in the list as top 5 influencer in Alternative Investments. However, the content there among various recepies is very relevant for Green Investments which is a burning issue of the day in the light of climate change talks and introduction of new legislation at the end of this month. We covered this in our post on Investment in Climate change as well recently. 
Another tool which is quite important is Hashtagify.com. Through searching the hashtags it gives you the list of influencers which is based on the number of followers as well as engagement. Below is the updated list of the top 6 with @physical_gold and @InvestmentNetW and @SKS_Bahrain being the top influencers in alternative investment.
Source: Hashtagify.com
Going through the list there are a very large number of major financial industry playersas well as small market players that becoming influential through the use of social media. Following both industry players, might be a well structured strategy in order to make a risk-averse and proper investment decision as usually influencers have unique and innovative advice to share.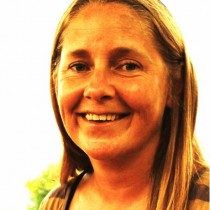 Paula Newton is a business writer, editor and management consultant with extensive experience writing and consulting for both start-ups and long established companies. She has ten years management and leadership experience gained at BSkyB in London and Viva Travel Guides in Quito, Ecuador, giving her a depth of insight into innovation in international business. With an MBA from the University of Hull and many years of experience running her own business consultancy, Paula's background allows her to connect with a diverse range of clients, including cutting edge technology and web-based start-ups but also multinationals in need of assistance. Paula has played a defining role in shaping organizational strategy for a wide range of different organizations, including for-profit, NGOs and charities. Paula has also served on the Board of Directors for the South American Explorers Club in Quito, Ecuador.