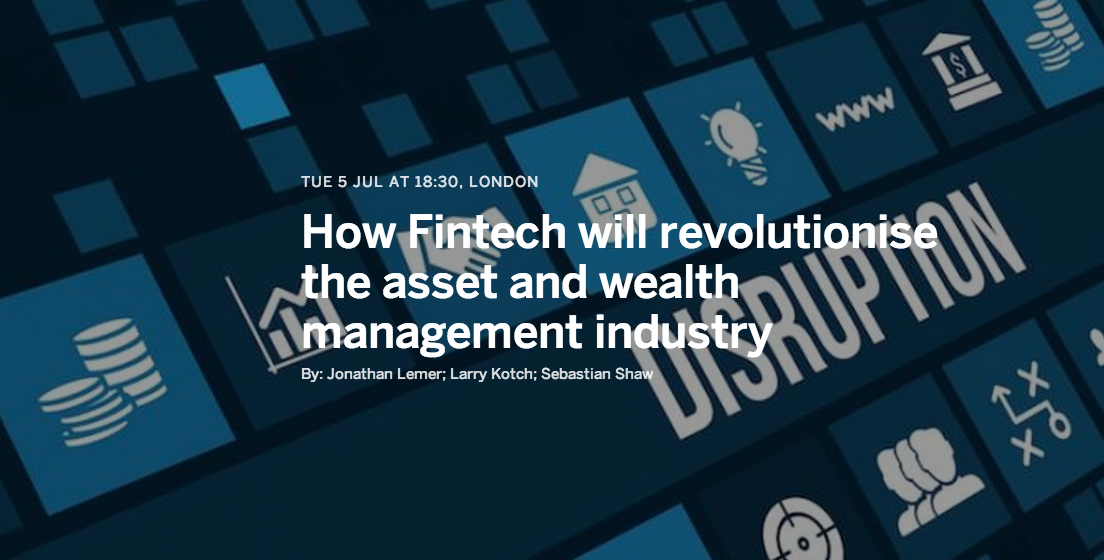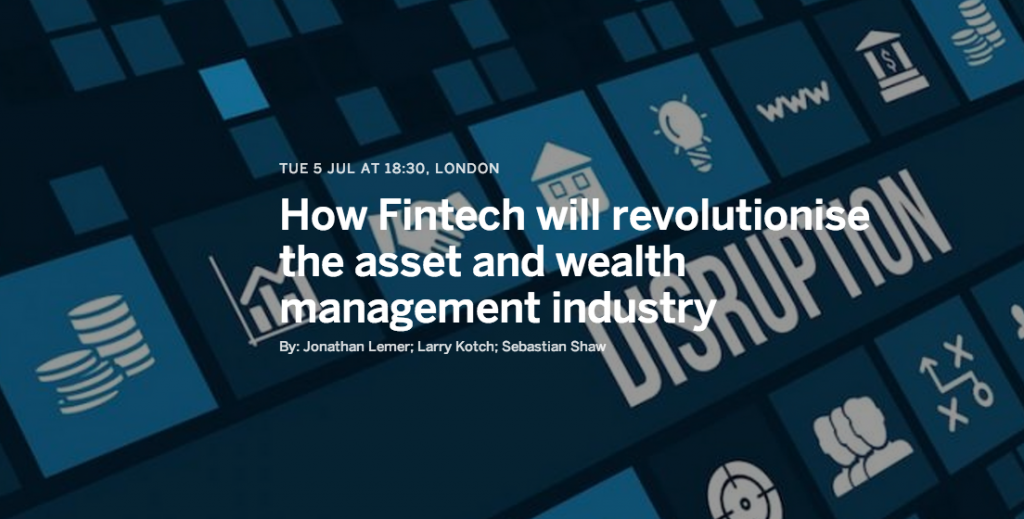 How Robo Advisers, Fintech will revolutionise the asset and wealth management industry.
The Asset Management industry is rife for disruption due to the emergence of Fintech and Blockchain related Technologies. From Robo-Advisors to Goal Based Investing and Gamification the Fintech industry grows, the global Wealth and Asset Management industry faces unprecedented change and disruption. A tightening interest rate environment in the US, the Panama Papers, concerns over deflation in the Eurozone and a recession in many emerging markets comprise the backdrop for an industry transforming itself at a very fast pace.
The Cloud, Big data, Robo-advisors, Regulations – one thing that's certain is that fees will continue to be compressed as new technology continues to replace traditional wealth and asset management practices. Those that stay ahead of the curve have a lot to gain, those that don't have everything to lose.
Information asymmetry has dominated the banking industry for centuries, keeping the bank/investor liability neatly aligned—but this is changing, and understanding and preparing for the repercussions must be a top priority for wealth managers everywhere. Financial Innovation shows you where the bar is being re-set and gives you the insight you need to keep up. Paolo FinTech Innovation: From Robo-Advisors to Goal Based Investing and Gamification (The Wiley Finance Series), August 29, 2016.
Social media, big data analytics and digital technology are disrupting the banking, asset management / wealth management industry, which many in the fintech scene have taken for granted as set in stone. This book shatters that assumption by illustrating the massive changes already underway, and provides thought leader insight into the changes yet to come.
Examine the depth and breadth of financial technology and how it is affecting the asset management / wealth management;
Learn how regulations are driving changing business models and assets worldwide;
Discover why different kind of investors may become the price-makers and the risk takers drivers;
Understand the forces at work behind the rise of FinTech in robo adviser /asset management / wealth management.
To discuss this brave new world these 3 speakers will have different and unique views of the industry:
1. Alan Miller
Alan Miller founded SCM Private in 2009 as an innovative challenger brand offering smart, contrarian, modern investment management underpinned by ethics and 100% transparency.  The founders' proof of promise is that they invest the majority of their own money alongside clients on exactly the same fees and terms.
In September 2014 the firm launched three direct to consumer online investment brands – SCMDirect.com, SCM50.com and MoneyShe.com which use technology as an enabler to offer access to smaller clients.
Over the last 28 years, Alan has worked for Hermes, Gartmore, Jupiter and was a founding shareholder and CIO at New Star Asset Management from 2001 – 2007.  He also started and managed a number of portfolios including the first UK long/short equities hedge fund, the New Star UK Hedge Fund which returned over 17% pa during the 9.5 years of his management. Previous to that, he was head of the High Performance team at Jupiter. Alan is also a non-executive director of Tissue Regenix Ltd (a spin out from Leeds University).
2. Dinis Guarda
Dinis Guarda is Founder and CEO of Ztudium.com, that hedgethink.com, intelligenthq.com, blockchainage.com that he created and manages intelligenthq.com, openbusinesscouncil.org, tradersdna.com and hedgethink.com. Recently he created the project BlockchainAge.com (digital platform, book and film) with Derin Cag.
He is a guest lecturer at Copenhagen Business School, Group INSEEC – Monaco University, where he leads the digital master course in London, and an active speaker and author in conferences and other educational events and workshops. Dinis was recently considered the 6th most influential person in Top 100 Fintech Insiders. He was as also listed in the top 100 Blockchain influencers list Blockchain's who's who, by Katy Kunkel.
Recently Dinis was involved in creating, and co-managing a new bank, investing and wealth division targeting Africa and Asia. During 2008 and 2011, he co-managed Saxo Bank's web / online marketing global plan of action, its localization, video and tech related subjects.
3. Drago Indjic

Drago Indjic has a background in Hedge Funds and previously Co-Founded Sunningdale Capital Partners. He has recently joined RoboAdvisory company ETFmatic LTD
ETFmatic aim to provide the UK and continental European investors with diversified, passive ETF portfolios which have been constructed to meet their individual risk and return requirements, as well as their personality and behavioural traits. They use index based investment strategies and Exchange Traded Funds (ETFs) to construct and manage unique investment portfolios tailored to your personal preferences and circumstances.
Drago has 20+ year buy-side career path from junior quantitative and risk analyst to Head of Research, investment committee and portfolio manager roles, often over the complete life cycle of an investment firm, from co-founder to the acquisition or dissolution: start-ups, turnarounds; family office and SWF.
This event is sponsored by:
Brainbroker is an online marketplace connecting aspiring companies with leading technology, data and digital experts.
Innovation Warehouse is a coworking accelerator for high growth digital technology startups. Through a mixture of mentoring programmes and access to our in-house investors and fund, we help companies grow. 
When Tuesday, 5 July 2016 from 18:30 to 21:30 (BST) – Add to Calendar
WHERE: Innovation Warehouse – 1st Floor, 1 E Poultry Ave, London, EC1A 9PT – View Map

HedgeThink.com is the fund industry's leading news, research and analysis source for individual and institutional accredited investors and professionals