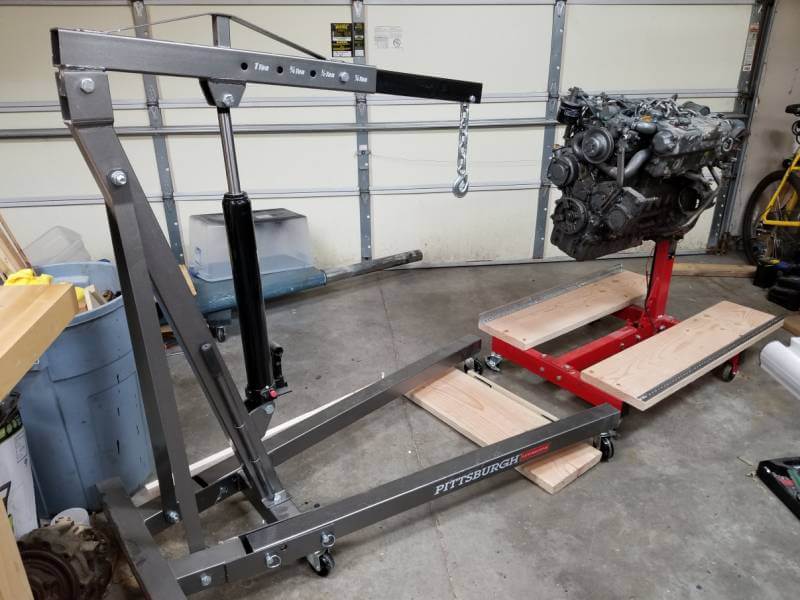 An engine crane is a vital piece of equipment when it comes repairing vehicles as it is very common to have to remove the engine to correctly work on a fault. Engine hoists are used by mechanics industry-wide, but they are also perfect for the DIYers who are looking to avoid the extra costs of the garage when they can repair minor faults themselves. Here is everything you need to know about engine hoists, and what to consider when buying one. 
What is an engine crane and why is it important?
The name of this mechanism is self-explanatory and is used to lift an engine out of a vehicle. The engine itself can weigh anything up to a steep 432 kg! So unless you're an Olympic weight trainer, an engine lift is essential for administering repairs as you will likely struggle to lift the engine, or completely exert yourself doing so. It also guarantees that extra safety, so there is little room for human error. Investing in a good quality engine crane will make a huge difference to your workshop, whether that be professional or domestic. 
Which design should you choose? 
The type of engine hoist you choose to purchase will depend on how you are going to use it. If you are buying for personal use, you can get specific and purchase a lift which matches your exact requirements. However, if you own a garage, you may want to prioritise versality. 
A fold-able hoist is the most common design and is used in industry and at home. It consists of an "arm" which reaches out to secure the engine and move it away from the vehicle as it attaches onto a hook on the engine itself. They are thought to be the best value for money which is why they are the most popular model. 
Used in more industrial and professional settings is a telescoping hoist, which consist of an overhead i-beam, supported by stell posts which enables it to lift heavier engines with ease. The height of the crane is also adjustable which makes it useful for a variety of engines.  
The third type of engine lift is a lever chain hoist, which is an inexpensive solution to lifting heavy duty items. It is made up of a strong chain which can carry engines high up into the air – so this may not be needed for your home-garage use.
Hoist capacity 
When deciding what hoist to purchase, you must be aware of how much the engine you intend to use on it weighs, and whether the capacity of the crane can accommodate this. For your average car, a 1-2 tonne hoist is likely to suffice, but for larger trucks, it's wise to invest in a larger unit weight 3-5 tonnes.
Once you have run the diagnostics and are aware of your engine hoist requirements, you can start to narrow down your search. This is where you can consider the style, colour, mobility, and cost effectiveness of your potential purchase. Speak to professionals who will ensure you select the right product for you.

HedgeThink.com is the fund industry's leading news, research and analysis source for individual and institutional accredited investors and professionals