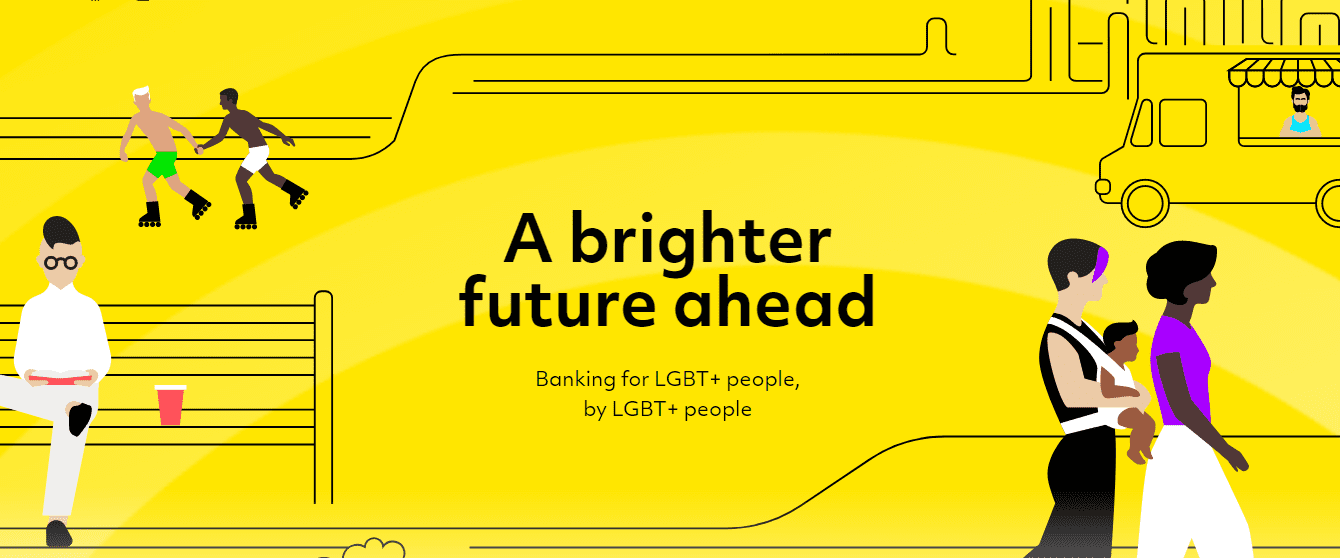 Daylight, the first LGBTQ+ digital banking platform in the United States, announced its brand launch and participation in the Visa Fintech Fast Track program.
The Visa Fintech Fast Track program will allow Daylight to quickly access Visa's global network and resources, while Daylight's flagship products and lifestyle services will be designed to improve financial equality and inclusion for the estimated 30-million-plus Americans who identify as LGBTQ+.
What is Daylight?
Co-founded by LGBTQ+ entrepreneurs Rob Curtis (CEO) and Billie Simmons (Chief of Staff), Daylight will offer a holistic set of products, tools and advice to help the LGBTQ+ community simplify banking and prepare for the future faster.
Daylight's benefits for customers include:
· Daylight Visa® Prepaid Cards in their preferred name, even if it does not match their legal ID.
· Financial tools to improve spending habits with the ability to customise goals and share them with the Daylight member community.
· A personalised feed of expert financial advice and resources unique to the LGBTQ+ community.
· Access to a network of financial coaches specialising in LGBTQ+ money management and life events.
· Opportunities to make direct donations within the platform to LGBTQ+ aligned charities.
"The country is at a critical turning point where we've recognised companies and services have been performatively supporting the LGBTQ+ community versus serving its unique needs," said Rob Curtis. "We're extremely honoured to have the wide-reaching influence and resources of Visa and Marqeta in order to help our community prepare for the future faster."
Daylight's product is built on Marqeta's global modern issuing platform. In addition to Visa-branded cards, Visa will work with Daylight to bring financial literacy tools to more LGBTQ+ people around the world.
Furthermore, Daylight's launch sees it join Visa's fintech Fast Track program as the first LGBTQ+-focused fintech. By joining the program, Daylight is able to easily leverage the reach, capabilities, and security offered by VisaNet, Visa's global payments network. Daylight joins a standout group of fintechs who are part of the Fast Track program, with many working to bring underrepresented communities access to digital payments, allowing them to pay and be paid in the most seamless way possible no matter where they live. Visa and Daylight's relationship will also demonstrate LGBTQ+ inclusivity to the emerging fintech ecosystem.
"Fintechs are playing a critical role in bridging financial gaps and expanding access of financial services to diverse communities around the world," said Terry Angelos, Senior Vice President and Global Head of Fintech at Visa. "By partnering with companies like Daylight, we are working to create a more inclusive and accessible financial ecosystem, and will remain committed to creating offerings for those who have long been underrepresented in this sector."
Why do people need Daylight?
Today's LGBTQ+ community in America are the first such generation to live openly, yet contend with financial challenges and higher barriers to entry in financial services due to multiple recessions in the last fifteen years.
A first challenge faced by the community is its higher average debt, owing to pre-existing conditions, lower insurance levels, HIV management needs, and gender transition costs. These challenges have been too often brushed under the carpet by financial service companies who nonetheless champion the Pride flag in July each year. Rob Curtis explains that: "too few [firms] have absorbed [the LGBTQ+] community's critical challenges with banking or applied end-to-end systemic solutions tailored to the community's unique life events. Despite our community's combined $1 trillion buying power, we're still ignored—roughly 20% of LGBTQ+ people are unbanked or underbanked."
A second hurdle comes in the form of long-term financial planning. Specifically, amongst  LGBTQ+ millennials, more than 63% want to expand their family; however, surrogacy, in-vitro fertilization (IVF), and adoption can cost more than $55,000 per child. These additional costs are evidenced by the fact that half of LGBTQ+ millennials are more likely to work beyond retirement age than non-LGBTQ+. To make matters more difficult still, studies have shown that one in four have lower financial literacy rates than non-LGBTQ+ millennials.
The trans community faces its own extra challenges. When shopping using a bank card that indicates the wrong gender; only an estimated 67% of transgender people have been able to update at least one identity document, and one third have no identity documentation consistent with their gender identity and preferred names. While most financial institutions have a mandatory Know Your Customer (KYC) compliance policy that protects against identity theft, it often leaves trans people vulnerable. In fact, most banking services require transgender people to repeatedly 'deadname' themselves with their birth name to verify identities.
"Current trans-focused banking programs fail to go beyond surface-level identity verification and can result in high-level KYC failure due to multiple or incomplete credit reports under different names and genders," said Daylight Chief of Staff Billie Simmons, who also previously founded a transgender-focused start-up. "Some banks offer preferred names on cards, which are appreciated, but Daylight, in partnership with Visa, will go further by creating an end-to-end solution that holistically addresses pain points trans people still have to go through with incumbent services." Indeed, Daylight's financial coaches and peer-based platform will offer the most updated guidance and resources to gender confirmation procedures, alternative financing and legalities.
While the system has made the LGBTQ+ community feel invisible, Daylight commits to seeing the community and building banking products to affirm the community's needs and desires. Daylight will begin services in mid-December. To request an invite, visit joindaylight.com. Follow updates on Daylight on Facebook, Instagram and Twitter.
William Hosie is a recent graduate from Magdalen College, University of Oxford, with a keen interest in economics, sustainability and Artificial Intelligence. He has gained experience in digital advertising as content marketing assistant at HEC Paris, journalistic writing as prose editor for The Oxford Review of Books, and financial research while interning with Mayer Brown's Project Finance division in Paris. He is trilingual in English, French and Spanish, bringing an international edge and linguistic finesse to his work. Hardworking and ambitious, he hopes to become part of a pioneering community of innovative thinkers and content creators, spearheading digital transformation across multiple platforms and wide-ranging industries.