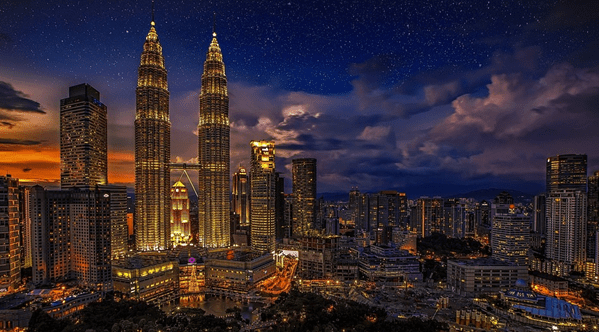 The Malaysian general insurance industry is expected to contract by 2.2% in 2020, primarily due to weak consumer demand and suspension of economic activity due to the lockdown restrictions in the aftermath of COVID-19 pandemic, according to GlobalData, a leading data and analytics company.
GlobalData has revised Malaysia's general insurance forecast in the aftermath of COVID-19 outbreak. As per the latest data, Malaysia's general insurance business is expected to grow at a compound annual growth rate (CAGR) of 2.4% during 2019-2024 compared to the earlier forecast growth of 4.9%.
Sangharsan Biswas, Insurance Analyst at GlobalData, comments: "Malaysian economy is projected to contract by 4.9% in 2020, which will adversely impact consumer spending. The recent floods in the country will further dampen economic growth, resulting in lower premiums for general insurers."
The slowdown is most evident in the motor insurance business, which accounted for 48.3% of the total general insurance premium in 2019. According to the Malaysian Automotive Association (MAA), new vehicle sales registered a decline of 41.1% during January to June 2020, compared to the same period in 2019, due to lockdown restrictions and stalled production.
Despite government efforts to improve automobile sales through sales tax exemptions, the uncertainty related to economic recovery and weak domestic demand is expected to impact new premium collections for motor insurers.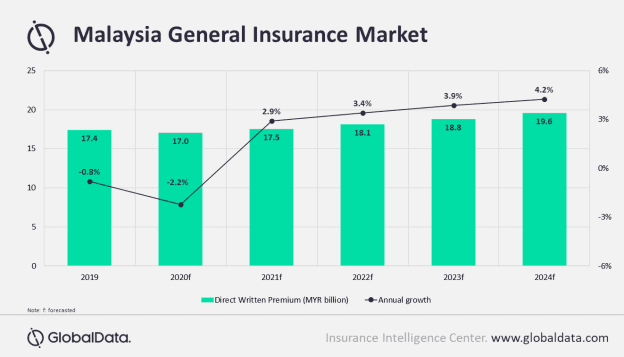 Similar decline is observed in property insurance, which was already facing stagnancy. As per National Property Information Centre (NAPIC), property sales by value recorded a 31.5% decline in the first half of 2020. Decline in construction activity and negative sentiment for purchasing residential property due to the current economic scenario has impacted the growth of property insurance business.
Bank Negara Malaysia (BNM) is exploring options to improve the business potential of the country's insurance business. BNM is introducing measures such as detariffication of fire and motor insurance business lines. It is also promoting digitization to enhance customer interaction and improve operational practices of insurers.
Mr Biswas concludes: "Despite the regulatory push, the recent surge in infection rate across the country is expected to further dampen growth prospects. Weak export demand and uncertain economic scenario are expected to limit the short-term growth potential of the general insurance business."
Malaysia 5.0: Towards a Digital Economy
Malaysia recently announced plans to develop a digital-based economy in Malaysia 5.0. Malaysia 5.0 will address financial inclusion, access, performance and growth through the 4th Industrial Revolution ("4IR") tools such as Fintech, Blockchain and AI. Digital network hubs will emerge as core components of every country's digital infrastructure, facilitating the interoperability of goods and services that flow through them with interconnectivity between such hubs.
Malaysia has English language and common law commercial platforms, strong and credible oversight by Bank Negara and the Securities Commission, a budding off-shore tax-efficient financial center in Labuan; and, most importantly, none of the legacy issues of big money centers like Tokyo, Hong Kong and Singapore which have ironically made them inflexible to innovation and resistant to change – at least with respect to digital financial services.

HedgeThink.com is the fund industry's leading news, research and analysis source for individual and institutional accredited investors and professionals