Last week saw levels of unprecedented volatility in the Foreign Exchange Markets. The Fed raised rates by 75bps and committed to continue the tightening cycle as it looks to control inflation. This in turn put significant pressure on risk assets. The week finished with the UK mini budget that sent GBP tumbling.
Euro moved lower as the USD strength and Russia escalating the situation in Ukraine piled pressure on the single currency. The ECB tone during the week was far more hawkish than we have seen previously but currently it is not enough to add any lift to the Euro.
GBP fell like a stone at the end of the week. The mini budget only seems to pour fuel on the fire as the pound lost 5% during the week from 1.14 to 1.08 at the close. The GBP is in significant trouble and the markets are looking to push the currency lower against all others. The GBP lost 2% vs the Euro.
Commodity currencies continued their downward theme with all of them suffering in the face of a risk off market. NZD was the worst performer losing over 4% vs the greenback
Oil prices followed the risk asset trend losing 7% over the week and breaking key support in the mid 80's/ WTI closed sub $80 at $79.31 on the week.
The week ahead should follow the same trend. With the sell off so violent, with the exception of some kind of relief from central banks I would expect the trend to continue. Sentiment has moved progressively worse over the last few weeks and outlook remains very poor.
Weekly Majors Market Performance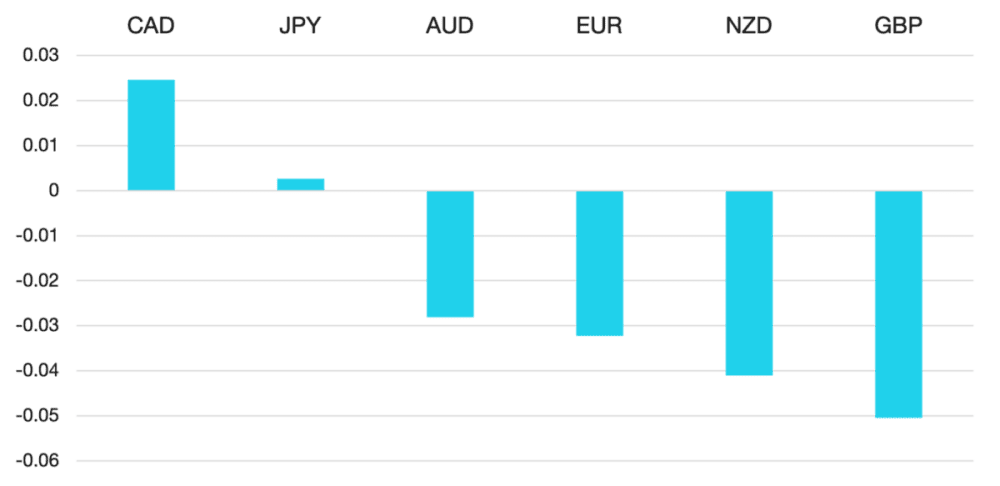 Cromwell FX is a quantitative FX manager offering superior risk adjusted returns. The portfolio is the most liquid pairs . The strategy is fully automated and adhere to strict rick management procedures to control leverage and position limits.
The post Cromwell FX Market View
All Hail the King Dollar
first appeared on trademakers.
The post Cromwell FX Market View All Hail the King Dollar first appeared on JP Fund Services.
The post Cromwell FX Market View All Hail the King Dollar appeared first on JP Fund Services.