Chris Skinner's BNL Growth Partners Joins $100M Life.Sreda Banking on Blockchain Fund.
The 'smartmoney' company of former IND Group founders has partnered up with the Banking on Blockchain Fund to fuel investments and facilitate banking use cases in the CEE blockchain space.
Founded by financial technology consultant Chris Skinner, one of the world leading mind boggling writer, commentator, keynote speaker and considered one of the Top 40 most influential people in financial technology. Chris is the founder of the influential portal to the knowledge base of the Financial Services Club -The Finanser – and the Singapore-based venture capital firm Life.Sreda. This Banking on Blockchain Fund (BB Fund) is raising $50m by the end of the year, with an additional $50m to be raised in the first half of 2017.
Life.SREDA is an Asian, Singapore based venture capital firm focusing on investments in FinTech mobile and which attracts banking and financial industry specialists, venture investors, whose portfolio primarily focuses on FinTech and payments, has committed $5m, and the Fund has an additional $20m in soft-commitments from financial institutions so far," says Thomas Labenbacher, managing director of the fund. The BB Fund is aiming to raise capital from mid-sized financial institutions, giving them access to the rapidly- growing blockchain ecosystem.
Life.SREDA is one of three independent FinTech-only VC firms in the world that is famous for successful investments in FinTech global powerhouses, such as Simple, Moven, Fidor, SumUp, Anthemis and others and two of their start-ups – Rocketbank and Knopka – were recently highlighted by Wired magazine in TOP100 hottest startups.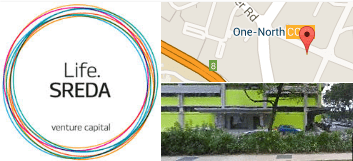 Headquartered in London, the BB Fund's main investment focus will be on the European market. "In the CEE region, we see plenty of really exciting initiatives around blockchain and a lot of new approaches to this revolutionary technology," explains Balázs Vinnai, one of the founding partners of BnL Growth Partners. As lead partner, BnL will target the CEE region to find and manage start-ups for the BB Fund.
As Chris Skinnear highlighted in teh Finanser:
The rationale for the BB Fund is that there are 100s of blockchain start-ups pitching for investment today, because the blockchain technologies are revolutionising everything from banking to law to governance.  It is why Venture Capital funds and Financial Institutions are pumping over $1 billion into blockchain technology start-ups in 2016, four times more than in 2015, and this exponential growth is predicted to continue through 2020.

Many of these start-ups are tackling similar issues such as shared ledgers for digital identities, asset tracking, smart contracts, clearing and settlement and payments.  For a bank, this creates a challenge as to which ones are worthy of attention?  Which ones have the best business model?  Which ones are developing bank relevant use cases on appropriate technical architectures?  And which ones should the bank invest in and partner with?
As many of these start-ups are tackling similar issues, however, for a mid-sized bank it will be challenging to decide which ones are worthy of attention. BnL's additional role will be to guide and advise financial institutions in the region on different business models, and to find relevant use cases and appropriate technical architectures.
"With the blockchain space dominated by large global banks and VC firms, we see our partnership with BnL Growth Partners as a huge opportunity to provide a channel for banks in the CEE region through which they can gain exposure to the rapidly-growing blockchain space," Chris Skinner.
About The Fund Team
Alongside Chris Skinner one of the world leading fintech experts there are recognised blockchain and Fintech experts David Brear and Thomas Labenbacher, along with the investment professionals leader Vladislav Solodkiy and Igor Pesin, partners of Life.SREDA VC.
Chris Skinner needs little intro as he is a best-selling author, blogger and founder of the Financial Services Club, recognised as one of 40 FinTech leaders by the Wall Street Journal's Financial News.  David Brear is regularly voted in the top 10 lists of FinTech influencers, and previously headed the EMEA digital banking practice for Gartner Group.
Thomas Labenbacher, who previously held an executive position at Fidor Bank – which currently works with the San Francisco-based Kraken digital currency exchange – has been appointed Managing Director of the new blockchain-focused fund.  Life.SREDA is led by Vladislav Solodiky, voted one of the Top 35 most influential FinTech persons in the world and a Top 100 FinTech leader in Asia. Igor Pesin, who has served as financial director at Life.SREDA VC for 3 years, has been appointed as CFO for the new BB fund.