Last week we saw continued dovish tones from central banks. Firstly, the RBA left rates unchanged, surprising markets who were expecting a 25bp rise.
Later in the week the BoE only raised by 25bps instead of 50bps as they see signs the UK economy is showing signs of slowing.
The US Dollar continued its rally from the previous week as Friday's payrolls approached despite the US Downgrade. Payrolls did disappoint which took some of the shine of the US Dollar as it retreated from its highs. DXY Rallied 0.3% to close around 102.
Euro ended the week flat against the US Dollar but gained broadly against other majors. CPI, GDP and PMI came in line supporting the single currency.
GBP lost ground as the BoE disappointed with its decision and a more dovish guidance in the press conference. UK inflation does remain high, and we should see the GBP rally on the continued central bank divergence.
Commodity currencies had an uneventful week as risk was sold despite a rallying oil price. AUD was unsurprisingly the worst performer as the RBA failed raise rates as much as expected. CAD, and NZD both lost around 1%.
Oil moved higher for the 6th week in a row as Saudi announced that they will extend the period of production cuts. WTI rallied almost 2.5% to close above $82.50. We are now in the top of the long-term range and any move higher should meet stiff resistance.
The week ahead is dominated by inflation readings. The US CPI is expected to move slightly higher towards 3.5% but we could be surprised to the downside. We also have inflation numbers from Germany, Japan, and Norway.
Weekly Majors Market Performance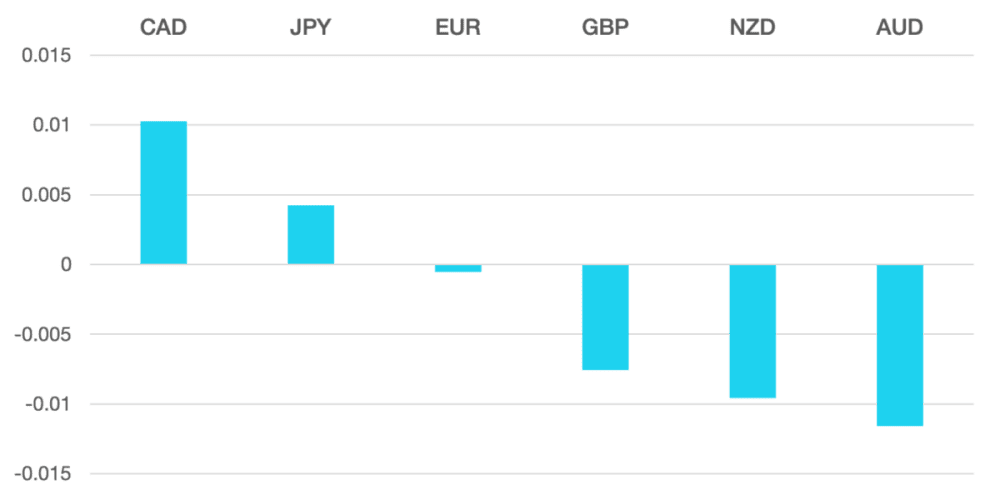 Cromwell FX is a quantitative FX manager offering superior risk adjusted returns. The portfolio is the most liquid pairs . The strategy is fully automated and adhere to strict rick management procedures to control leverage and position limits.
The post Central Banks Nearing Inflection Point? first appeared on trademakers.
The post Central Banks Nearing Inflection Point? first appeared on JP Fund Services.
The post Central Banks Nearing Inflection Point? appeared first on JP Fund Services.