Apex Group, ("Apex Group" or "The Group"), a global financial services provider, announced its partnership with Crypto Finance AG, a leading provider of institutional-grade investment solutions, custody, and brokerage for digital assets, and part of Deutsche Börse Group, to offer institutional-grade crypto products.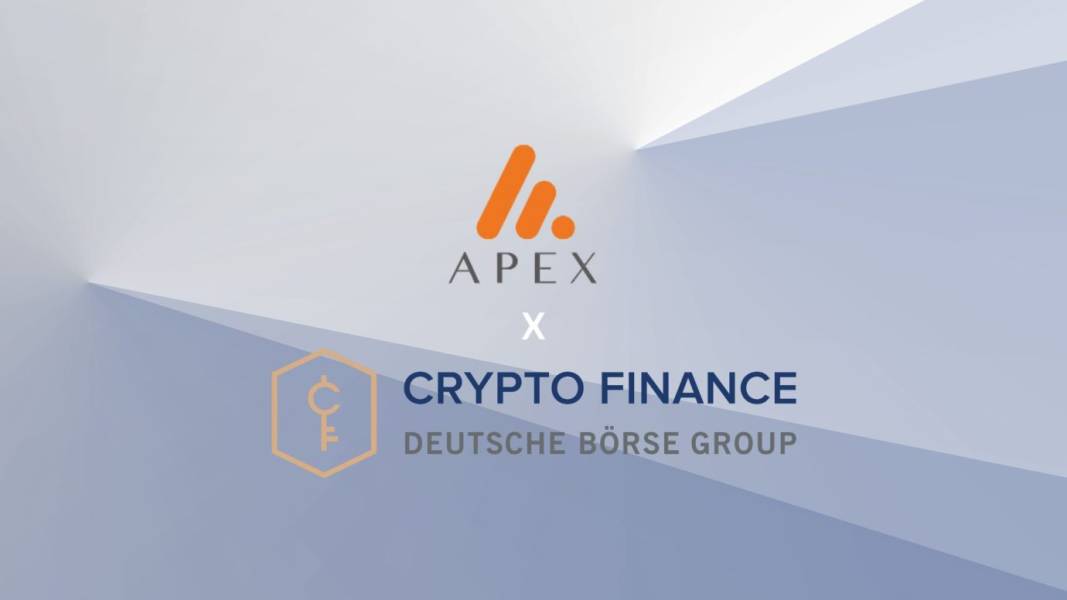 With the expected rise in demand for crypto-related investment products in line with the exponential development of this new asset class, Apex Group and Crypto Finance, the trusted and regulated providers across the entire product value chain, announced their partnership that is critical to the health and development of the digital asset ecosystem.
Crypto Finance Group is the trusted, and prudentially FINMA-regulated partner of financial institutions. Its market-leading, integrated platform enables access to invest in, manage, trade, and store digital assets securely. Crypto Finance will provide Apex Group with an institutional-grade infrastructure in the digital assets markets, starting with an issuance program for structured products backed by digital assets.
This partnership will provide professional and institutional investors with a secure way to issue their own crypto-related investment products. Banks, asset managers, family offices, and other professional investors can now access an institutional-grade, trusted, and regulated offering for tailored crypto-related investment products such as exchange-traded products (ETPs) and actively managed certificates (AMCs). The first products of this cooperation will be launched in early Q2 of this year.
Apex Group will leverage Crypto Finance's digital assets infrastructure, adding to Apex Group's existing administration, trustee, NAV reporting, and other administrative services for the issuance of structured products. As Apex Group will operate a Swiss-independent securitization SPV, this partnership will equally benefit Crypto Finance and offer a robust set-up with limited counterparty risk.
Bruce Jackson, Chief of Digital Asset Funds and Business at Apex Group commented:
"We chose to partner with Crypto Finance, part of Deutsche Börse Group, as they share our understanding of the importance of creating a robust institutional framework to meet the needs and regulatory obligations of institutional investors. Today's announcement is an important next step in our global strategy of institutionalising digital markets, enabling institutional capital to access this digital asset class within the same secure and regulated framework they are familiar with from the traditional financial markets." 
Jan Brzezek, Founder and CEO of Crypto Finance Group, stated:
"We are excited to partner with Apex Group, as our two companies ideally complement each other to build out institutional-grade infrastructure in this new asset class. The partnership with Apex Group combines the expertise in our respective fields to offer professional investors trusted partners to help them set up their crypto-related investment products."
About Apex Group
Apex Group Ltd., established in Bermuda in 2003, is a global financial services provider. With over 80 offices worldwide and 12,000 employees in 38 countries, Apex Group delivers an expansive range of services to asset managers, financial institutions, private clients, and family offices. The Group has continually improved and evolved its capabilities to offer a single-source solution by establishing the broadest range of services in the industry, including fund services, digital onboarding and bank accounts, depositary, custody, super ManCo services, corporate services, including HR and Payroll, and a pioneering ESG Ratings and Advisory solution. Apex Group's purpose is to be more than just a financial services provider and is committed to driving positive change to address three core areas: the Environment and Climate Change, Women's Empowerment and Economic Independence, and Education and Social Mobility.
About Crypto Finance Group
Crypto Finance Group – a FINMA-supervised financial institution and part of Deutsche Börse Group – offers professional digital asset solutions. This includes one of the first FINMA-approved securities firms with 24/7 brokerage services, custody, infrastructure, and tokenisation solutions for financial institutions. It also comprises the first FINMA-approved manager of collective assets for crypto assets, with a selection of crypto investment solutions, including the first FINMA-regulated crypto fund. With a team of over 120 employees, Crypto Finance Group is headquartered in Switzerland.

HedgeThink.com is the fund industry's leading news, research and analysis source for individual and institutional accredited investors and professionals