Does high-intensity group training excite you? If so, do the spadework and join an online bootcamp right away.
Bootcamps are intensive and accelerated study programs that allow students to learn different in-demand and advanced tech skills sought by recruiters. They are designed to help students gain skills to transition to different careers quickly.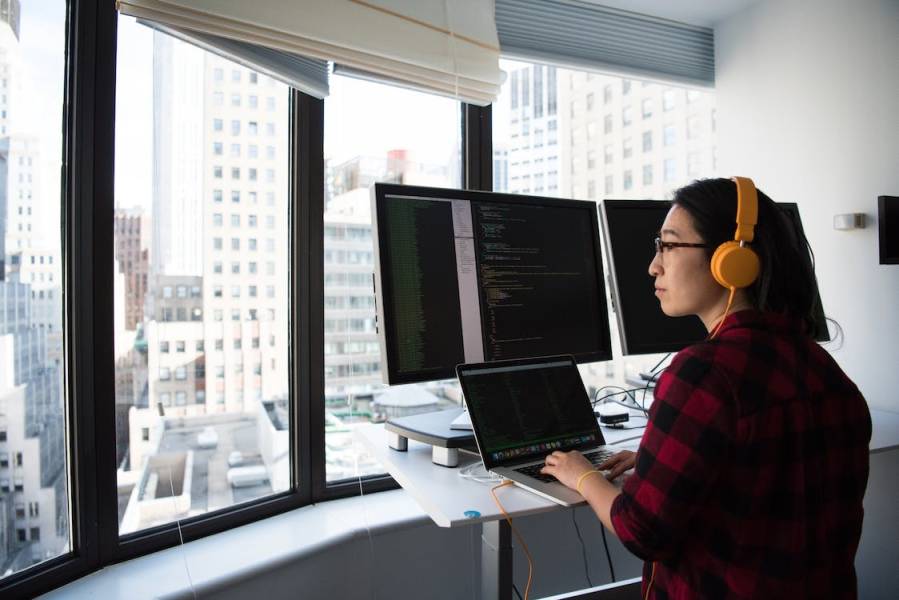 From UX/UI design to data science, cybersecurity to full-stack development, and even digital marketing, bootcamps offer a range of certification courses. Courses that you can pursue easily and from the comfort of your home.
It allows individuals to increase competency in certain areas of expertise and become true professionals without enrolling in a multi-year degree course. Simply put, the educational model adopted by online bootcamps fundamentally differs from what students typically encounter in a traditional classroom setting.
While there are multiple reasons to prefer bootcamps over a traditional degree, here are six benefits that contribute to the historic upswing of online bootcamps among students.
1.  Fast Learning with Flexible Schedule
The duration of programs offered by bootcamps is shorter than other online courses. For instance, if you go for a product management bootcamp, you can complete it in 25 weeks. In contrast, traditional degrees take 4-5 years to complete.
It is because the curriculum of a bootcamp mainly focuses on the most critical and relevant topics that a student needs to learn to become an advanced professional. The curriculum is planned meticulously and offers a to-the-point course structure ideal for standing out in today's fast-paced industries.
Moreover, both instructor-led and self-led lessons are more flexible regarding schedules and timelines. The model is adaptable to both your lifestyle and individual learning style.
While you can learn critical technical skills from home, you also get lifetime access to various learning resources. This way, students enjoy a flexible learning experience and gain practical knowledge in less unwieldy situations.
2.  A Strong Peer Environment
One of the biggest advantages of online bootcamps is that you can learn in a community of people that learn alongside you and share the same experiences. It means that you can easily discuss with your peers the taught concepts. In addition, you can work in different groups and brainstorm ideas to achieve your targeted goals.
You can seek and help others using video hangouts, chats, emails, message boards, etc. The collaborative learning space helps you better grasp what you've learned and build a strong network of peers sharing the same interests and passions.
Learning in a motivated, competitive, and strong peer environment encourages you to do your best. You learn and develop with your peers through each session, helping you build confidence through socializing and competitive activities.
3.  Make Connections and Network
Besides professional support and structured learning, an online bootcamp allows you to make new connections and network with leading industry professionals.
In an online bootcamp, you will interact with different mentors and instructors, work on different projects alongside like-minded peers, and get a chance to attend hiring events. It allows you to work as a team and collaborate with a diverse group.
When you learn with a vast group of people from different fields, you learn to understand varying points of view and collaborate with others while working towards a common goal. Working with people from different backgrounds and perspectives helps you expand your thinking and solve the same issue from multiple standpoints.
Moreover, keeping in touch with your new friends or industry professionals after the bootcamp allows you to benefit from valuable career opportunities.
4.  Bootcamps are Affordable
A bootcamp is an affordable alternative for individuals seeking to learn in-demand technical skills. These learning programs are inexpensive solutions compared to traditional semester-based degrees. Many students fail to pursue their desired careers through a traditional college education because the cost of attending college has skyrocketed.
Not only that but there are other costs that come alongside traditional education, like books, housing, relocating to another city, etc. However, one way to avoid these costs and to learn your desired skills is to join an online bootcamp.
These programs tend to be more accessible and affordable for students. Also, some bootcamps offer the flexibility of deferred payment options, fixed-cost tuition, or even income share agreements.
Thus, when students get a chance to advance their skills with a flexible schedule and payment plans, they can put their careers on a fast track. That, too, without stressing about expenses or taking out time to manage a part-time job.
5.  Learn From Experts
There's no doubt that high-quality mentoring significantly contributes to a student's success. An online bootcamp allows you to enjoy one-on-one access to professional instructors and mentors.
The mentors who teach at online bootcamps are leaders and experts in their respective fields. They pursue teaching while working in the field, which means you can stay up-to-date with current industry practices and learn from their experiences explicitly.
These mentors are fully committed to guiding their students at all learning stages, inside and outside the classroom. They help their students the best they can and offer valuable advice and insights crucial for career development.
6.  Skill-Based Learning
Most bootcamps are designed to impart the most relevant areas to support an individual's career. For a student to boost career prospects, gaining knowledge in the respective field is vital. However, this is absent in a traditional curriculum.
The scope of learning is broader when it comes to general university education, which means less focus and attention on enhancing the valuable skills of students. However, when students approach bootcamps, they are given a chance to access modules that are relevant to their field.
Intensive skill-based learning enables them to gain knowledge and learn concepts that help them enter a new career or secure leadership positions.
Conclusion
Bootcamps have become the most sought-after learning model to hone additional skills necessary to advance your career. For the same reason, bootcamps have gained immense popularity all across the globe over the last few years.
It offers help in disciplines ranging from UX/UI design, data science, analytics, and even digital marketing. So, if you prefer learning with a flexible schedule and in a dynamic environment, an online bootcamp is the right fit.
Through online bootcamps, you can learn new skills quickly and make career advancements more rapidly. So, if you are still battling between what to choose–an online course or a bootcamp, go for the latter without a second thought and accelerate your career right away.

HedgeThink.com is the fund industry's leading news, research and analysis source for individual and institutional accredited investors and professionals