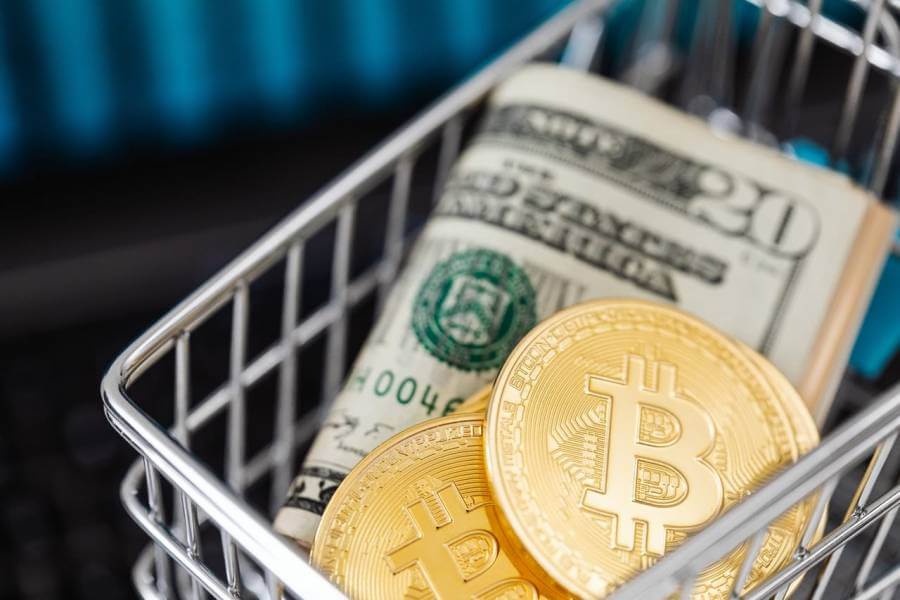 Never has the saying "if you can't beat them, join them" been more true than when talking about Bitcoin. Investing and trading the premier cryptocurrency out in the market has become an everyday matter for people of all walks of life as well as businesses. If you do a quick search on your favorite online search engine, you'll see that almost everyone, even including specialty sporting sites that focus on NCAAF stats are talking about Bitcoin. It's everywhere, it's only gaining more popularity as time continues to go by and 2022 seems like a year in which Bitcoin will continue its amazing growth and popularity spur.
Now, while the general perception of Bitcoin is that it's an economic niche where only the most knowledgeable and business-savvy people can truly succeed, the reality could not be further away from those notions. Yes, to successfully invest, trade, and make money from Bitcoin, just like in any other business-driven venture, knowledge of the topic will always be key. But as time passes, it's become more and more apparent that Bitcoin management companies are making a big effort to make their crypto accessible to everybody. This is why we bring you our picks for three important trends that will likely help shape Bitcoin's immediate future in 2022.
More Countries Will Open Up To Accepting Bitcoin As Legal Tender
The small, Central American country of El Salvador made splashes around the world of business and economic news earlier this year when they were the first country to fully legalize Bitcoin as a legal form of currency in their day-to-day dealings. While some people may argue of the importance that a move by a small country like El Salvador might mean in the bigger global scope of the matter, it still stands as a very important precedent that more countries will surely follow in 2022.
Ever since Bitcoin started amassing a vast following and notoriety in the world of economics, countries have been working on trying to come up with regulatory and taxation policies to find a way to have some leverage over Bitcoin dealings in their economies. While mass economic powerhouse China banned the use and proliferation of Bitcoin in their business model, other countries like the US, Germany, and other main players in the world business scene are already rushing to have 2022 be the year in which Bitcoin and other cryptocurrencies are welcomed as legal tenders, with proper legislations in hand to avoid problems. Given that Bitcoin is gaining more and more ground regarding industries that use it as a monetary option, countries all around will be looking to not waste any more time before it's too late.
Bitcoin ATM's Will Be An Everyday Tool
One of the main reasons behind why countries all around are looking to start shaping up their economic policies to officially welcome and establish the use of Bitcoin as legal tender is the fact that as time continues, more and more people are jumping into the trend and using Bitcoin for their day to day dealings wherever they can. For example, if you go to music festivals around the world like Burning Man in the US or Envision Festival in Costa Rica, you'd be surprised to see that in the middle of these eclectic, holistic-ridden summits that people usually flock to when wanting an escape from everyday reality, you'll find Bitcoin ATM's. Yes, just like your regular bank cash ATMs, more and more Bitcoin ATMs have started making rounds around the world and in 2022, one of the main goals is to establish Bitcoin ATMs as an everyday tool for people.
By having Bitcoin ATMs installed in different parts of the world, users of this crypto will have an easier outlet to be able to use their e-money as well as having a deeper understanding of what using Bitcoin on a day-to-day basis is like. It's not surprising that given Bitcoin's popularity, finding ways to make it even more approachable in everyday living should be a priority in a year that's set to be the most important for crypto trading and using thus far.
Bitcoin Education Will Flourish In Mainstream Society
As previously mentioned, the general perception that Bitcoin usually amasses from mainstream opinion is that it's an economic venture that's tailor-made for experts of all economic subjects, but that's not necessarily true in any way. Given that Bitcoin continues to grow in demand and popularity, blockchain management companies have made it a point to be able to make the Bitcoin experience as understandable and accessible as possible for anybody interested in hopping on the Bitcoin train.
Thanks to the constant efforts made by blockchain technology enterprises to upgrade their trading systems, to facilitate their activities for everyday users, the rise of interest in finding more ways to educate people on how to properly work with Bitcoin will flourish amongst mainstream society in 2022. Thanks to all the technological advances we witness on an almost daily basis, information and education channels have never been easier to reach. This automatically gives Bitcoin experts a perfect platform to share their knowledge on the topic and with it be able to help the Bitcoin industry continue to grow.

HedgeThink.com is the fund industry's leading news, research and analysis source for individual and institutional accredited investors and professionals