100 Women in Finance
Finance is often considered a hard-core area of business that isn't for the faint hearted. With economic turbulences and global investment conditions affecting almost every market, adverse changes are usually very sudden. For this reason and many others, just the mention of Investment markets conjures up an image of high-powered men, immaculately dressed in crisp clothes with a grim expression on their faces!
This image isn't wrong, though more of a product of stereotypes than reality. The financial sector, while certainly hard-core, is dealt in by men and women alike. While women made their entry into finance much later than men, there are no physical limits that hinder their path to becoming successful investors, managers or financial analysts.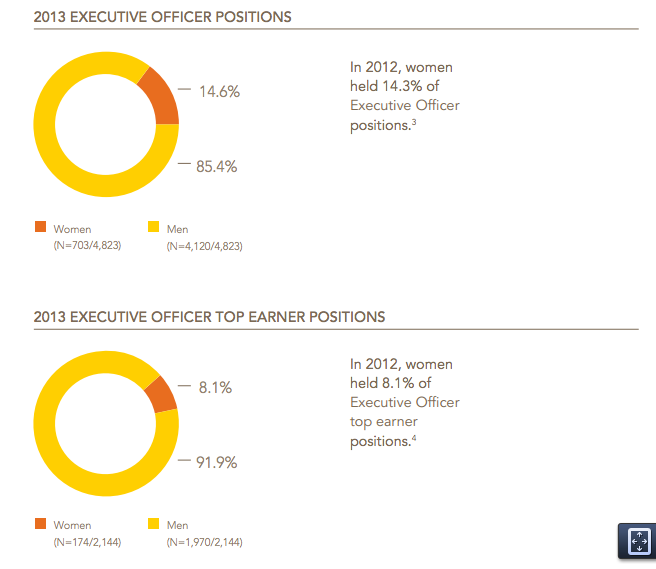 Source: 2013 Catalyst Census: Fortune 500 Women Executive Officers and Top Earners Report, Catalyst Knowledge Center, 2013
In the 21st century, the financial and banking sector of the global economy has come quite far from what it used to be. Gone are the days when investment was all about standing on the trade floor and buying and selling securities right there. Investment has matured as a business choice that can be pursued in a very professional manner, making it possible for women to devote their time, energy and wealth to make a name in this industry.
If you have always thought of investment as a man's domain, think again, because it is now time that this perception changes. The world has seen many excellent examples of women in the financial sector, working twice as hard as men and making it all the way to the top, single-handedly. Some of the most acclaimed investment and insurance houses in the Unites States are run by a woman in the seat of Chief Executive Officer.
The Asset Management division of JP Morgan Chase, a leading banking and financial services holding company in America, is managed by Mary Callahan Erdoes, an intelligent and smart lady in her mid-forties. Considered one of the most powerful and strong-minded women in investment circles, Erdoes has gained a reputation for managing this wing of the company extremely well, together with taking care of strategic partnerships of the company.
100 Women in Hedge Funds 
Erdoes' example is just one in a hundred women who have been recognized for their efforts and exceptional talent in dealing with money matters and investments. Just like JP Morgan, other financial institutions have also employed highly educated and intuitive women to be part of their decision making panel.
The 100 Women in Hedge Funds is an initiative that aims to recognize and applaud the participation of women in the financial sector. Because they deserve tremendous appreciation for playing hardcore roles in an industry that has cut throat competition, organizations such as the 100 Women in Hedge Funds play a huge role in uplifting their spirit and setting them as an example for the world to see.
This organization is a global concern that arranges fundraiser events and galas with women's participation as the key highlight. While it is targeted at the financial and investment industry, the 100 Women in Hedge Funds reaches out to the community with educational and vocational training programs that are managed by some of the most talented women in business fields.
Founded in 2001, the organization currently has close to 12000 members- all of them professional women. Since the group is focused towards enhancement of skill and education, joining it is easy and relatively inexpensive. Membership to the 100 Women in Hedge Funds can be applied for by paying an Access Fee, which then opens up opportunities like connecting with financial leaders in the industry, via a professional network, attending events and looking for job vacancies through the organization's website.
Conclusion
The involvement of women in the investment sector has opened up many opportunities for them to realize their potential and at the same time, bring a different perspective to the industry. Just like every investor has his own outlook on the way markets are performing, women leaders bring a whole new dynamic to investment houses and hedge funds that should be ever ready to tackle challenges and economic turbulences.
The 100 Women in Hedge Funds is a great initiative that increases female participation in the banking sector by giving fresh entrants a platform to spring forth.

HedgeThink.com is the fund industry's leading news, research and analysis source for individual and institutional accredited investors and professionals